Struggled again for Edition 17 of What I Wore due to various health issues, but I was determined not to miss the start of Frocktober 2015!
Especially as I am proud to be a Frocktober Ambassador!
So October is going to be 31 days of 31 dresses to raise funds and awareness for the Ovarian Cancer Research Foundation!
This edition includes the first 4 days…so far, so good!
What I Wore…Monday 28th September – Sunday 4th October 2015
Monday was a wipeout, so sadly no outfit to start the week.
On Tuesday, we went to a pre-transplant workshop to share our liver transplant journey and give hope to those still waiting.
It was also the launch of the unit's website which I have been working on for the last three years and they surprised me with this gorgeous bunch of flowers!
I wore a Katies tunic (last season), leggings and Spendless heels (current)…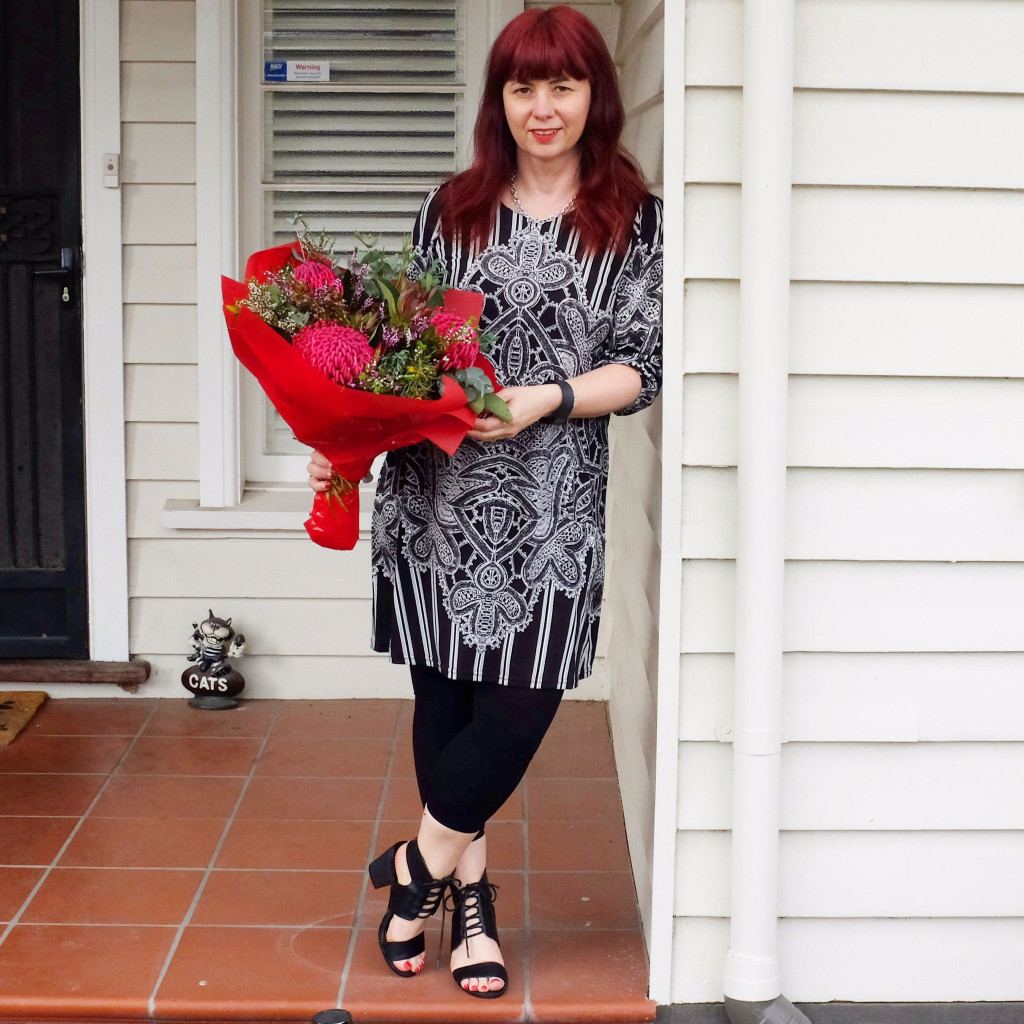 Wednesday was a quiet day but did at least attempt to get up and dressed.
Wore Katies Ultimate jeans (current) with a black t-shirt under a rather cute vintage top I found at Retrostar Vintage…silver wedges are a op shop find and the retro sunglasses are from Catch a Thief…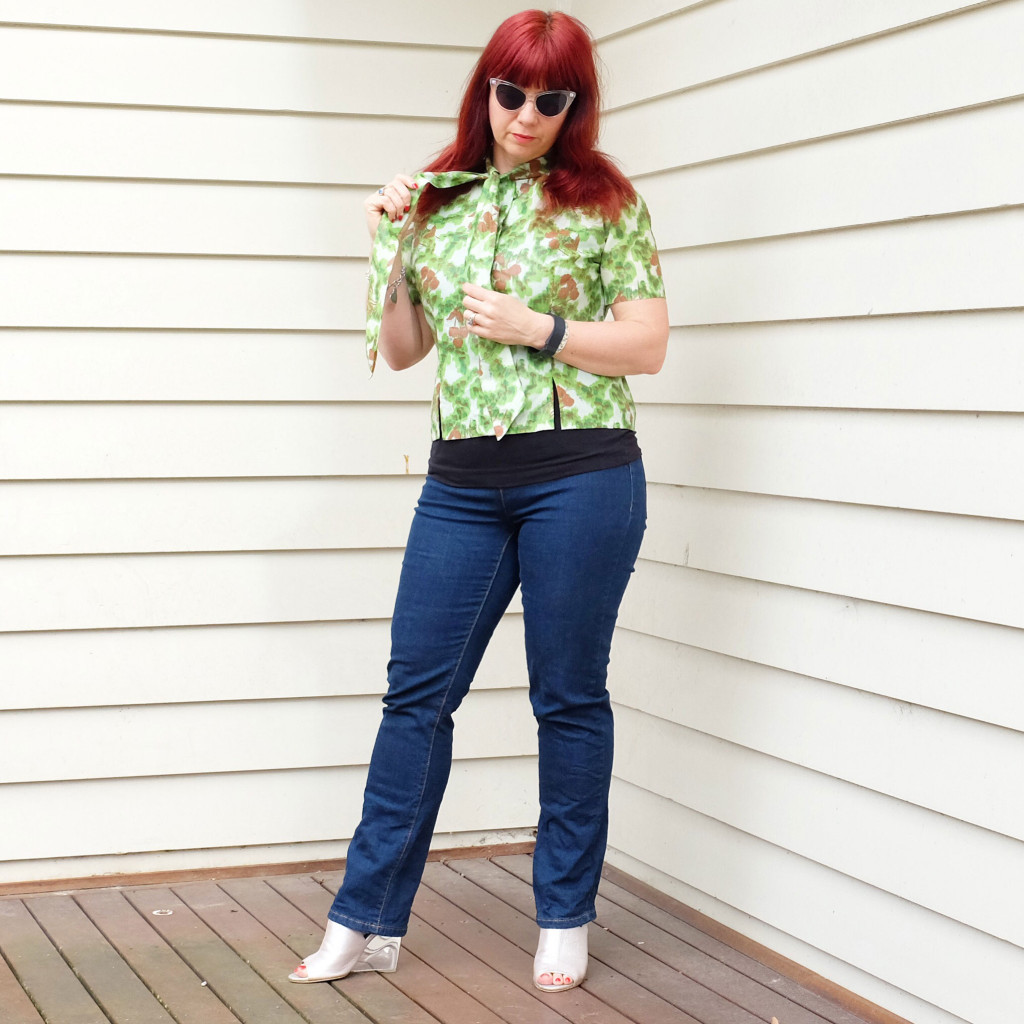 Thursday was the beginning of Frocktober 2015, so no more pants…31 days of 31 dresses ahead!
For Day 1, I wore an old Jag dress I have had for years, with my favourite op shop belt & heels combination!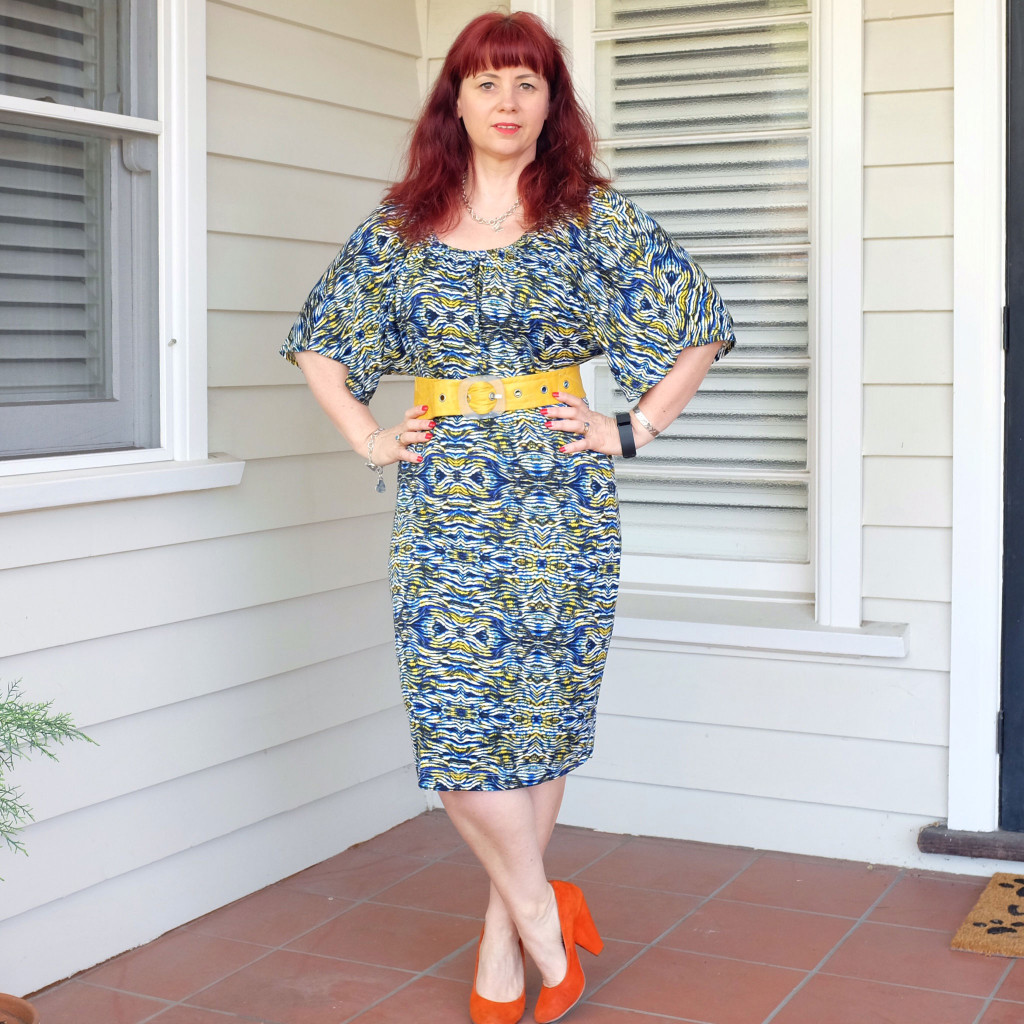 I finally felt better on Friday and it was a deliciously warm day in Melbourne, perfect for the AFL Grand Final Parade!
So for Day 2 of Frocktober 2015, I wore a vintage dress found at Frocks and Slacks with black wedge sandals and an op shop find black belt.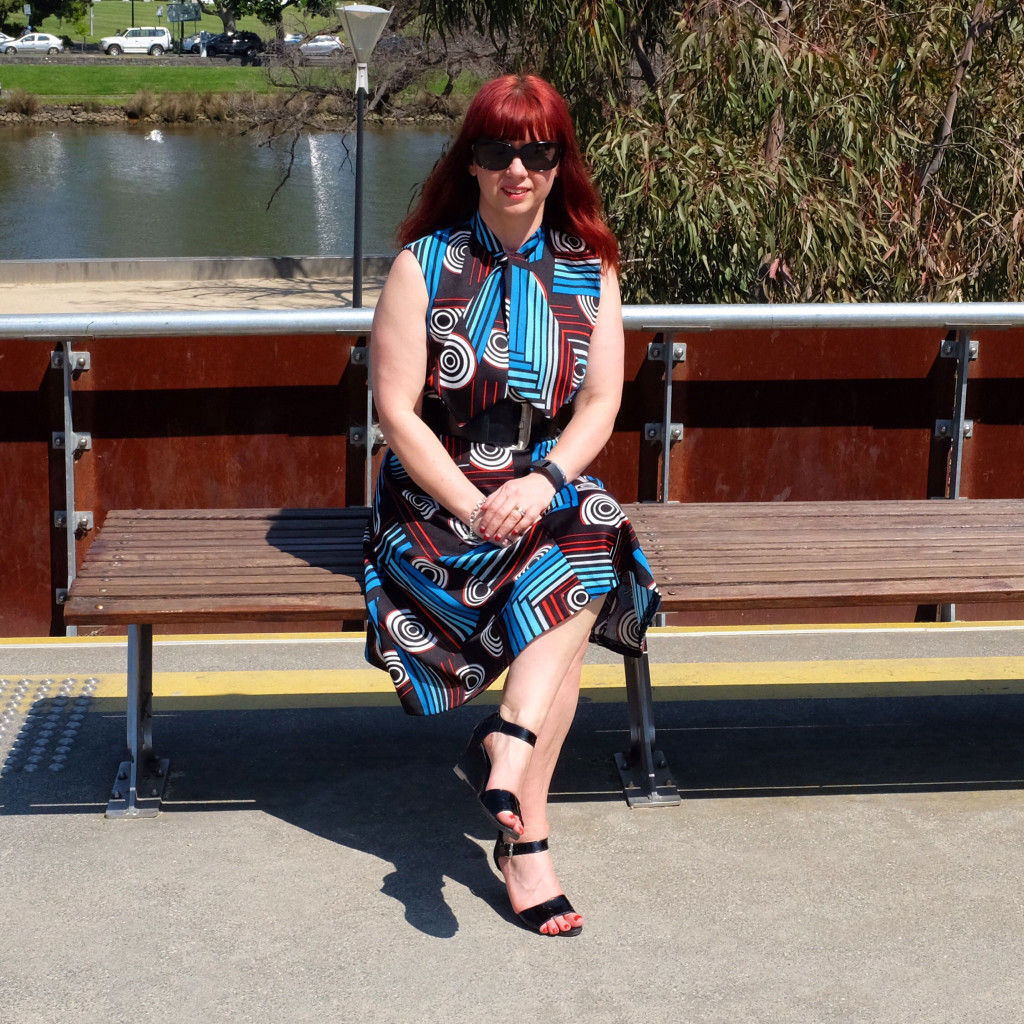 Saturday was Day 3 of Frocktober 2015, and it was another gorgeous hot day…although it was probably a little too hot for the big AFL Grand Final.
Went back into the city to soak up the atmosphere…wore a Sussans dress (last year) with an op shop denim waistcoat and Wittner wedges (current).
Also took my new sun hat from Princess Highway, and you may also spot my hand made Moby Duck yellow terrier brooch!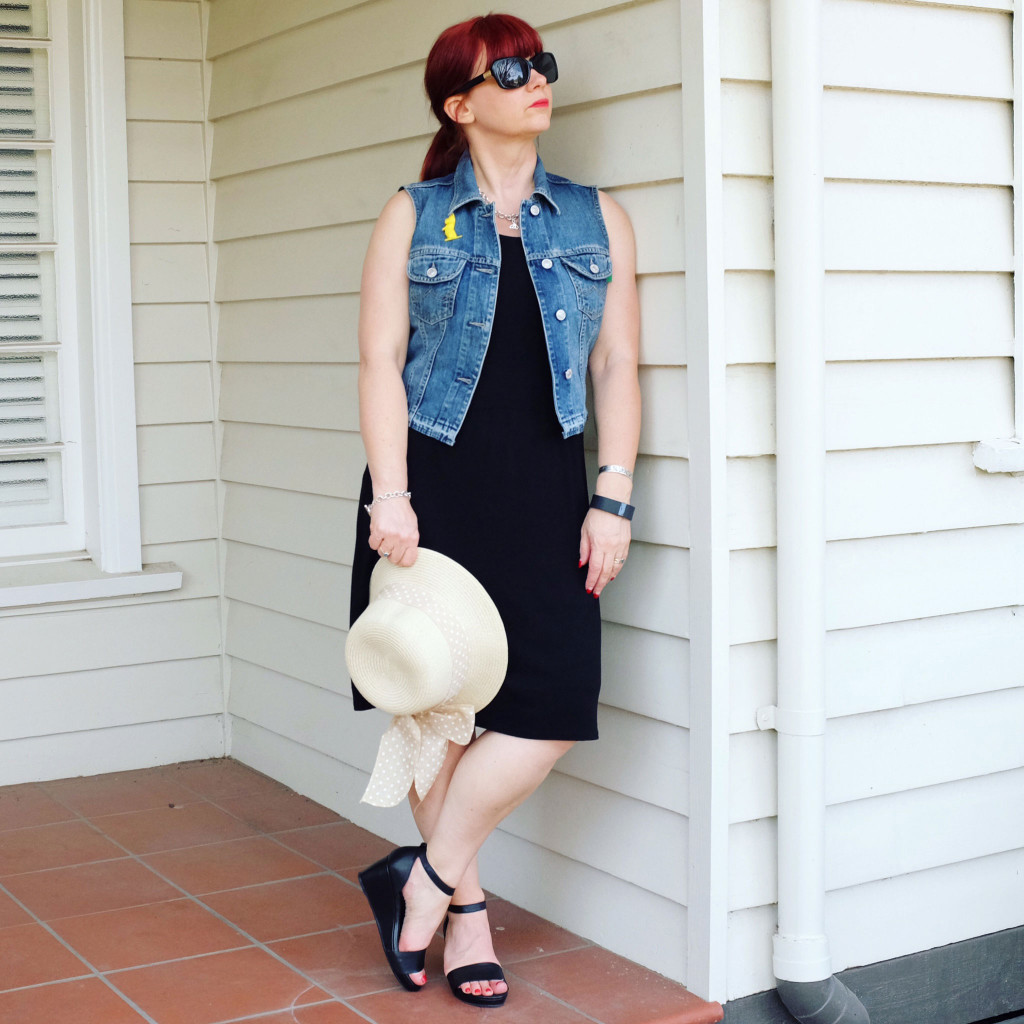 Sunday was brunch day with friends…so for Day 4 of Frocktober, I wore one of the first vintage dresses I ever bought (found Minettes Vintage) with Minx orange heels (last season) and Catch a Thief retro sunglasses!
This colourful outfit was the most liked for the week on Instragram…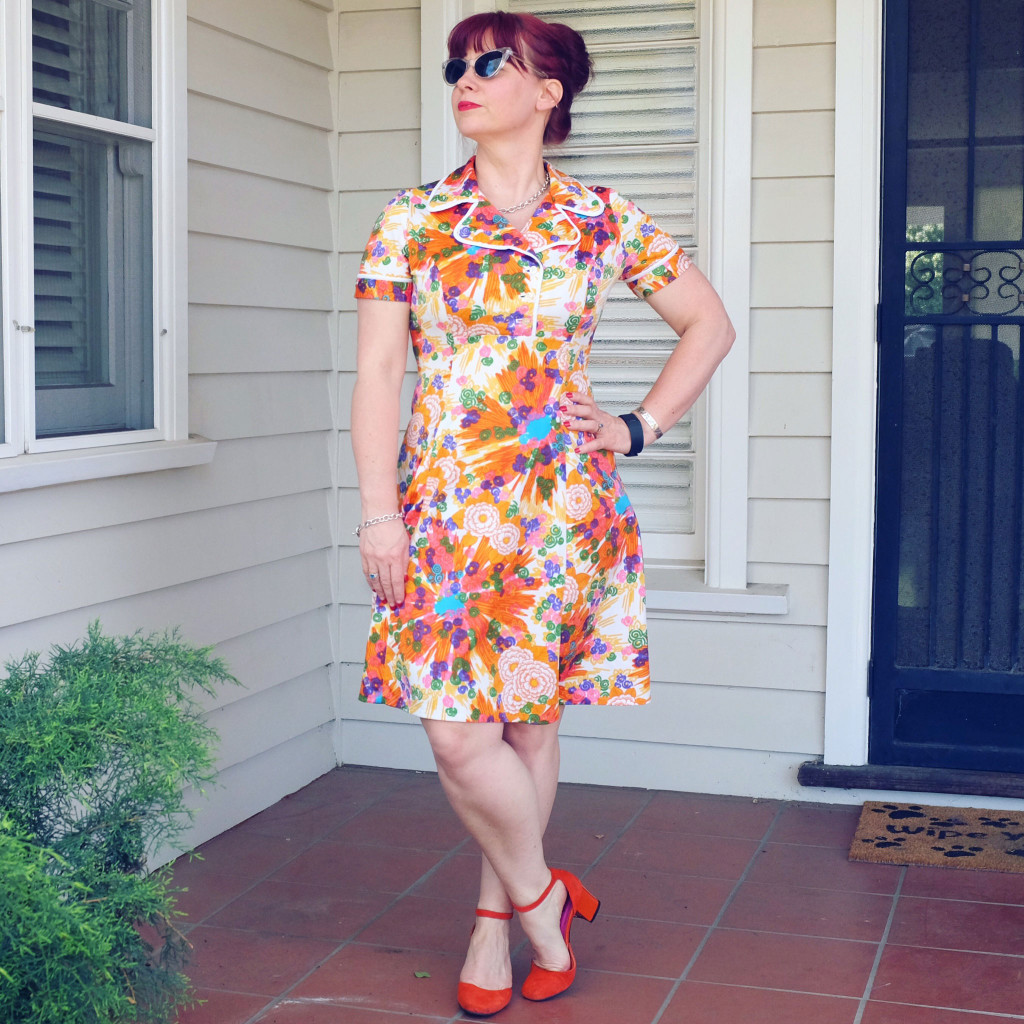 To support my challenge to raise $700 for the Ovarian Cancer Research Foundation by wearing 31 dresses for 31 days, please click on the logo below!
If you already have donated, a very big thank you! xx

What was your favourite outfit of this edition of What I Wore? Share in the comments below as I would love to know!