As I have written before on this blog, cancer has always scared the living bejeezes out of me…I have met it personally in it's least aggressive form, and thankfully was able to quickly removed it's presence via surgery.
My life then continued on as normal…but so many of our family and friends have been not so lucky and despite the tough fights, the disease got them in the end.
And it still scares the bejeezes out of me…
I want to join in the fight against cancer, so I have jumped on board a fundraiser that was almost made for me and my love for vintage fashion and dressing up…Frocktober!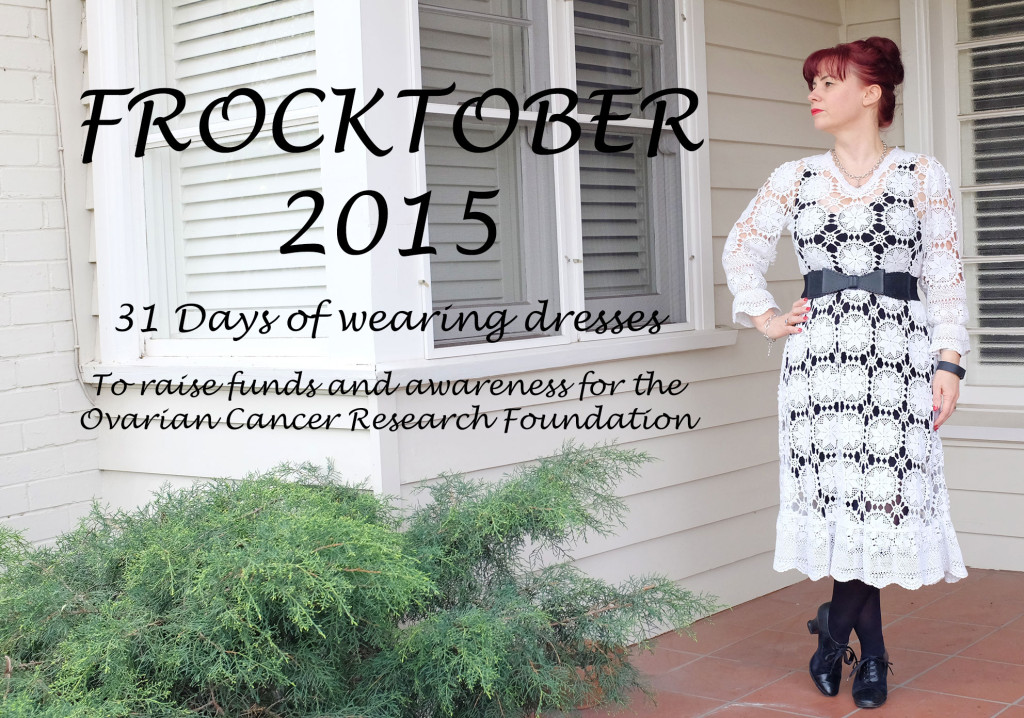 Frocktober is about raising funds and awareness for the Ovarian Cancer Research Foundation….did you know that one woman dies every ten hours from ovarian cancer in Australia…
Every ten hours…
Ovarian cancer is a particularly  insidious disease, often known as a "silent-killer" as symptoms are vague and often strike without warning.
There is currently no early detection test and women are usually diagnosed in the late stages of the disease…too late…
But the good news is that if detected early, survival rates increase to 80-100%…that is why it is so important goal is to raise awareness and vital funds for the development of an early detection test that will save women's lives.
The Ovarian Cancer Research Foundation is not government funded so relies on support from the community and business partners to continue doing this very much needed research.
So I am going to do my bit and take part in Frocktober, not only as a participant, but an ambassador as well!
I hereby pledge that I will wear a dress everyday during the month of October…31 frocks!
Want to join in?
It's not too late to take part in Frocktober…click here to find out more and to sign up!
And if you would like to support me in my goal of raising $700 for the Foundation, you can donate by clicking here.
Stay tuned for 31 consecutive days of dresses as I tackle Frocktober…you can follow my progress here on the blog, or pop over to my Facebook, Twitter or Instagram feeds…you can find me @zincmoon.
Frocktober is going to test my wardrobe…although somehow I think may already have enough dresses…but this is a challenge I am looking forward to with pleasure!
Are you joining in Frocktober? Let me know as I would love to support you in this challenge too!