It's Wednesday, so time for another of What I Wore Roundup…it was a mixture of vintage, thrifted and new.
And I finally found my dream coat…a 1940s princess coat…read on to see what it looks like…
What I Wore…Monday 15th June – Sunday 22nd June 2015
Monday's outfit consists of a Gorman skirt, with a black long sleeve T-shirt & Levis cropped denim jacket…boots are Wittners (last season).
You may also just spot my favourite rainbow brooch, handmade by Curly Pops!
This outfit is an example of how I wear summer skirts right through the colder months…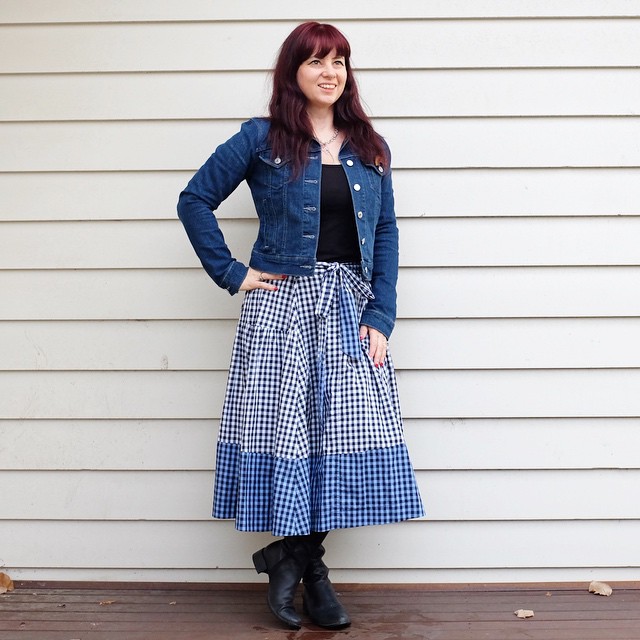 Tuesday's outfit consisted of a 1960s vintage dress from Vintage Sole with black tights & Wittner heels.
I don't usually like high necks as I feel like I am being choked…my throat is still sensitive from when I had my thyroid removed…but I just love the design of this dress…so retro!
And this was the most liked outfit on Instagram for the week!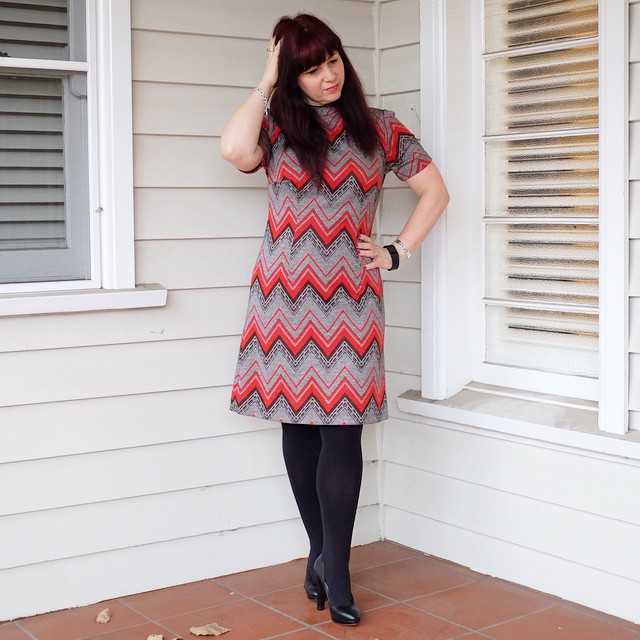 Wednesday's outfit included my new Arthur Galan jumper (currently on sale), with black jeans, black long sleeve t-shirt and Spendless over the knee boots.
Finished it all off with an op shop find belt!
Such a warm, cosy jumper to wear, perfect for winter…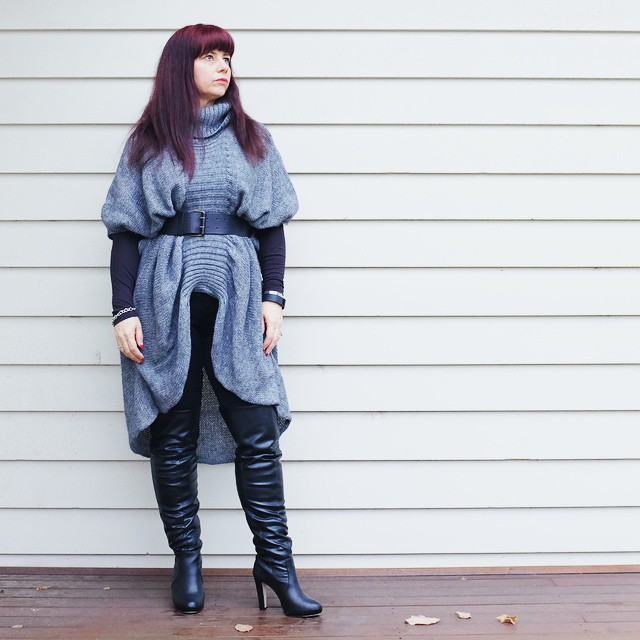 It was freezing on Thursday & I should have added a few more layers as I froze each time I was outside…wore a dress from Dangerfield with an op shop find belt and a leather jacket I bought about 15 years ago…boots are Wittners (last season).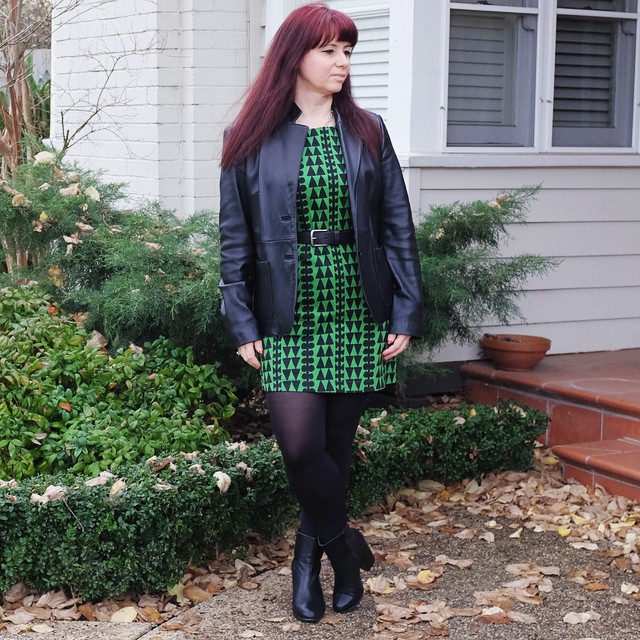 Friday morning consisted of a visit to hospital for blood tests then some vintage therapy before heading home to get out of the cold!
Wore my bargain $10 vintage maxi dress & a vintage jacket…plus a black scarf for added warmth & an op shop find belt.
Boots are Wittners (last season).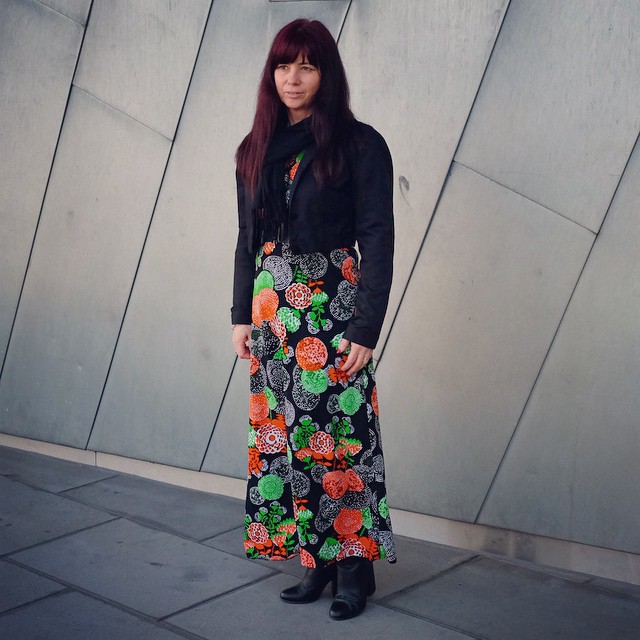 Saturday was a very special day for us, as it was the three year anniversary of my husband's liver transplant…you wouldn't believe all has been through by looking at him now!
I wore a particularly colourful vintage dress from Frocks and Slacks with a cropped denim jacket, black woollen scarf & my Curlypops rainbow brooch…boots are Wittner from last season.
Mr Zinc is wearing a Jack London jacket, a Grandpa Funk jumper and pants with Ben Sherman shoes.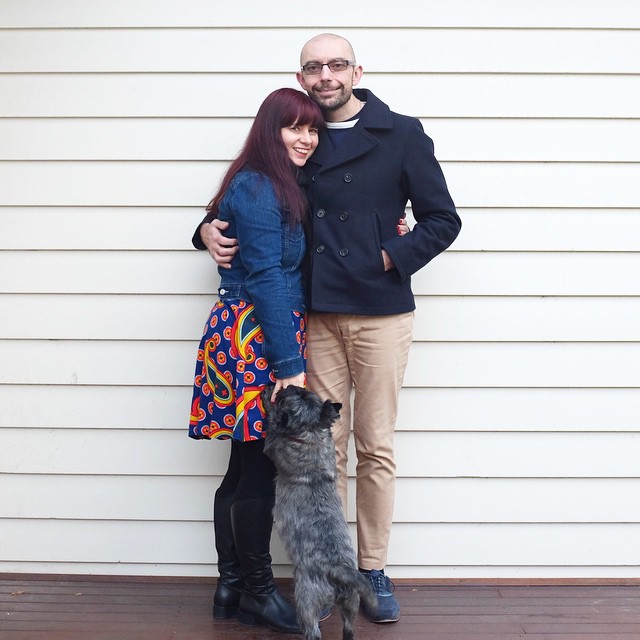 Sunday was a gorgeous sunny, but cold day in Melbourne…decided to wear my gorgeous 1940s princess coat from Circa Vintage, over an old Alannah Hill dress with vintage lace up heels…and a black woollen scarf.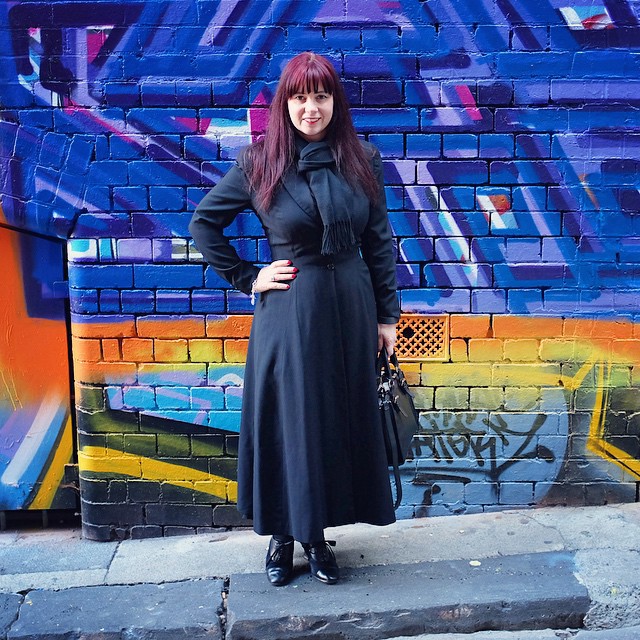 What was your favourite outfit for the week? Let me know in the comments below…