This edition of What I Wore covers a busy week that ended with a fabulous weekend!
And as usual, there was a real mix of weather, concluding with a beautiful day of 28C!
I also got to sneak in a morning of vintage shopping…and boy, did I have fun!
One of the dresses I bought features in this edition…
What I Wore…Monday 7th September – Sunday 13th September 2015
The new week began with the return of cold, windy weather
Wore a Katies tunic (on sale) with a black op shop find pencil skirt and vintage lace up heels.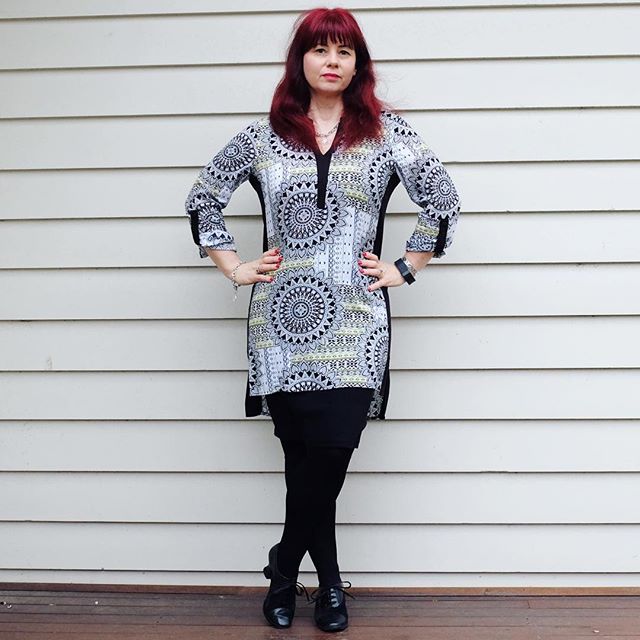 Tuesday was another cold, grey day so brought out an old favourite…vintage skirt with a black t-shirt, bolero cardigan & boots.
Just love this skirt…the colours are amazing!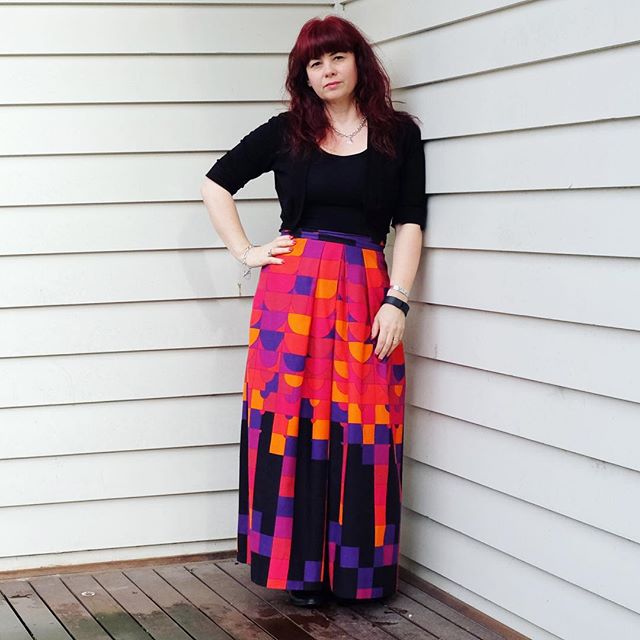 Decided that Wednesday needed some yellow to brighten the day…black Katies Ultimate jeans (current) with a Gorman top (last season) and yellow Jo Mercer heels (last season).
My little fluffy supervisor wasn't concentrating that well…although I think she might be the reason why this one got the most likes over on Instagram…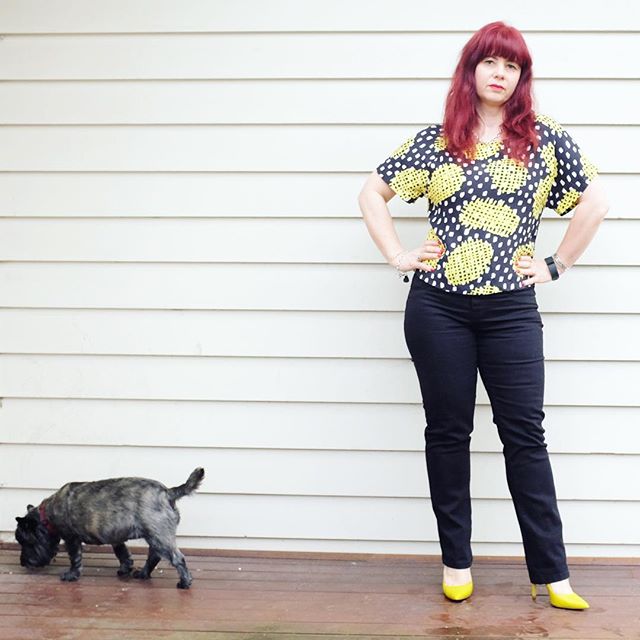 Thursday saw a morning of errands so wore Katies jeans & fringed kimono (current) with a black t-shirt and boots.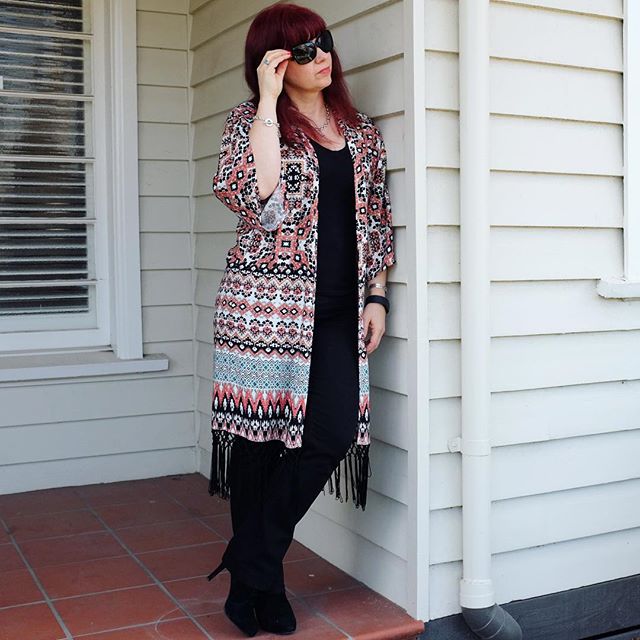 Friday saw sunshine & warmth…and I loved it!
Wore some Jeanswest jeans with a Target Danni Minogue t-shirt (current) and Spendless Borlace heels (current)…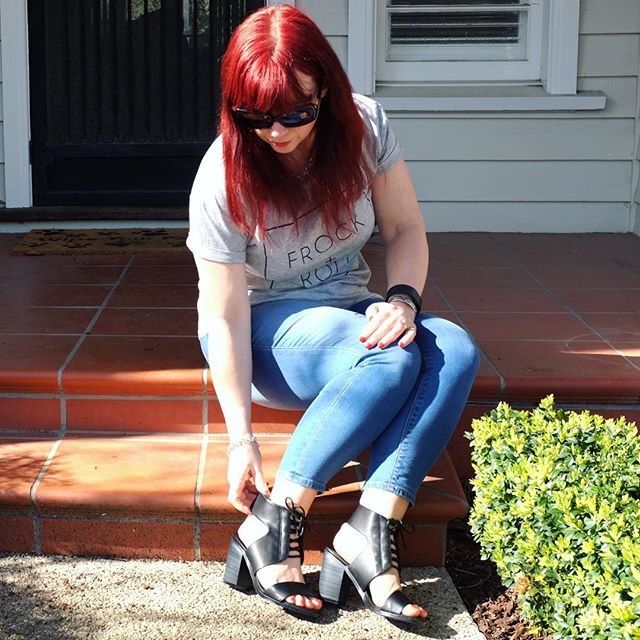 On Saturday, I spent the morning wandering the city on my own and indulging in some vintage shopping…and I had an absolute ball!
I wore a vintage skirt found at Out of the Closet with a Grandma Funk  cropped t-shirt…added an op shop find belt & denim vest.
And yes, it was finally warm enough not to need a coat or jumper!
Also wore those Spendless heels pictured above….walked miles in them with no issues…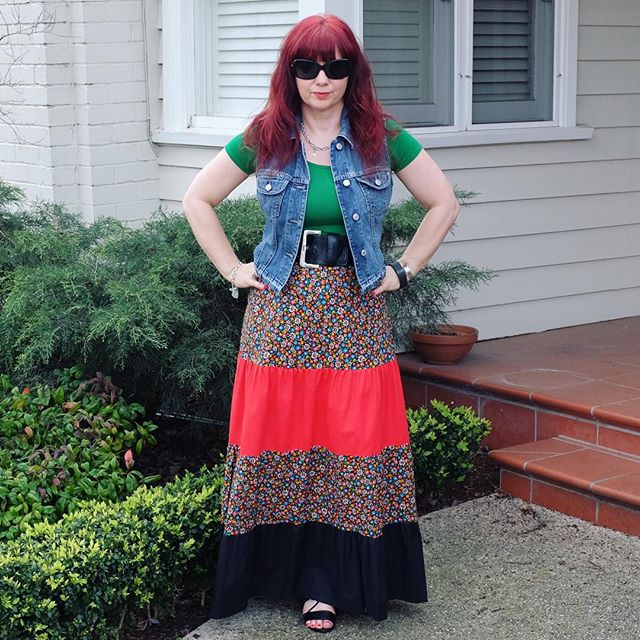 Sunday was a day of travelling, brass bands, bright sunshine and socialising!
Not the best photo, but I wore a vintage dress that I found at Out of the Closet during Saturday's shopping spree…added a belt from Elise Design with an opshop find denim waistcoat and black wedges.
And it was my beloved ONA tote's first trip to Gippsland!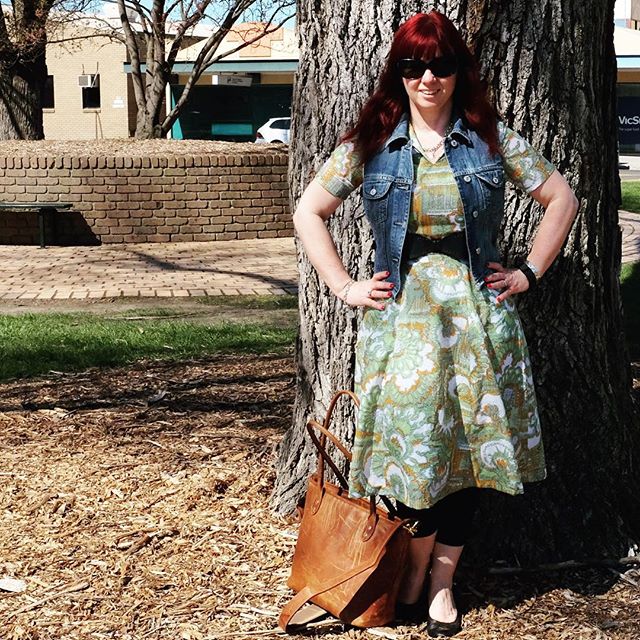 What was your favourite outfit of this edition of What I Wore? Share in the comments below as I would love to know!