For most of my life, I have been guilty of trying to follow trends…what others in the media and fashion industry decided was the latest look.
But almost two years ago, I finally found my own style, and I also found the confidence to be unique!
My style may not be to everyone's taste, and most of it goes against the current trends, but it's me…and thankfully for the world, there is only one of me!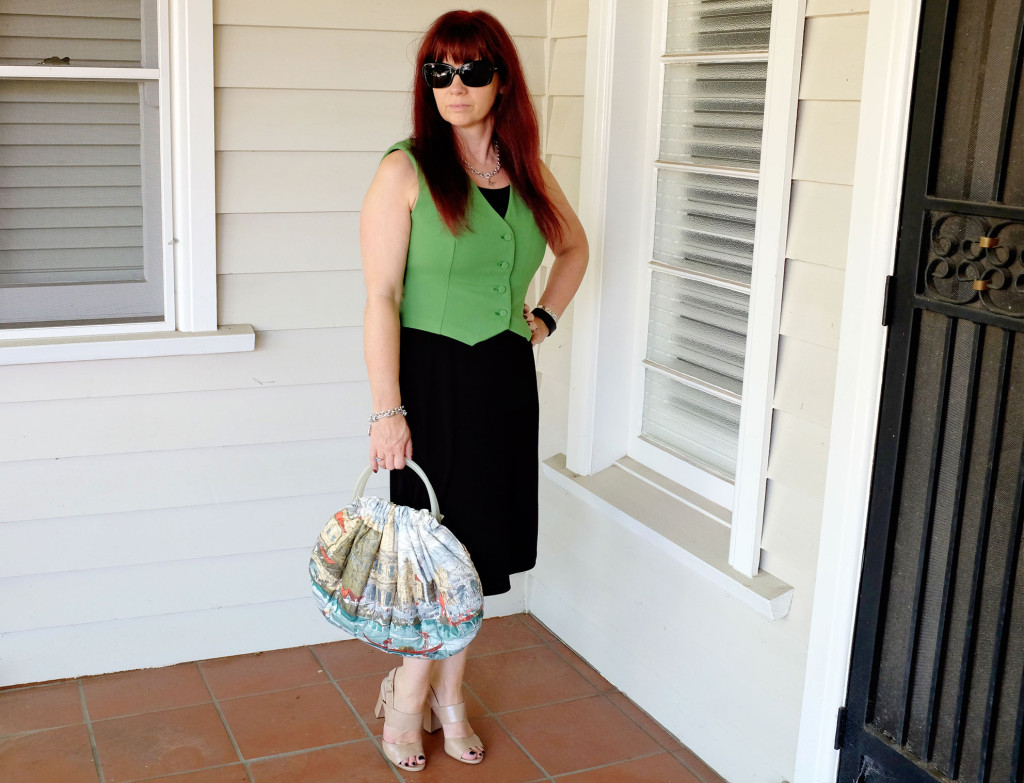 So here are five style rules to break, so you can find your own style!
1) Dress to your age
Why should we?
Age is just a number, it's not about how you feel or look.
If you have got the figure to carry off a crop top when you are over forty, then go for it!
If you have the pins to wear a mini skirt when you are over fifty, why not?
The secret is to be clever in what you choose, and make the best of the features you have.
2) Follow the trends
It isn't a crime if you don't have the latest fashion design…the world will still keep turning!
There are so many fashion experts out there, telling us what we should buy and wear.
But realistically, many trends are actually unsuitable for most of us, with only a select few who can pull the look off well.
The trick is to pick and choose…combine current modern trends that work for you with those from the past.
One of the reasons why I love vintage so much is that the colours are so much more vibrant…so rich! Modern designs often are missing this colour, especially in this city where the trend is to wear black…
And I find that many brands design clothes to fit a woman with little or no curves…by going back to earlier eras, I find clothes that are designed for a more shapely figure.
I never realised that I had the classic hourglass shape…no wonder I couldn't fit into low waisted jeans properly…now I don't even bother!
3) No long hair after 40
I blogged about this a little while ago…my hair is the longest it has ever been, and when I do finally cut it, it will be very unlikely it will ever be as long as this ever again.
So I want to make the most of it…but I had begun to notice that many other women of my age now had short hair!
But the general consensus from you all was so what?
If you like having your hair long, then keep it long!
So I am!
4) Avoid maxi skirts if you are short
Wrong!
For years, I never even looked at long skirts, as I always thought they wouldn't suit me…now I have quite a few maxi skirts in my wardrobe that I love wearing…both modern and vintage.
I have found high waist maxi skirts fit me the best, preferably with a belt to tie the outfit together.
The trick is to make sure the hem is not long enough that you trip over it when walking…yep, been there, done that.
5) Red lipstick is only for evening
I have to admit I am still grappling a bit with this, as I can't seem to perfect the art of applying red lipstick perfectly, but I admire those women who do wear it no matter the time of day.
It does add a bit of glamour and confidence to any outfit!
The trick is to find a red that suits your colour tones…then be brave and start wearing it!
Now remember, it's never too late to break out from the style rules that have been confining you!
It has taken me into my forties before I finally became comfortable with my look, and not to worry about anyone else.
So go on…start wearing outfits that make you feel fantastic, and make others say "wow"…you will never look back!
Be unique…..be you!
Join my challenge for this year…Dress Up 2015!
Show me your outfits on Instagram by adding the hashtag #dressup2015 – I will look forward to seeing your style!