I am still humming songs from the fabulous Les Miserables production we saw at Her Majesty's on the weekend…would love to go again, but unfortunately time is somewhat limited and it is closing in Melbourne on the 20th December!
If you live in Melbourne and haven't been yet….book now before it is too late!
You will love it!
I have also been re-watching the 10th Anniversary Concert (1995) which has my favourite Valjean (Colm Wilkinson) and Javert (Phillip Quast) plus the hilarious Alun Armstrong as the innkeeper….look it up on YouTube if you haven't seen it!
So as you can see I am still very much in a Les Mis frame of mind hence I have put together some facts about it for this week's My Friday Five!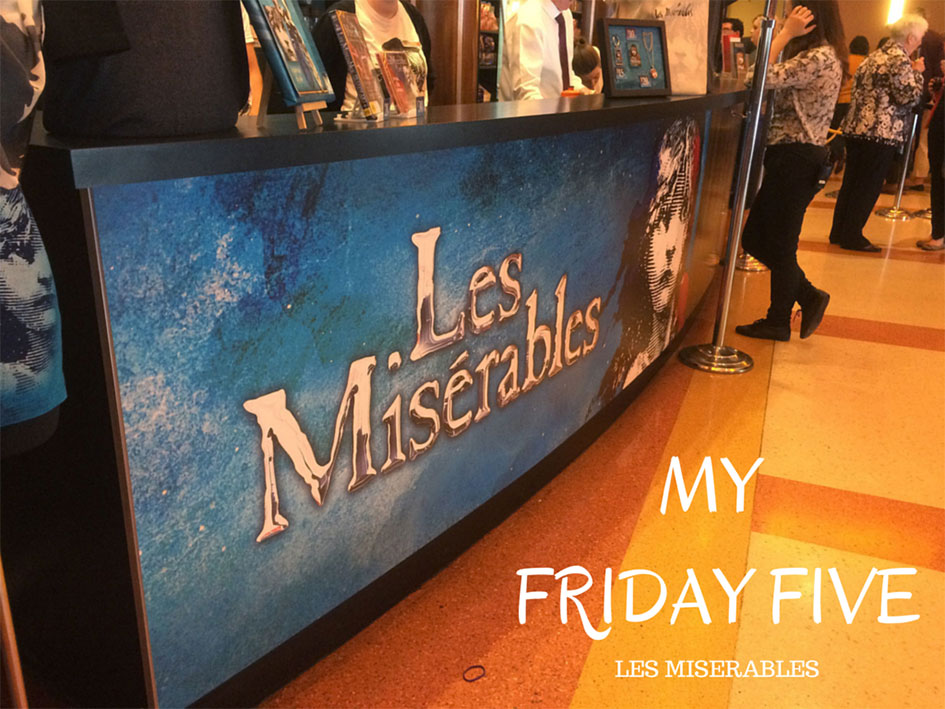 FACT ONE:
The book, Les Miserables, was completed over 17 years, written through 2 revolutions (1838 & 1851), and in 3 places of exile (Brussels, Jersey and Guernsey)!
FACT TWO
Opening night was on the 8th October in 1985 at the Barbican Theatre in London…the audience loved it, but the critics totally canned it! Thankfully the public defied the critics, and the next day, there was a long que at the box office!
FACT THREE
The Australian production opened in Sydney in November 1987, with the surprising choice of Normie Rowe as Valjean. This production did 1337 performances in total, finishing in Auckland, NZ , in August, 1991!
And I saw it twice when it was in Melbourne!
FACT FOUR
Les Miserables is the longest running musical – seen by over 60 million people in 325 cities, in 43 countries, and in 22 languages!
FACT FIVE
There has been more than 40 adaptions of Les Miserables on the large and small screen, but it was never done as a musical until 2012…..the film featuring stars such as Hugh Jackman, Russell Crowe and Anne Hathaway, became the 2nd highest grossing musical film of all time!
Reference: Victor Hugo – Les Miserables: from Page to Stage Catalogue, State Library of Victoria, 2014