Today, we saw one of my favourite musicals, Les Miserables, which is currently being held at Her Majesty's Theatre in Melbourne.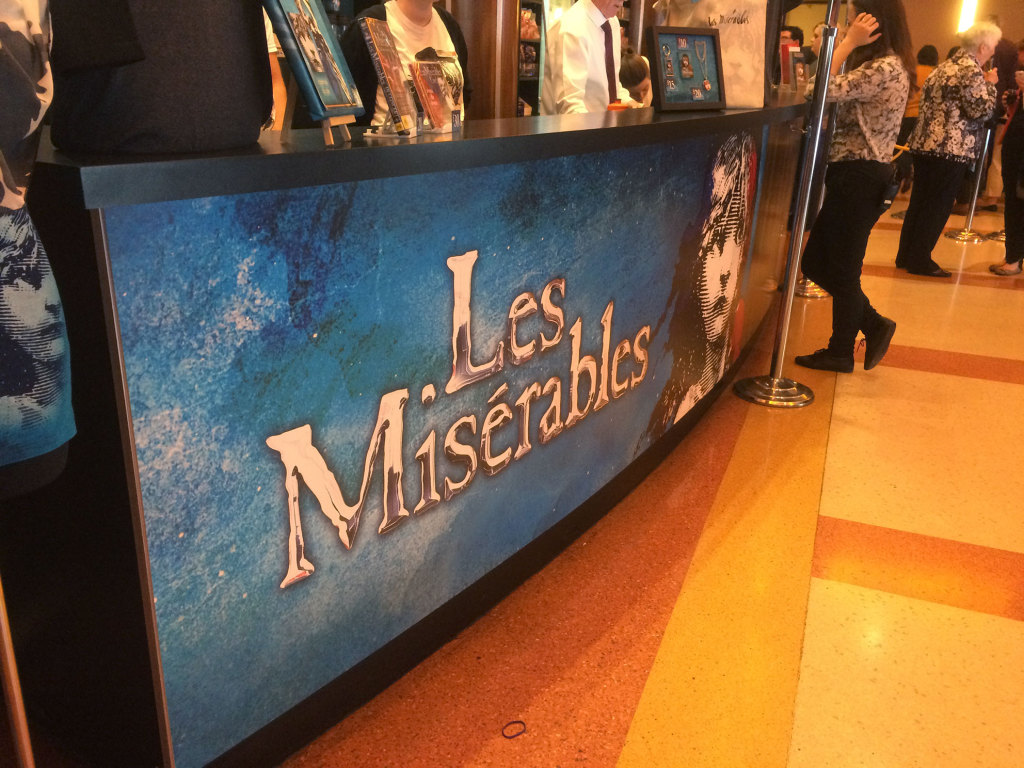 It was actually a good afternoon to go to the theatre, as it seemed most of Melbourne were heading towards Flemington for the Derby Day races….we were able to get good Row A seats in the Grand Circle, which was basically empty.
In fact, the ushers moved the small group of people that were up behind us in the Grand Circle, further to the front which I have never seen happen before…and we still had no one behind us!
Although up scarily high, I was excited to experience front row seats as I have never sat Row A before….and we thoroughly enjoyed every minute!
I saw the original Australian production of Les Miserables…..actually I loved it so much I saw it twice….but this new, revamped version of Les Mis is fabulous, and has made a great musical even better!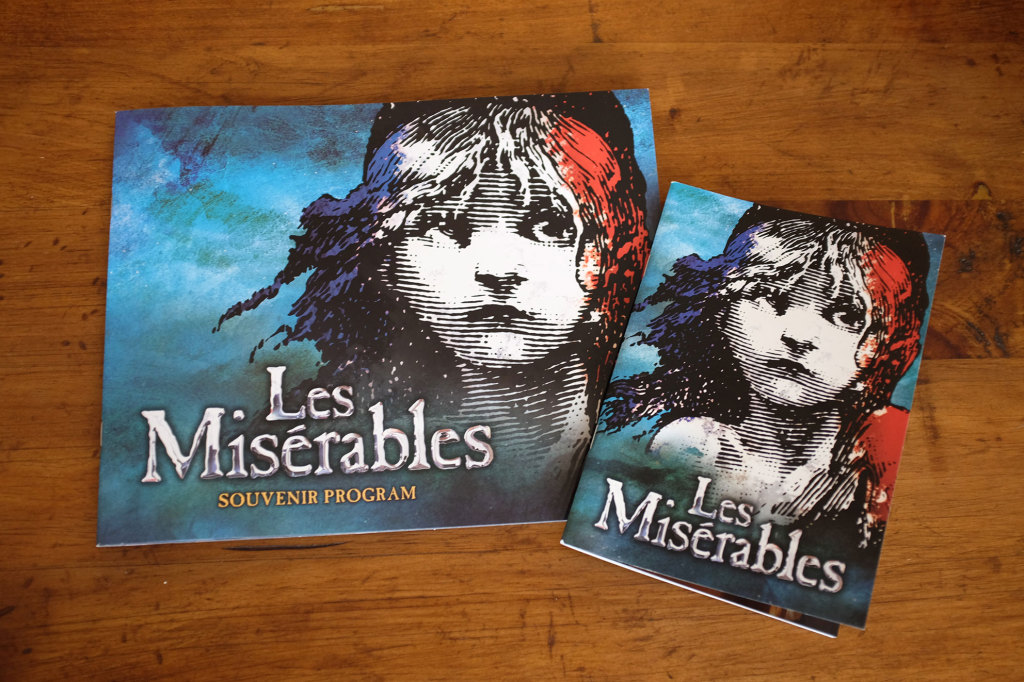 The cast was superb….my two favourite characters, Jean Valjean and Javert , were played by Simon Gleeson and Hayden Tee respectively, and both were absolutely fantastic.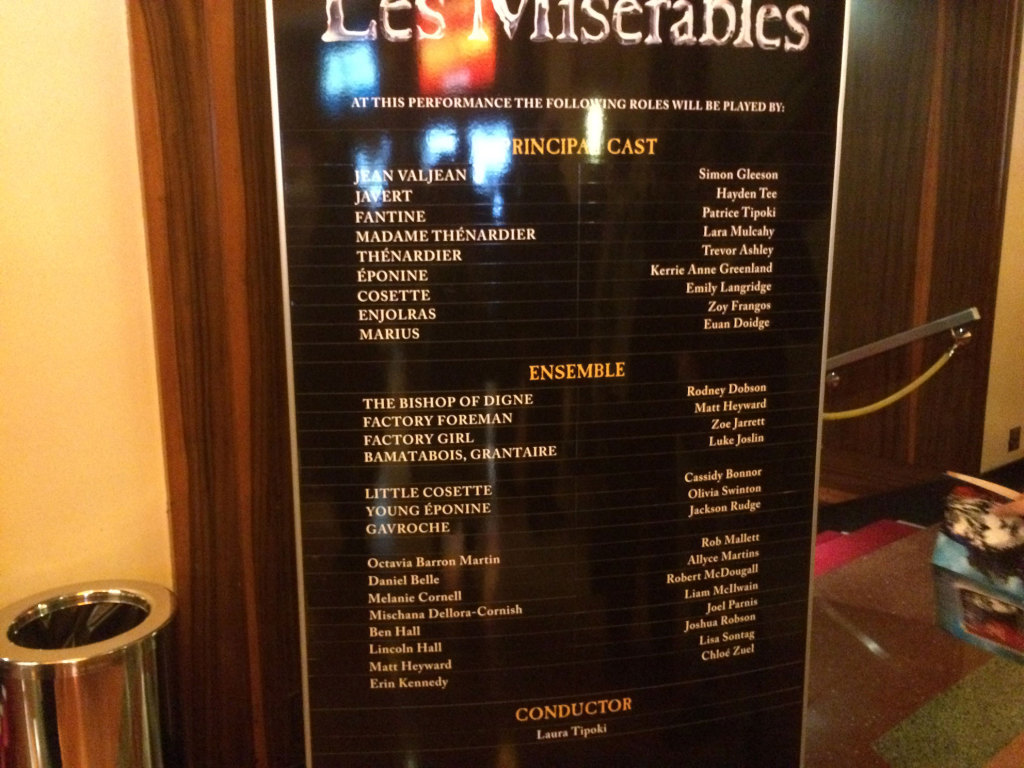 I have to admit my favourite performers of these roles are Colm Wilkinson and Philip Quast, who were in the 10th Anniversary Concert version of Les Mis, but today, I was not at all disappointed by Gleeson and Tee…in fact, I was totally enthralled!
And a special mention for the innkeeper and his wife…perfect! They achieved the balance between comedy, and the more sinister.
The sets and the clever projections made us feel like we were really in the scene…especially from where we were seated.
The fight scenes at the barricade almost had us ducking with the sound of bullets coming from all around the theatre!
The orchestra was great too….the re-scoring has given a new lease of life to the wonderful music…and a special mention to the trombone player, who we know through our involvement in brass bands!
This musical can have you laughing one minute…cue the innkeeper and his spouse….and in tears the next…it is a roller coaster ride, packed full with wonderful songs that can stir the soul….and your emotions.
If you have never seen Les Miserables, or have only seen the movie, get yourself along to Her Majesty's before this production closes on December 20th…you won't regret it!
And if you live in Perth, WA, you are in luck, as the show is then heading west, followed by Sydney, NSW, in March 2015.
Can you hear the people sing? You betcha!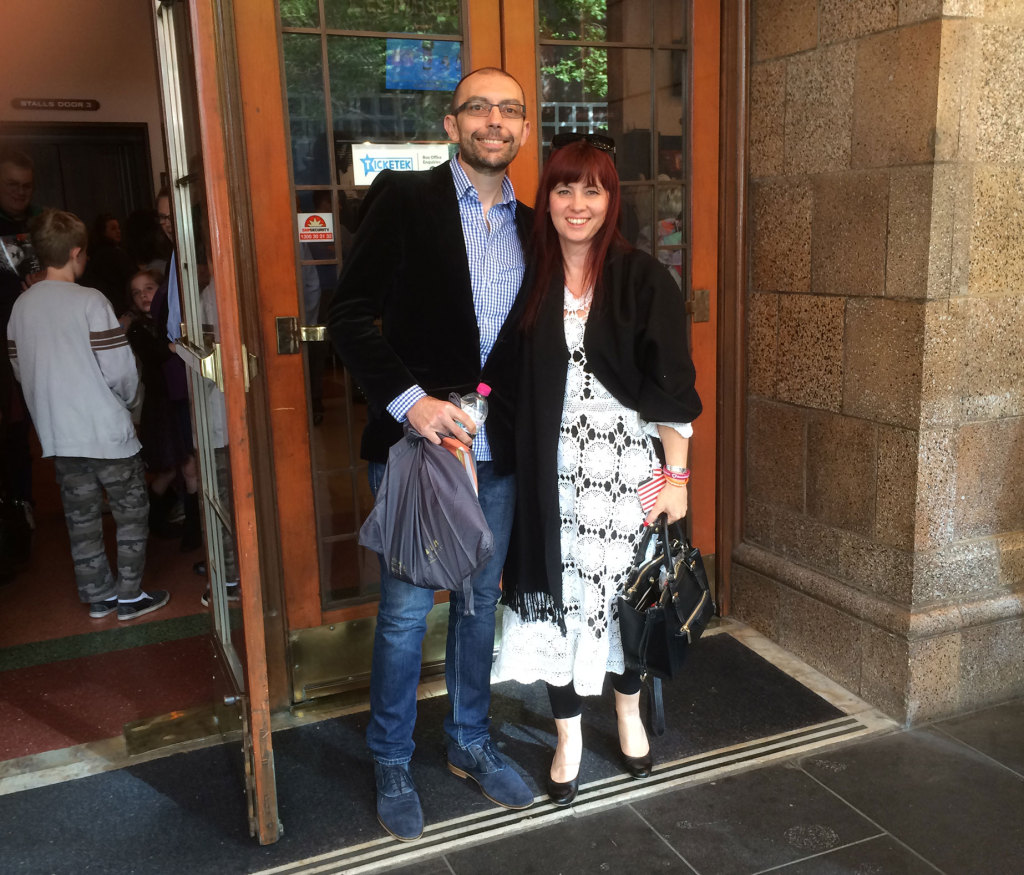 To find out more and to book tickets, click here to to the official Les Miserables website