It was definitely a week for dressing warmly, which meant I headed into the typical Melbourne colour scheme of greys and blacks…but don't worry, by mid week, I broke out some colour!
What I Wore…Monday 6th July – Sunday 12th July 2015
Monday meant I was back at work after a week off, and it was wet, cold & dreary.
I reached for my comfy Arthur Galan oversized jumper (bought on sale) with Jeanswest Curve Embracer jeans, a black long sleeve t-shirt & surprisingly comfortable Spendless over the knee boots.
I am still amazed that boots that cost way less then more expensive brands, actually fit my wider calves!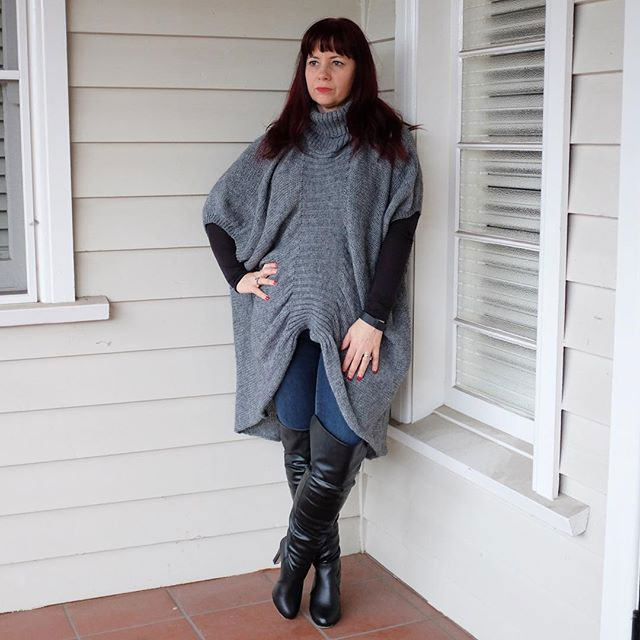 Tuesday saw me somehow ended up in all black…the cape is handmade from Pretty Parcel with black long sleeve top & a black pencil skirt…fnished off with black tights & vintage lace up heels.
And this was the most liked outfit image for the week on Instagram!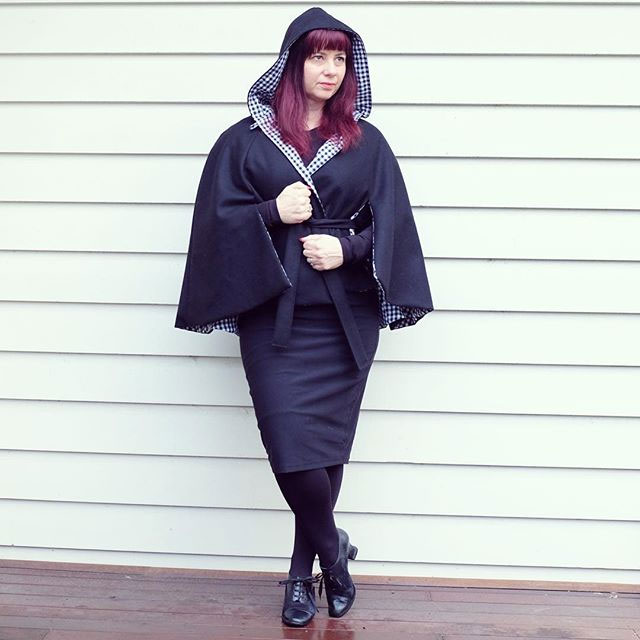 Wednesday saw me fighting back with colour after a bad vibe day on Wednesday…dug out my brightest vintage dress from Frocks and Slacks, and added a denim jacket & my rainbow Curlypops brooch.
Tights & boots add some warmth…it was only 5C when I took this photo!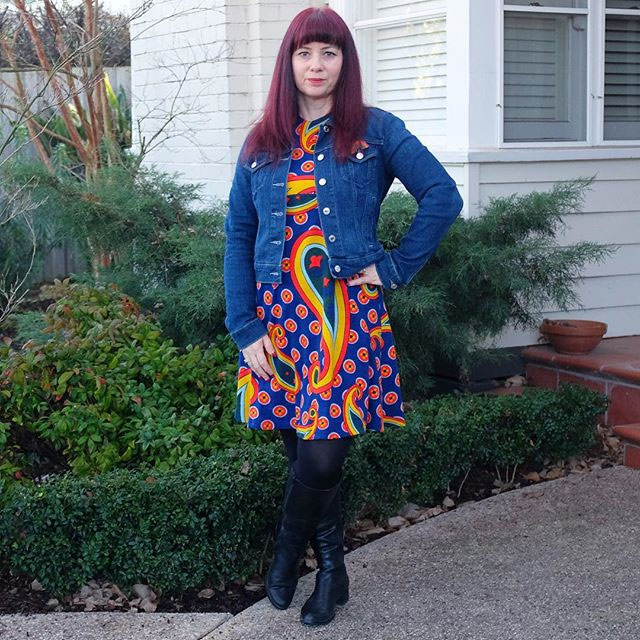 Thursday, I loved wearing this fluffy jacket I got from Yesteryear – it is so warm on these cold days!
Added black long pants, long sleeve top, boots and an op shop find belt.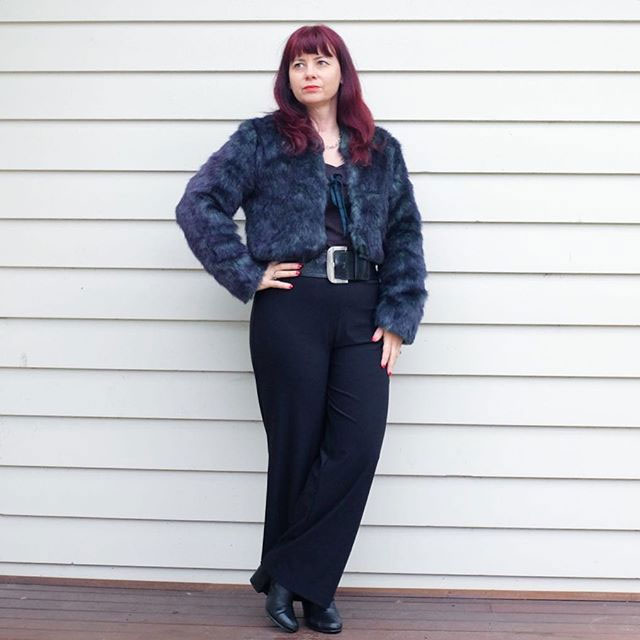 Friday consisted of a morning of errands before the reported Antarctic Vortex arrived…a vintage dress from Frocks and Slacks, with my fav 1940s jacket from Mulberry Street Vintage plus boots, long sleeve top & a belt that a work colleague found for me.
Love it when I discover two vintage items from different eras match & create a unique outfit!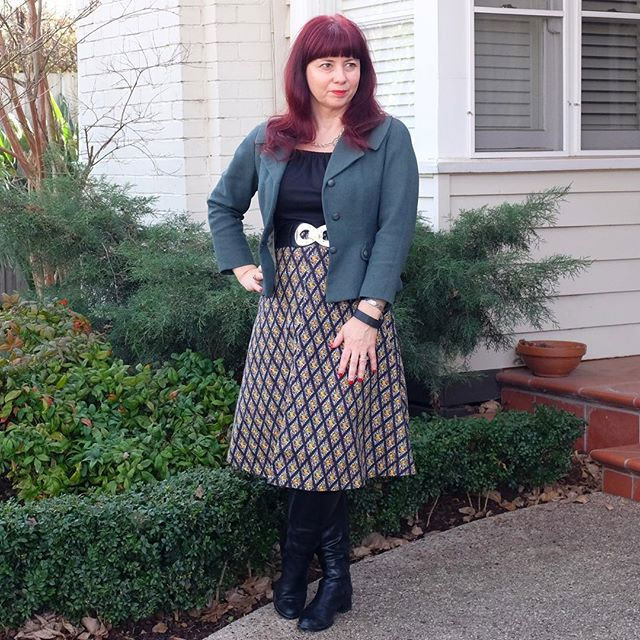 Saturday, I dressed up in my favourite vintage skirt found at Frocks and Slacks and added my new Dangerfield leather biker jacket (currently on sale).
Layered up against the cold with a long sleeve t-shirt, woollen scarf, tights and boots.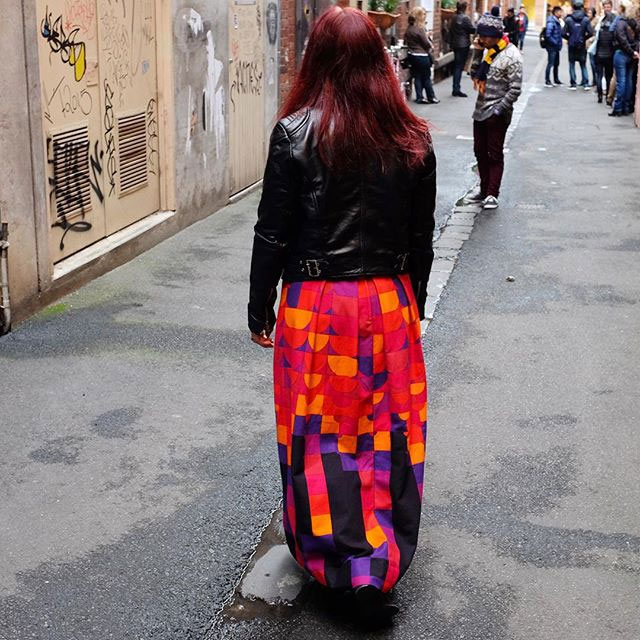 Sunday saw the Antarctic Vortex well & truly arrive…it was freezing and very wet!
Rugged up for a quick road trip in Jeanswest Curve Embracer jeans, boots, jumper and a warm coat.
Added a woollen scarf & my Grandma Funk hat, which I have learned is essential on days like this…keeps my head warm and my hair dry!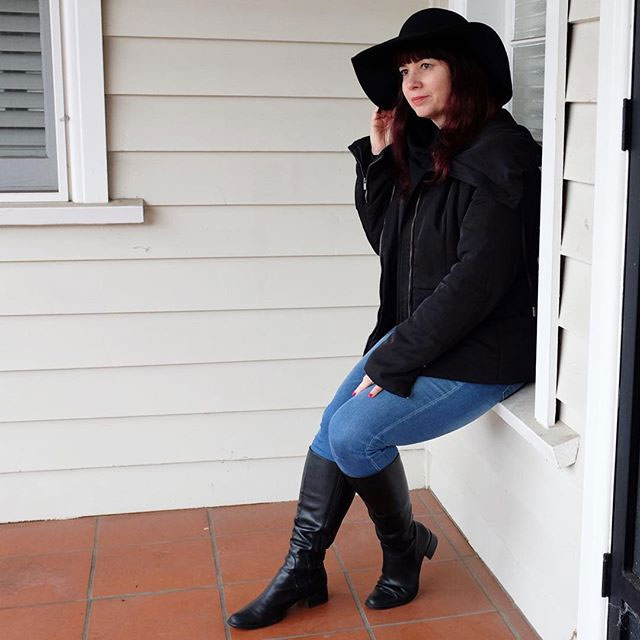 What was your favourite outfit of this edition of What I Wore?
Share in the comments below as I would love to know!