So during a recent weekend visit to Lost and Found, I found these…yes, dark brown, almost black vintage leather pants….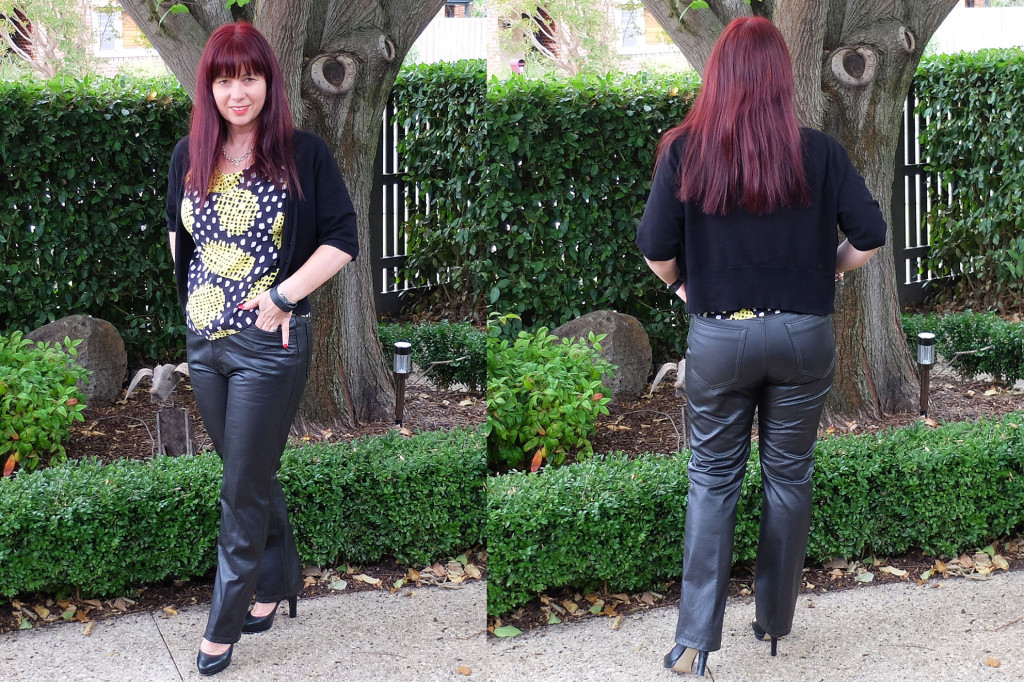 I have always wanted a pair, but was never game enough, let alone be able to afford to get some…I have enough trouble with jeans (at least until recently)!
Plus the fact I am short…I am just over 5 feet…which means everything needs shortening, and I don't even want to know how expensive, and somewhat wasteful, shortening leather pants would be!
However, I took the chance to try these ones on and voila….perfect length…thank you vintage gods!
Now leather/faux leather pants have drifted in and out of fashion, but I can assure you they have transcended the rock chick look….a quick search on Google reveals that celebrities and fashion bloggers are definitely still wearing them!
Not that it really matters to me…if I love something, I will wear it!
Leather pants can be dressed up, or down, and can add a modern twist to your wardrobe.
The trick is what to wear with them, and to feel confident doing it …to start, you need to find a pair that is the right cut and fit for you.
I prefer the classic slim style, and a higher waist, but just about every style has been recreated in both leather and faux leather…it's just a matter of finding the style that fits you and you feel comfortable to wear.
And the advice I have been told is to make sure they are pretty fitted as they do tend to give over time.
I like styling my pair with a looser top, and definitely some high heels!
One word of warning, they can be somewhat unforgiving, and don't suit everybody…but in so saying, there is no harm in trying a pair or two on…you never know!
A pair of leather/faux leather pants might be just what you need to add an edge to your winter wardrobe!
Would you wear leather/faux leather pants?