Please note: this is not a sponsored post! My opinions are, as always, totally my own!
It's no secret that I love stationary…diaries, notebooks, pens, stickers, highlighters….you name it!
But I have been searching for a planner that can assist in keeping my foggy brain on track, especially as I work full time as well as being a daily blogger.
The Passion Planner was another find via Instagram…plus I discovered that there is a whole worldwide community that are all about planners and decorating..no apps or technology involved.
And this is something that appeals to me, because although I am a gadget geek and love technology, I prefer using paper to make notes and dates!
Writing things down gives me a framework that I am more likely to follow…paper is free of distractions AND you don't need power!
This planner was created by Angelia Trinidad…she initially launched her idea through the crowdfunding site Kickstarter at the end of 2013, and it was a success…selling an impressive 4,000 planners.
Trinidad is only young…currently just 24…but she had a vision and she brought that vision to life!
However there were quite a few negative reviews during those early times due to issues such as late delivery, poor quality and poor communication, but it seems that it has all been smoothed out, and my planner arrived within a few weeks from the USA.
So what is it?
The Passion Planner is described as a life coach that fits into your bag.
The aim is to clearly define personal goals and dreams and assign them into long and short term goals.
Then these goals are broken down into more actionable steps, that can physically ticked off as they are achieved.
There are a couple of versions of the Passion Planner…I went for the compact Academic version as that starts in August 2015 and goes through till August 2016 so perfect timing to get organised!
The compact planner is about A5 size which I prefer…fits well with my notebook and iPad mini!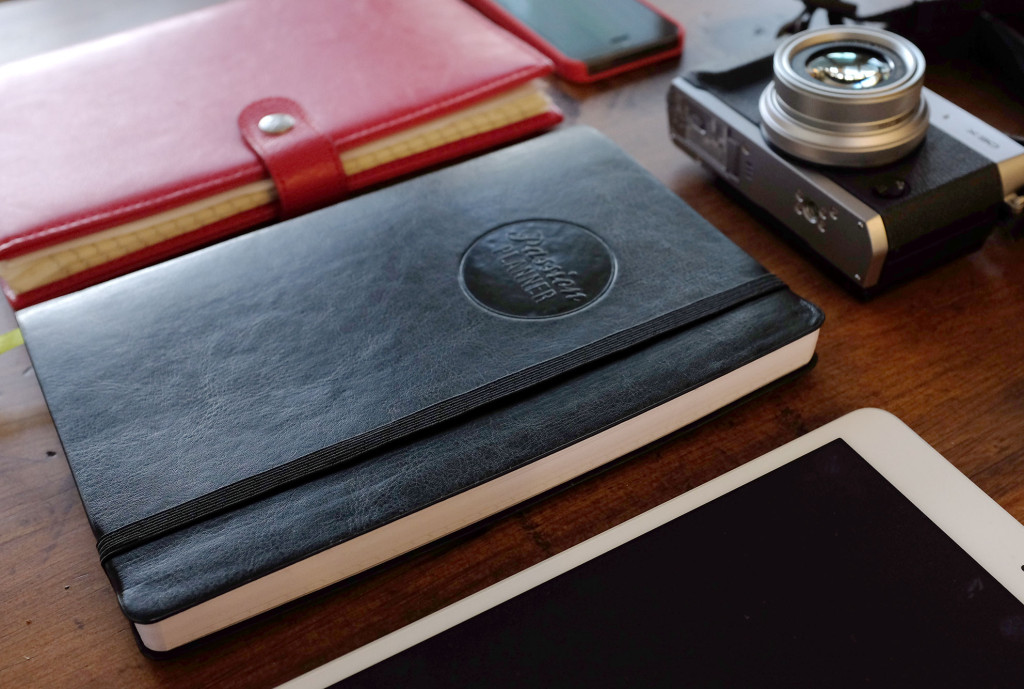 I should mention that this size does mean that the space to write in is smaller, especially in the scheduling section, but that is fine for me.
The first part of the planner is all about creating your Passion Road Map…this helps you to work out your goals, and what steps that need to be done to achieve them.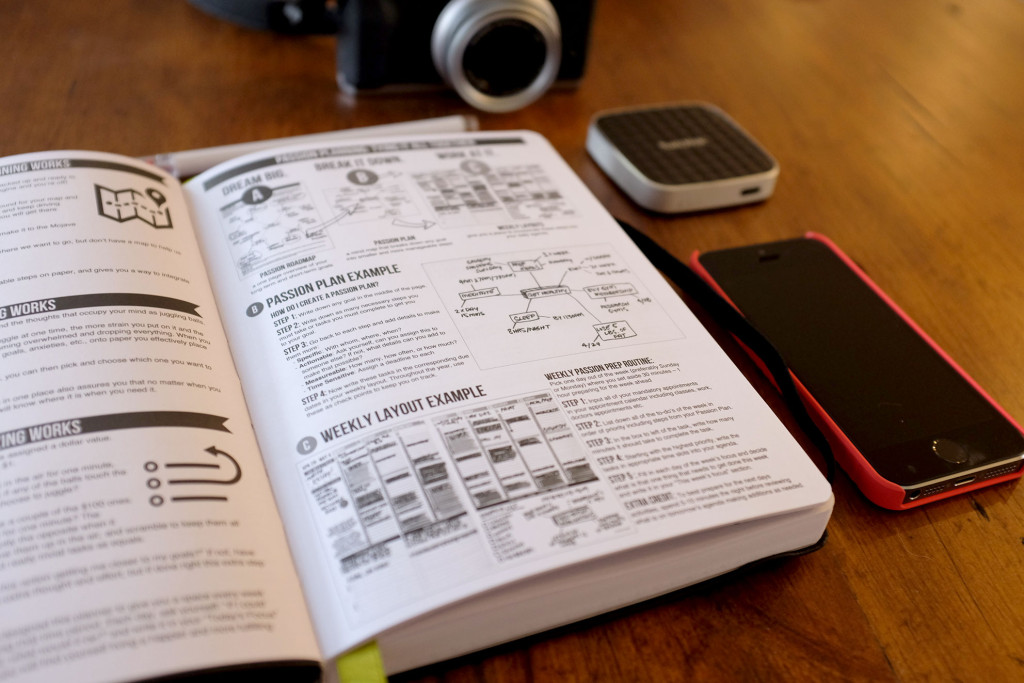 Two yearly calendars are included…2015 and 2016…plus holiday dates for the USA.
At the beginning of each month is a Monthly page view…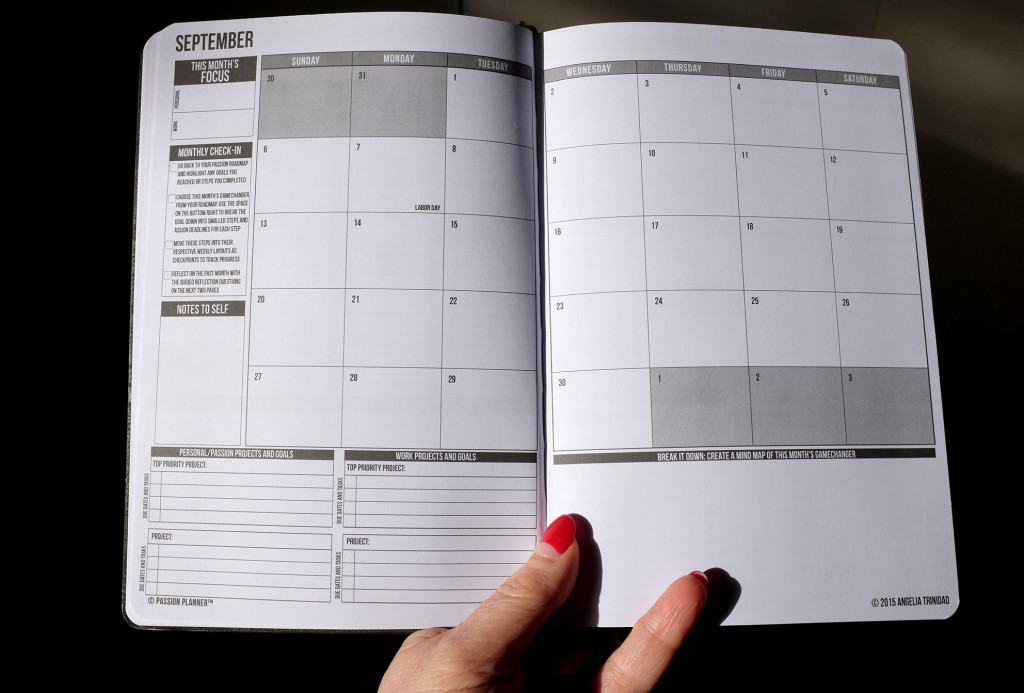 And then daily planning pages follow with each week is spread over two pages…
For each week, there is space to write the week's focus, and to note any good things that happened.
At the bottom is the To-Do lists, one for personal and one for work.
There is also a space for taking notes, drawing, journaling or just for brainstorming ideas.
The days are divided into half hour blocks from 6am to 10.30pm…and you can pinpoint the focus for each day.
Also included are inspiration quotes.
At the end of each month, there is a section with some questions to help you reflect on what you have achieved, and what you can improve on in the coming month.
At the back of the planner are some blank pages for notetaking etc.
Things I like about this planner…
Perfect size for me
Planner lays flat when open which makes it easier to write in
There is an elastic band to keep the planner closed when not in use, plus a lime green bookmark
Provides space for both my personal tasks as well as work and blogging
I like seeing a week at a time…and I like how Saturday and Sunday have the same space as the weekdays as we are often more busier over the weekend.
Things that could make it better…
tabs to make it easier to flip between months
a loop or pocket to store a pen
option to start the week on Monday rather then Sunday (guess that is an Australian thing!)
As I mentioned earlier, the Passion Planner comes in a number of different versions, including an undated one so you can start anytime you are ready.
It is only available online, which does make a bit more expensive for us Aussies due to the currency exchange and postage costs…mine cost USD$37.99 which works out to be just over AUD$50…but there is some good news!
You can try the system out before purchasing by downloading a pdf version for free…how cool is that?!
So I am now going to have fun setting up my Passion Road Map, and investing in some coloured pens and stickers…and then hopefully get some direction in my personal and work life!
I will report back in a month or so and let you know how it all is working!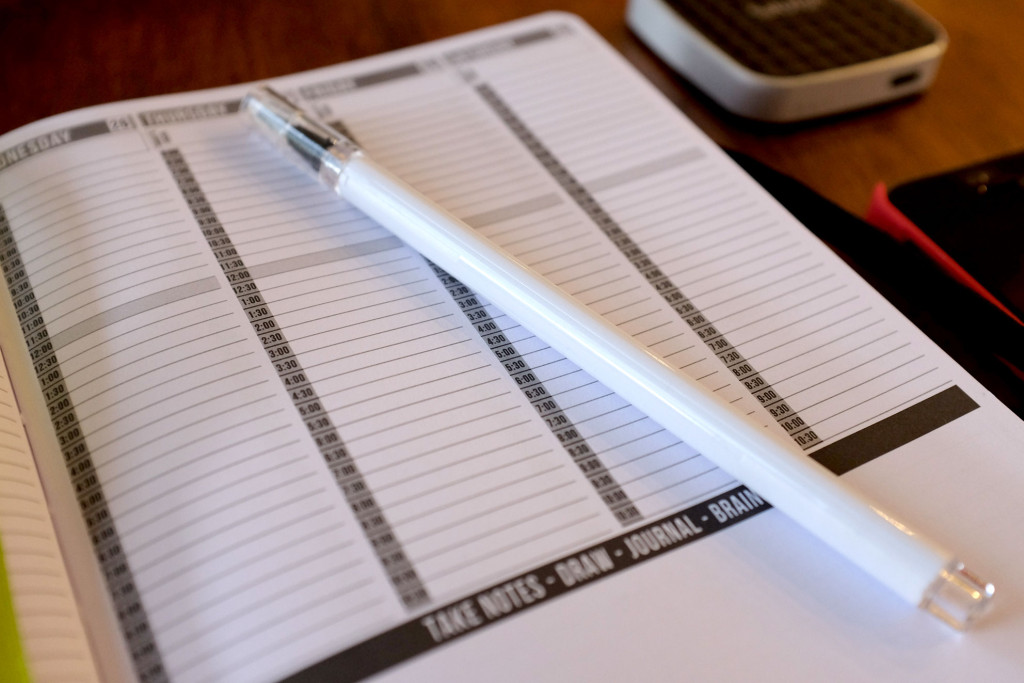 To find out more information about the Passion Planner, and to order, click here to visit the website.
Please note: this is not a sponsored post! My opinions are, as always, totally my own!