I will start this post by saying I am definitely not a beauty blogger…I have only recently become comfortable with "turning up the volume" of my makeup…well, starting to actually wear proper makeup!
I have had some makeovers in the last couple of months, which has helped me to begin to develop my own style….and one look I am loving at the moment is the cat-eye…with a flick!
Now, even though I am not into beauty blogs, I heard all the fuss about the newest member of Benefit's They're Real range…the Push Up Eyeliner… which by all reports is a game changer when it comes to lining your eyes.
So not long after it was released, I took myself off to my nearest Myer, and headed to the Benefit Cosmetics area to find out what all the excitement was about!
A very helpful and friendly sales assistant….who seemed very young, which made me feel that I was too old to be even considering this "happening" product…..not only showed me the eyeliner, she also applied it so I could see how it looked…and it worked….I was instantly impressed!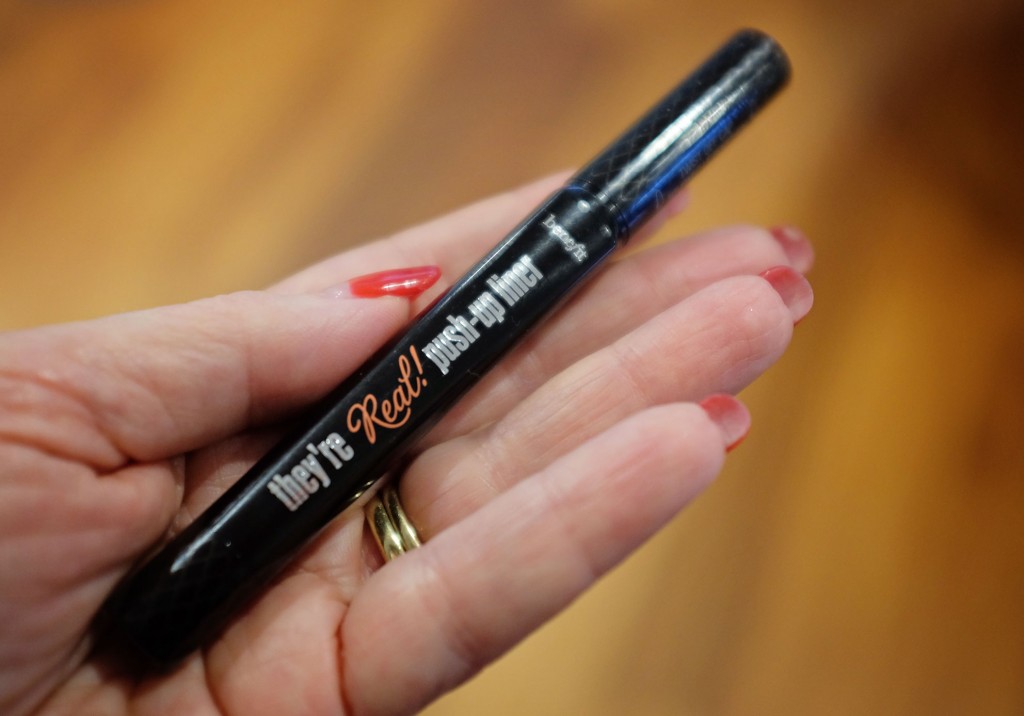 The Push Up Eyeliner was apparently five years in development…Benefit was determined to perfect this product so put the time and money into getting the design just right!
It is the first ever gel eyeliner…in a pen!The matte gel formula won't budge, smudge or dry out….sounds good to this novice!
Before using this eyeliner wonder, I had spent a bit of time practising with a liquid eyeliner, so I had developed a little bit of skill when applying the cat eye look…not perfect, but slowly getting there!
And I can report after a few weeks after switching to the Push Up Eyeliner…I love it! It does stay on and doesn't smudge!
The AccuFlex nib allows you to get close to the lash line,which is good if you prefer a thinner line! You can see the gel on the tip in the image below…
You do need to get used to "priming" the gel by turning the knob at the bottom…it takes a little practise to get just the right amount. You can see the gel on the tip in the image below…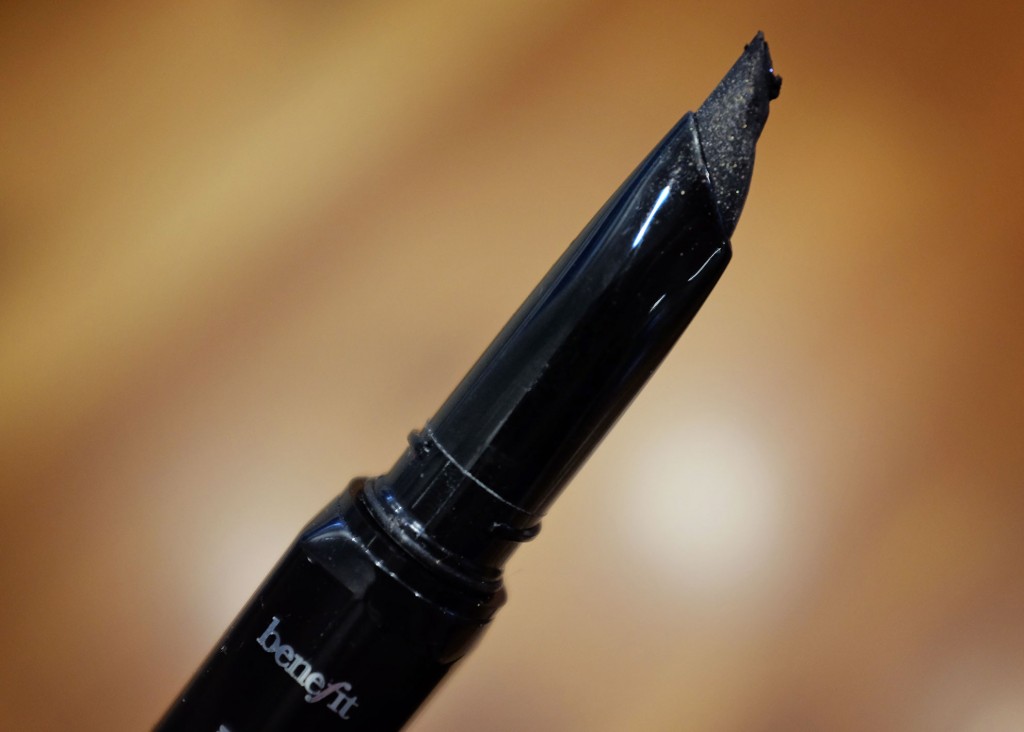 And a word of advice, make sure you replace the lid tight, so the gel doesn't dry out!
And when I left Benefits Cosmetics that day, I also had a couple of other purchases tucked into my free Benefit Cosmetics clutch…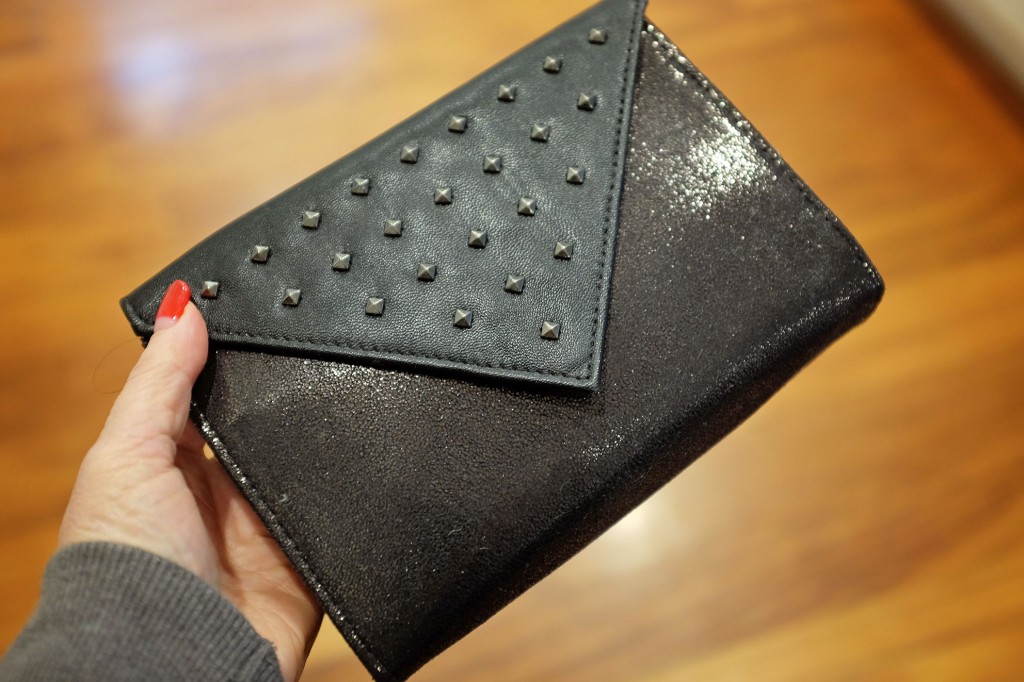 I bought the They're Real Beyond Mascara because I had read this mascara does amazing things…and it does!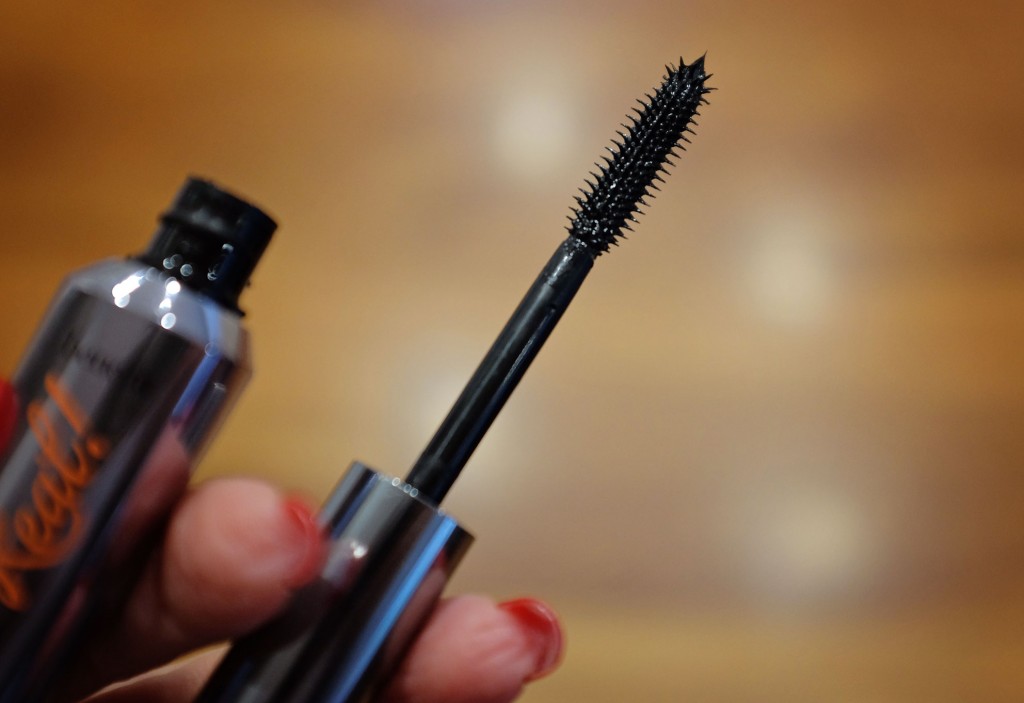 And to continue keeping my eyebrows looking good, I got the Gimme Brow brow-volumizing fiber gel.
I was also given a sample of the They're Real makeup remover, but I have found that the one I had at home is fine, so will use that till it runs out.
My verdict….love them all!
Once I am looking more human again after this horrible cough is gone, I will take some picts of my handiwork…in the meantime,…and while I get a bit more practise in…if you are looking for an eyeliner with a difference, perhaps give this one a try!
Click here to go to the Benefit Cosmetics website for more info!
This is not a sponsored post – I bought and paid for the items myself!