For the last two days, I have been a model in the fashion and styling sessions taking place at the Melbourne Craft and Quilt Fair…and I have to say that is something I never thought I would ever do!
Miss Chrissy from The Lindy Charm School for Girls put the call out for volunteers a few weeks ago…and in a moment of impulsiveness, I put my hand up…and ended up being rostered on for two of the four days.
In the weeks leading up to the show, I must admit I got more and more nervous…I have never done anything like this before, and I am certainly not model material!
But Miss Chrissy assured me it would be easy….and that it would be all fine!
And it was….and not only that, I had a ball and learned so much!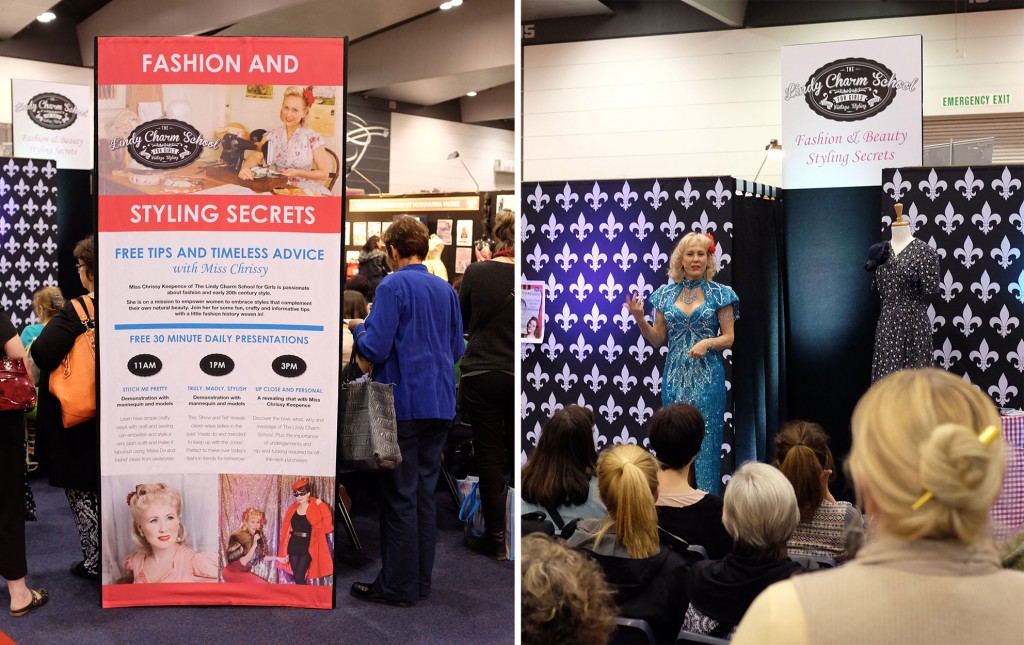 There were three of us girls taking part in each session, and we had fun getting our hair and make up done…the first day, I had my hair done in Victory rolls, the second day, I had curls!
Miss Chrissy then styled us into various outfits for each session.
For the first session on the first day, I wore a black 1940s style dress which had been rescued and brought back to life with some embellishments.
Miss Chrissy showed how the dress can be changed and dressed up….and showed a very neat trick of wearing a cropped cardigan…back to front!
Too soon, that first nerve wracking session was over…and I survived with no problems….although my husband told me to smile….I looked too serious!
I look very nervous in this photo….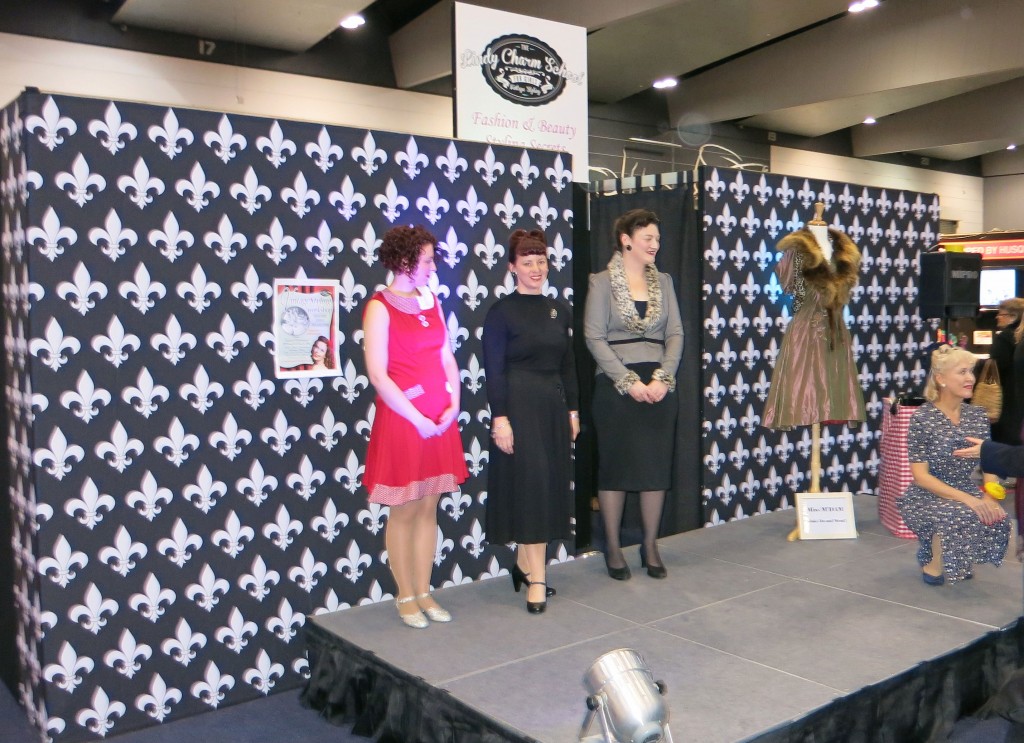 For the second session, I wore a very corporate outfit…again from Target…but by adding some fake fur, an embellishment here and there, including a broken necklace as a belt…it was a whole new look…from the forties!
And I got to wear a fabulous hat!
Miss Chrissy then needed someone to help at a third session which involved hair styles…and undergarments….so as I was on a roll, I volunteered…and soon found myself sitting up on stage, with a corset and a bullet bra on…thankfully OVER the black dress I wore earlier….and sorry…no photos of that….
But I was amazed to find I went from a 31 inch waist….to a 28 inch waist…and it was surprisingly comfortable…I thought I wouldn't be able to breath!
And yes, I was soon a proud owner of my first cinching wrap!
Which came in handy on the second day, as I was squeezed into a lovely blue dress for the first session…a size smaller then I would normally wear!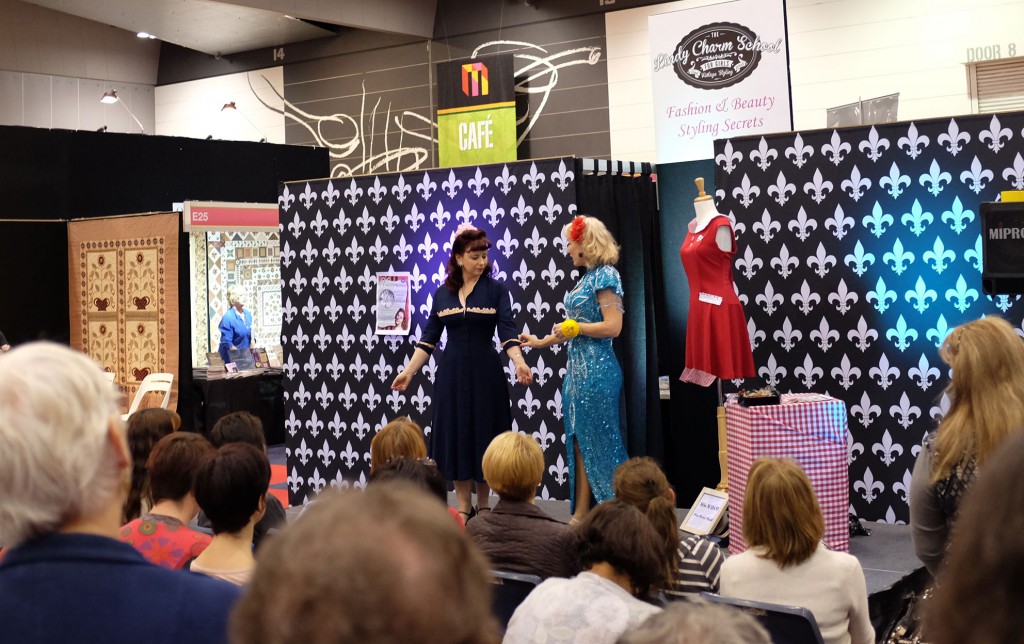 For the second session, I got to wear an amazing black and white dress, with a bright red petticoat underneath…loved it!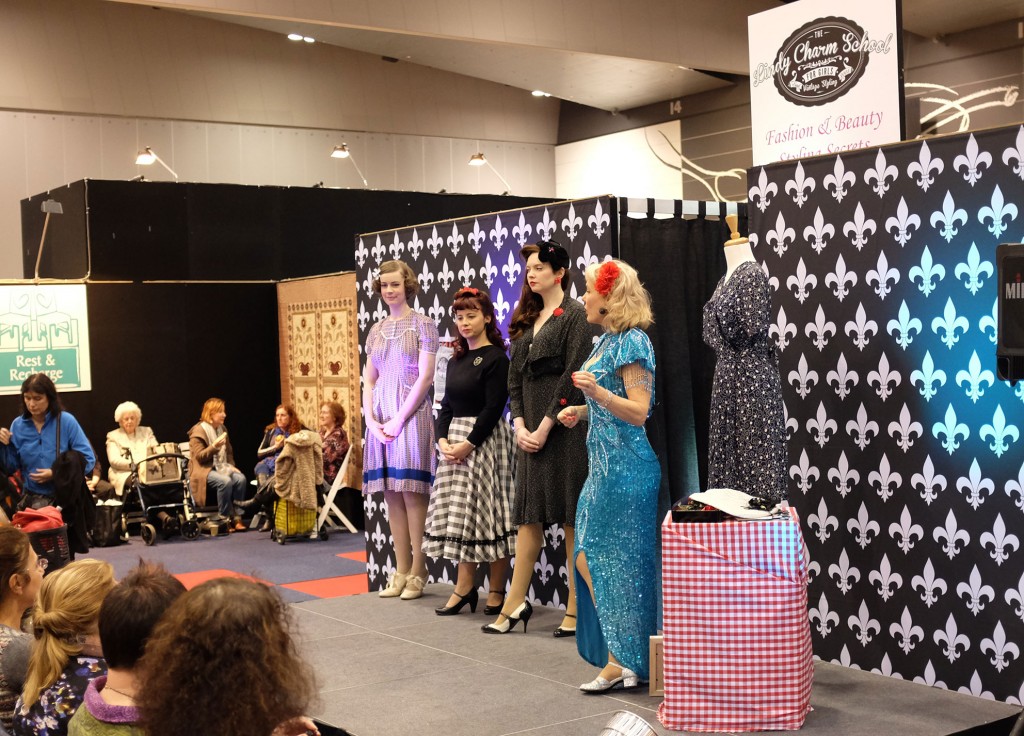 Miss Chrissy did the trick with the cardigan on back to front….voila…an evening look!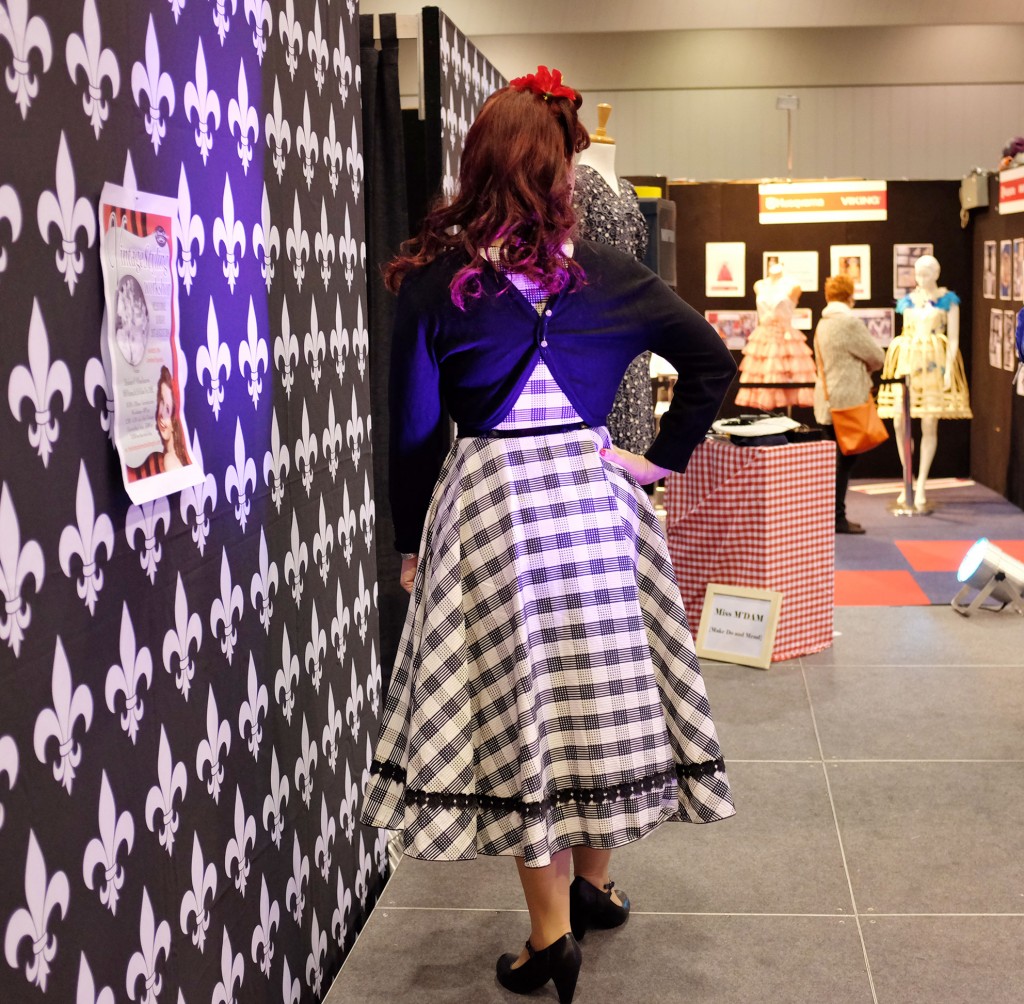 So what did I learn from my modelling experience?
I learned that I have no idea how to smile….I learned how to stand properly…how to turn properly…
But most importantly, I learned to look at clothes with open eyes, and see the potential for going from drab and boring to amazing!
Even my husband found it interesting, and even actually enjoyed being photographer and our "support" guy!
I loved hanging out with the gorgeous girls both days…even though I was the shortest by far on the second day…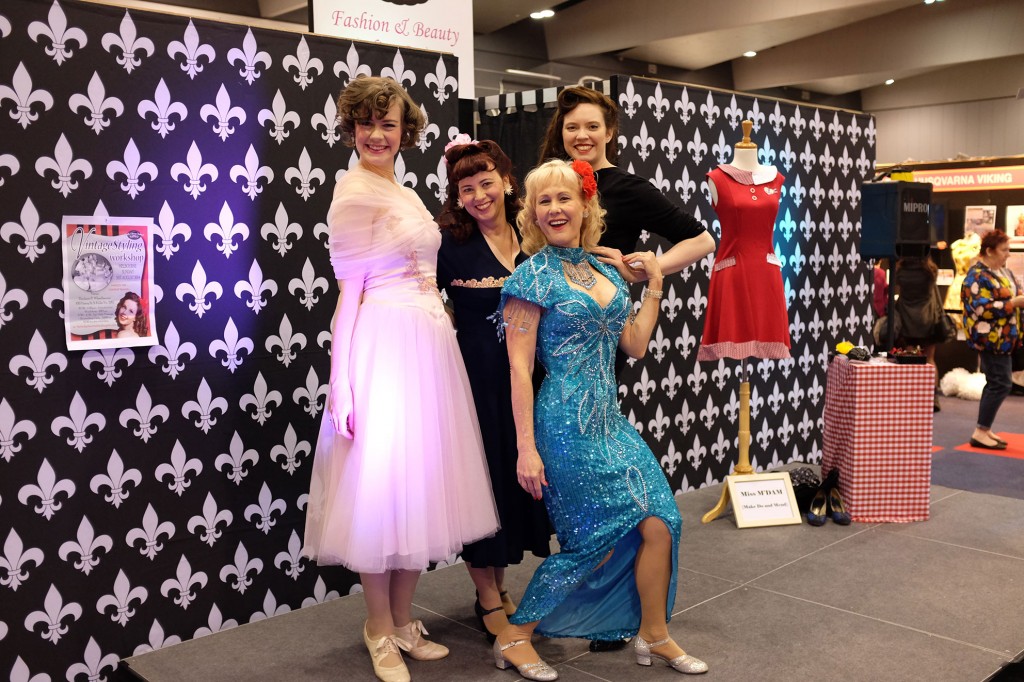 I loved being all "glammed up"…we certainly attracted plenty of attention when we were wandering around the fair in between sessions!
So I want to give a very big thank you to Miss Chrissy for a fantastic experience…I had the best time!
If you are interested in learning how to achieve a little old-school glamour, Miss Chrissy is holding a Vintage Styling Workshop in Melbourne on Sunday 31st August…definitely worth doing!
Be quick as there are only limited spots available!
For more info, visit The Lindy Charm School for Girls website!