This day a year ago, we left home early and had to drive very carefully through debris caused by a big windstorm overnight as we headed to our local hospital.
After receiving a diagnosis of thyroid cancer just over a week before, I was now booked in to have thyroid surgery….the whole lot was coming out!
The days in between diagnosis and surgery were more then a little stressful, especially as we had just moved into our new house, and there was heaps to get done.
But I am not afraid of surgery…I have watched my husband go through a liver transplant with not one complaint, plus I have had my gall bladder removed…so a mere thyroidectomy held no fear for me.
I always remember what one of my sisters in law told me before I had my first ever surgery….enjoy the anesthetic, as its the best sleep you will have…and she was right!
The staff commented how calm and relaxed we were while we waited for my turn to be wheeled off…strange how events can change your views on something….wind back the clock to when I was younger, and I would have been terrified!
And we totally bamboozled the anesthetist….after my husband had his transplant, we were able to view his old liver…a very surreal experience that made it clear just how sick he was…so I asked if I could see my thyroid.
Apparently, in all his years of surgery, the anesthetist had never had this request before…and needless to say, the opportunity was never offered afterwards!
I was first on the list for the day, and I scored two very good surgeons for some reason…..and just over two hours later, I was in recovery, and then moved into a ward…..I look so impressed by it all….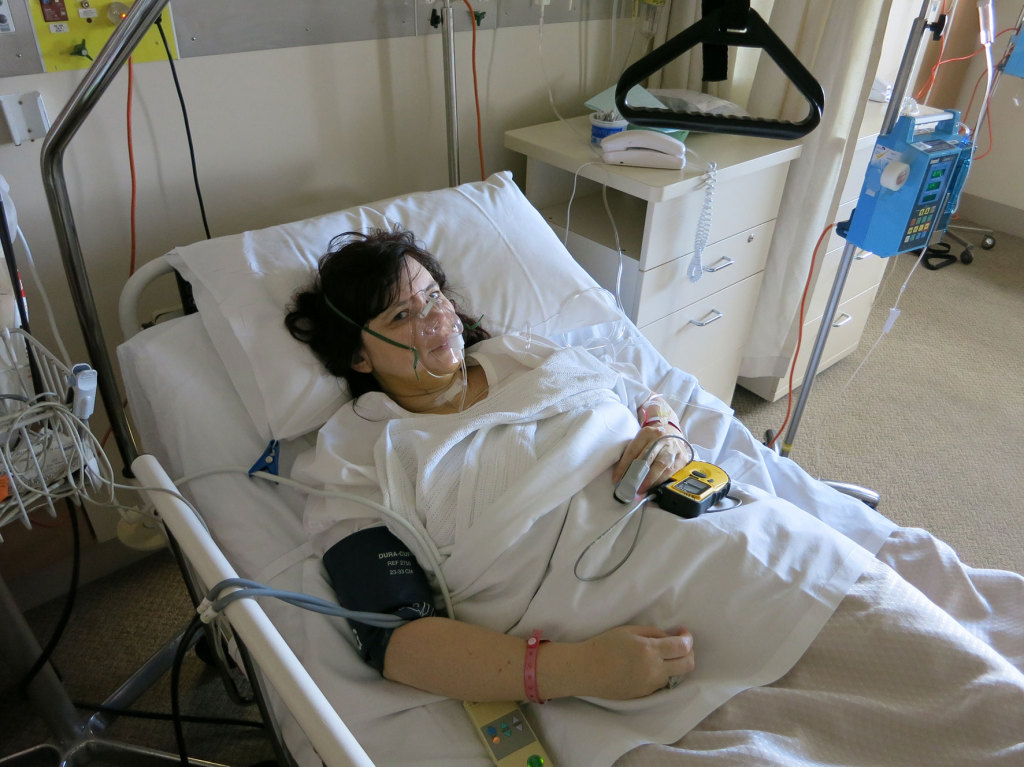 I would have preferred to have been placed in one of the single bed rooms, but because I was only going to be in for 24 hours, I was put in a sort of "holding" ward near the nurses station…not exactly peaceful and quiet.
After I was settled in my allocated bed, I quickly learned something very important for reliving my very sore throat…ice!
I had some fabulous nurses who kept getting me cups of ice chips which was an absolute godsend…I wasn't expecting my throat to hurt so much, but apparently it is to do with the breathing tube.
I found out later that my thyroid was big and horrible, and had two small tumours in it….no idea how the surgeons managed to get it out..you can see how neat the incision was!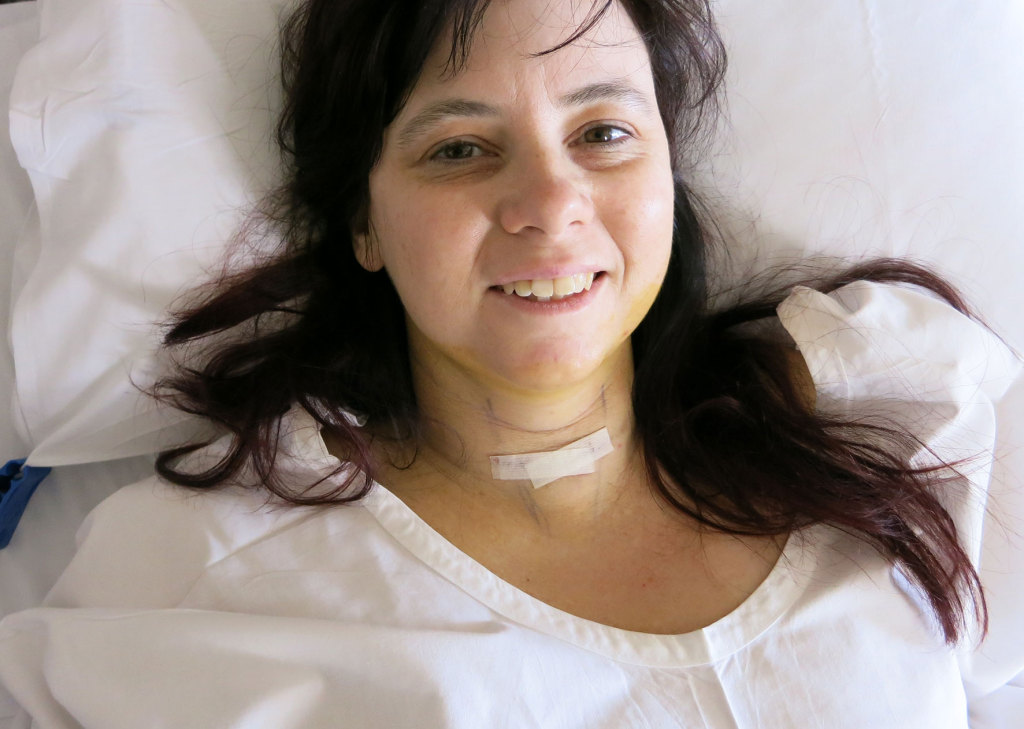 It was an uncomfortable night, but nothing really to complain about…I wasn't particularly in pain, just uncomfortable. In fact my sore throat was what gave me the most problems!
My surgeon came round bright and early the next morning, complete with a big bow tie, and gave me the news that everything went well and I could go home!
So by mid morning, I was safe and sound at home…and demanding ice chips!
My neck had swollen up a bit, but it was still my sore throat which was causing the most discomfort…could only manage soft foods…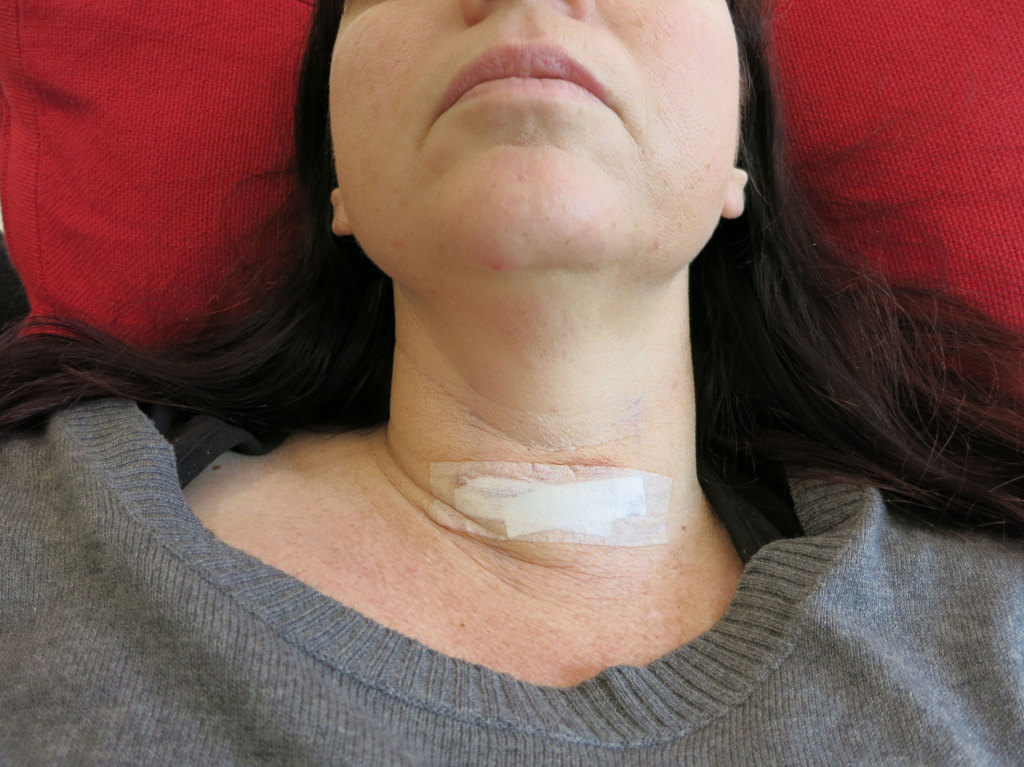 But eventually the discomfort subsided, and the swelling went down.
Below left is 8 days after surgery….below right is 4 months after surgery….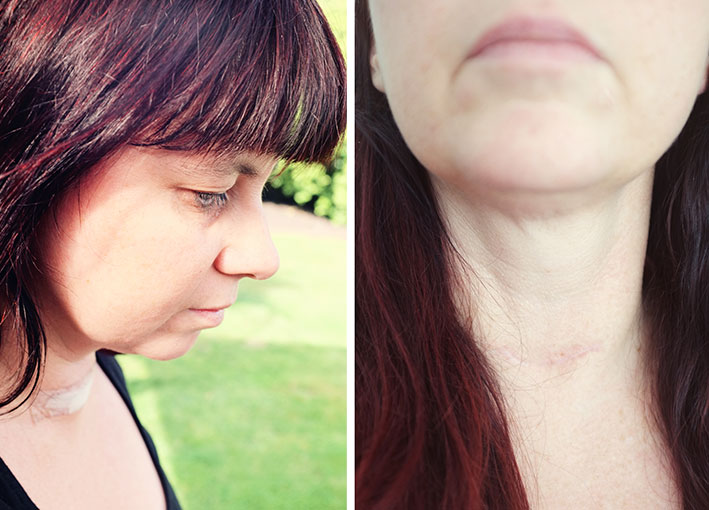 It did take about 6 months before I was able to wear a necklace again, but now it's fine.
Although for some strange reason, I still cannot touch the area on my throat where the scar is….I have a bit of a weird phobia about it…I am fine with my husband's much worse scar from his transplant, but can't handle mine…yep, strange I know!
And this is what it looks like 12 months on….and you can hardly notice it! Even my cancer specialist is amazed at how well it has healed…just a faint reminder of that day!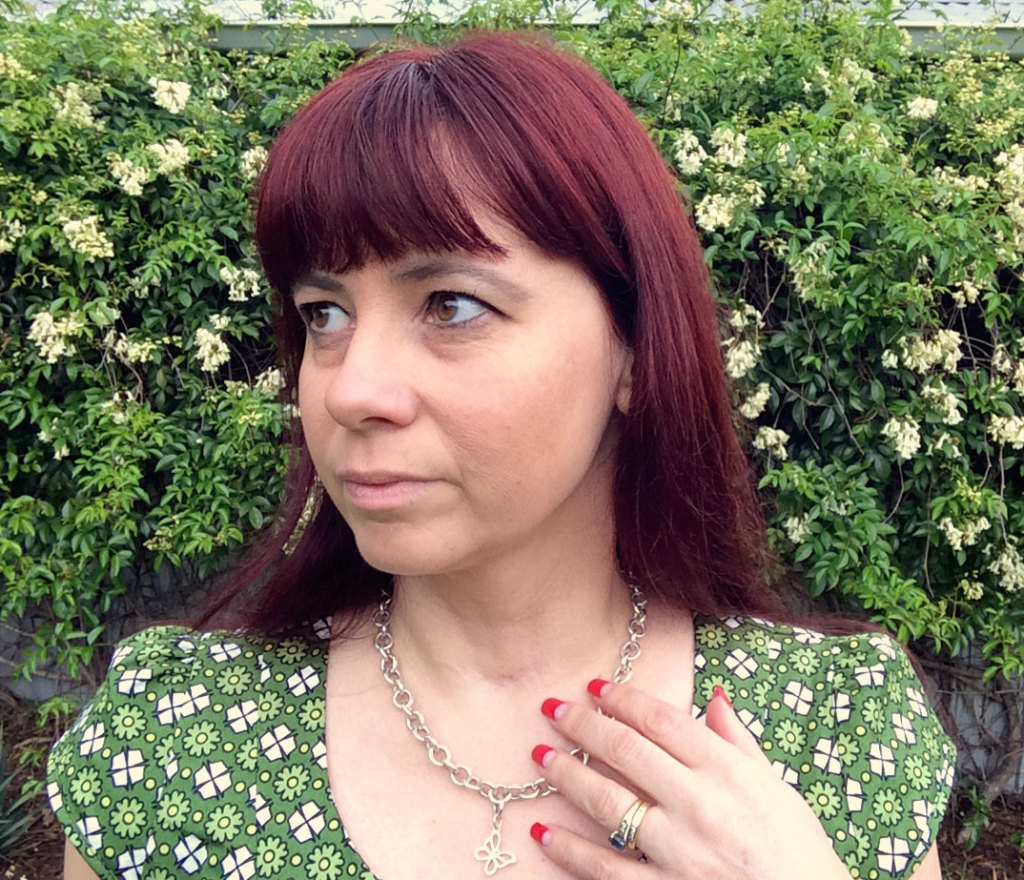 So how do I feel?
Good news is I am 10kgs lighter, thanks to medication changes and some diet adjustments due to my food allergies….and a ultra sound scan showed nothing lurking that shouldn't be….thanks again to my fantastic surgeons!
Bad news is I am still not quite back to feeling 100%….not that I can remember exactly what 100% is as I have been sick for so long….
I had a blood test today as my body is not absorbing the thyroxine medication as it should, and I find if I do too much, I am wiped out for a few days….my batteries aren't charging as they should!
But, I am feeling much better then what I was pre-diagnosis, but please keep in mind it was the Hashimotos that was making me feel awful, not the thyroid cancer…that was just a "lucky" discovery, and I am very thankful my doctor was thorough, and requested a biopsy!
Hopefully I will find out in the next week if my medication can be adjusted or if I need to have any further treatment!
The waiting continues…..