My husband gave me the best birthday present…last night he took me to Tea 101: Exploring Tea, held at the funky tea bar Storm in a Teacup!
The information session was run by Sarah Cowell from Teasense….and it was absolutely fascinating! Sarah is passionate about tea, and is a wealth of information!
There were only 8 tickets to this event, and it was nice that it was a small intimate group.
Sarah took us through a brief history of tea and where it comes from…can you believe there is over 5000 different teas in China alone!
She then talked about four different types of tea – White, Green, Oolong and Black.
We tried examples of each (including two different white teas). Each tea came from a different country….Kenya, China, Japan, Taiwan and Sri Lanka.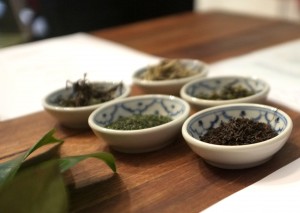 The group took turns having a go at brewing and pouring the teas. The tea leaves are carefully measured, and brewed at particular temperatures for set amount of time. Each one is different….for example, the white tea is best with water heated approx 75C, and infused for 3 – 5 minutes.
And we learned that some teas can be infused many times…so don't just throw out the tea leaves after one cup! For example, some Oolong tea can be infused up to 7 times!
My husband poured the green tea (Deep steamed Fukumushi Sencha from Japan)….don't you just love the small teapot!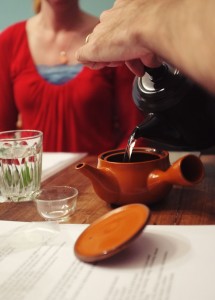 The Oolong tea (Four Season Oolong from Taiwan) was interesting… before brewing the tea leaves are in small balls (on the right in the image below). Once brewed, and this was after the second infusion, the leaves open up!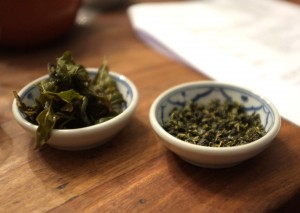 You can see in this beautiful glass teapot that the leaves are unfurling.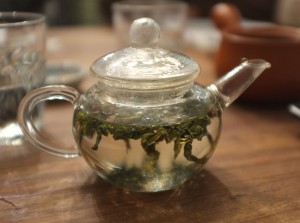 And don't forget to warm the teapot before brewing the tea!
Making tea is so much more then just dropping a teabag into a cup with hot water and maybe milk…the process of tea making can be a beautiful experience, a connection!
Tea can be ruined with over brewing or water that's too hot. As a non coffee drinker, I have experienced tea in cafes that tastes terrible….they get the coffee served right, but don't give a second thought to the tea…and it shows!
So if you love tea, do yourself a favour and experience what real tea is like… visit Storm in a Teacup, and keep an eye out for further classes run by Sarah…well worth it.
Now we have been to one session, we want to learn more!!
A perfect night out for my birthday!