Are you in charge of organising a Secret Santa?
Does the thought of asking everyone if they want to be in, making sure you don't forget someone, and then drawing names etc bring you out into a cold sweat?
Do you then get complaints from people that they didn't get useful presents?
Well, I may have discovered a solution for you…have you thought about setting up a virtual draw?
Most people these days have email addresses…and that's all you need!
The one I am using this year is called Draw Names…it is the English sister site to the famous Lootjestrekken.nl…a popular high-tech secret santa generator in the Netherlands.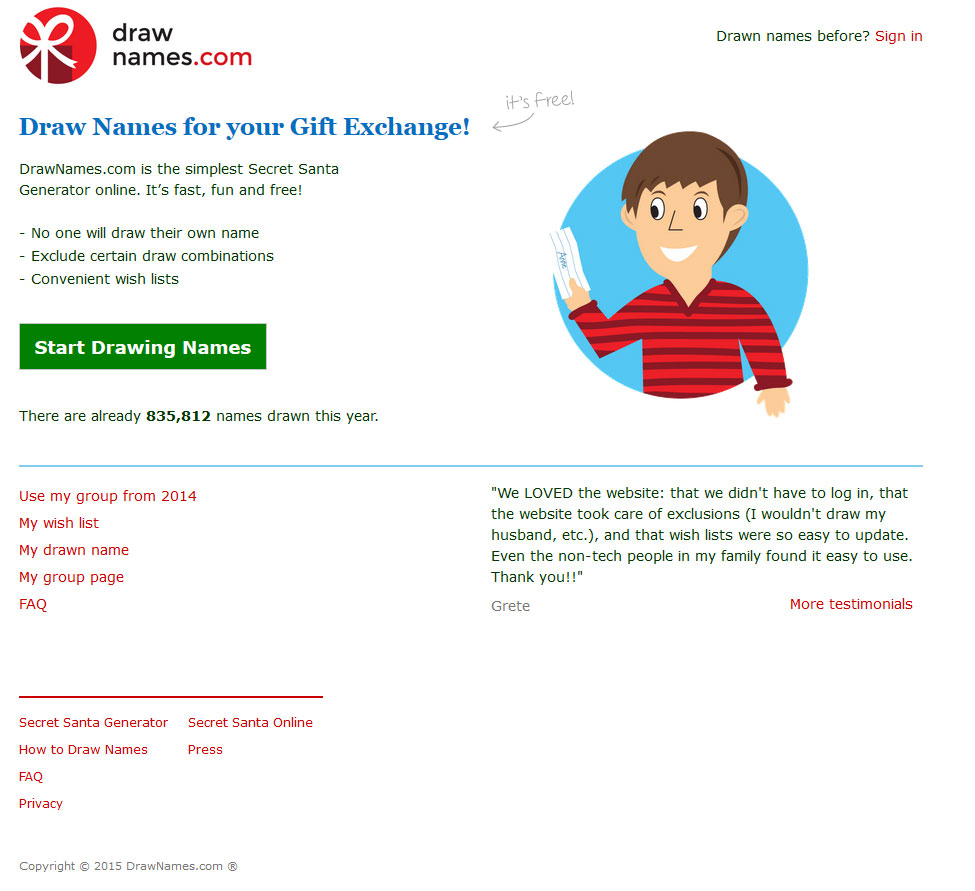 It is very easy to set up your own Secret Santa…and the best part…it is free!
One person needs to be elected the organiser, and they enter in all the participants email addresses.
If you have a large group, this could be somewhat time consuming as there doesn't seem to be a batch uploader available, but that's the most time consuming part of the whole process.
You enter the date the Secret Santa will occur..or perhaps when the gifts have to be sent by….and you can also add a message to your group.
And that's it…you are done!
Everyone then receives an invitation email, with a link to confirm their entry.
Once everyone has confirmed, Secret Santa draws names out of the virtual hat, and each member will receive another email directing them to their drawn name…it's as easy as that!
And what I like about this system is that you can create a wishlist for yourself, to assist your Secret Santa in choosing a present for you.
Or if your recipient doesn't provide any ideas, you can ask them questions anonymously too.
I actually enjoy taking part in Secret Santas…I like choosing a gift for a specific person and I like the surprise gift in return.
I have organised a Secret Santa with a group of friends using Drawn Names and it has worked really well…can hardly wait to see what everyone gets!
I just wish that our workplace would use something like a virtual draw, because for the last few years, I have received lovely gifts of food…despite the fact I  have severe food intolerances.
Which is sad because I like to think by now, my work colleagues know that most food is not good for me as I have had these issues for over 6 years.
However, it is the thought that counts and I am looking forward to what my Secret Santas bring me this year!
Please note: this is not a sponsored post! My opinions are, as always, totally my own!
Do you take part in a Secret Santa? What was the craziest gift you have received? Share your Secret Santa stories in the comments below!