I have booked quite a few houses/apartments for our holidays via the website, Stayz, but this one turned out to be my best find yet!
We have been going to Port Douglas in Far North Queensland for years…although there was a 7 year gap since our last visit…but we usually stayed near Four Mile Beach, which is the main beach.
But this time, we thought we would try a different location…at the other end of Macrosson Street…and now we won't stay anywhere else!
Owned by Sanctuary Villas, Island Point Villas No 4 is on the second level of a small apartment block…it is the bottom right in this image, as the ground floor is hidden by the garden…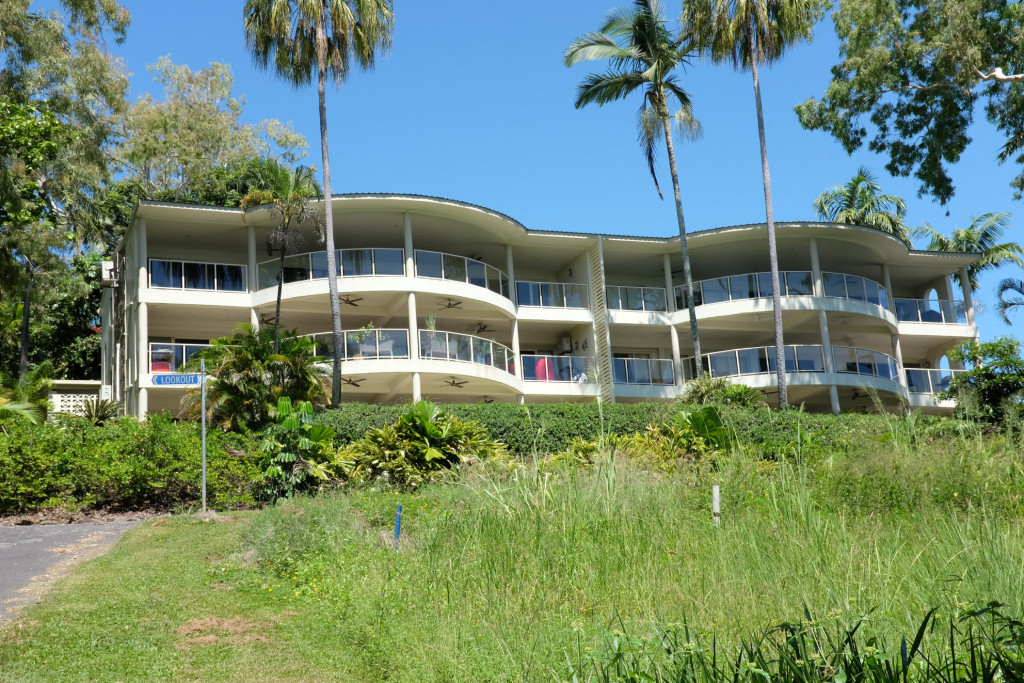 We loved everything about this villa but firstly, lets talk about the view…we have never had a view like this…ever….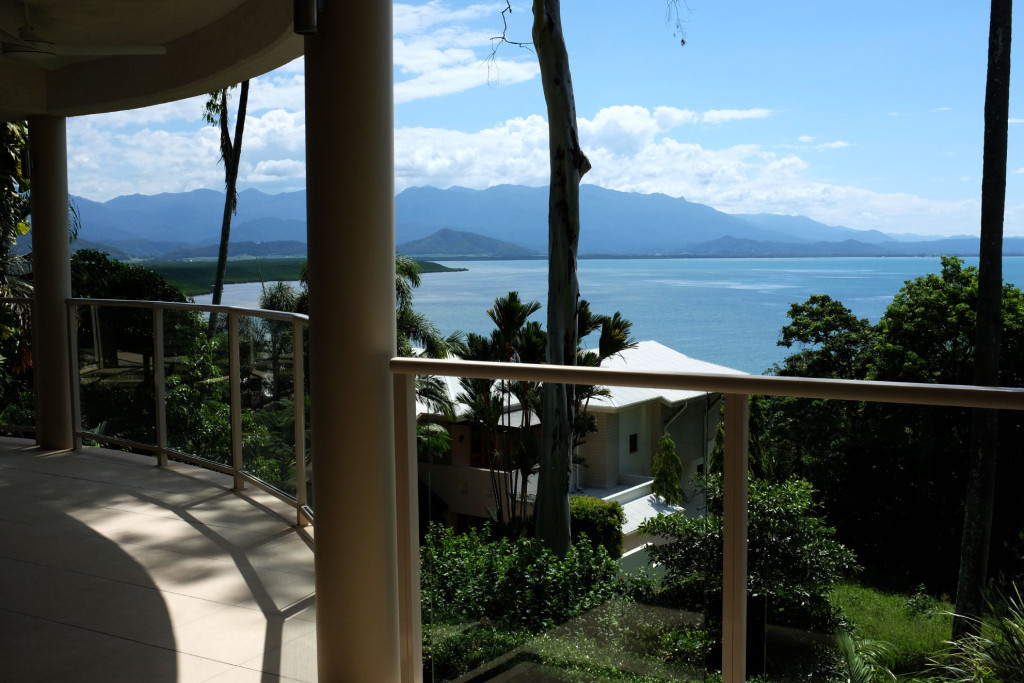 In fact, we tended to be homebodies rather then rushing around being tourists, because, well, the view…I could sit there for hours and watch the world go by…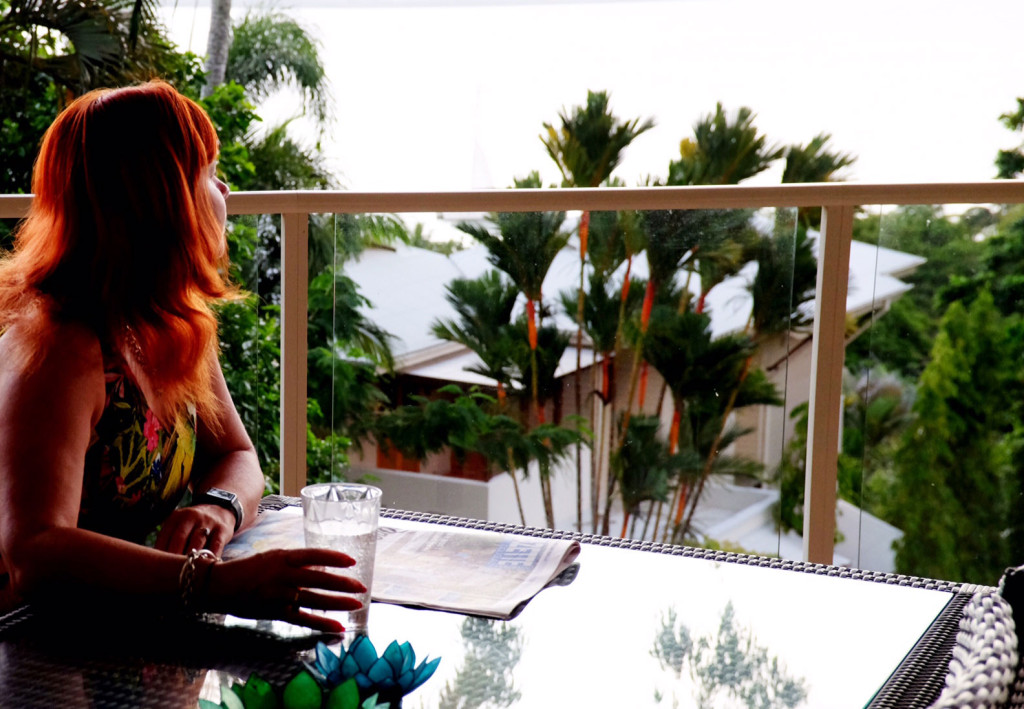 The balcony has a daybed, comfortable couch, dining table and a BBQ which we cooked on almost every night…eating our dinner as we watched the sun go down…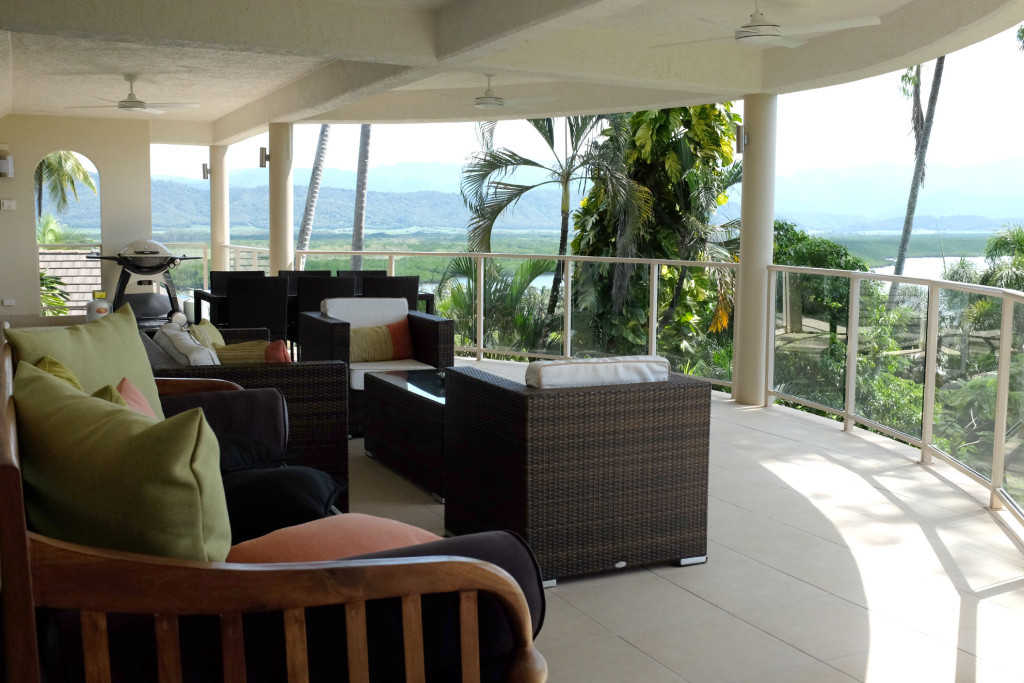 Secondly, at this time of year, you can often get rain…maybe even a cyclone…and strong trade winds can blow in, making the beach not very pleasant.
Tucked away on the other side of the hill means you are protected from the wind…and if it is raining, you still have the amazing view rather than being stuck inside with your only outlook being a street or another building.
Island Point Villas No 4 has everything you could possibly want…it has been renovated, and has all the latest modcons…including a full laundry, dishwasher and a rather flash coffee machine.
It was very humid when we were there, but the villa has split air con in each of the rooms, plus overhead fans…and when the humidity lessened a bit, I loved that you can open up every door wide to let the air in…wish we could do that at home.
The one drawback is the rather steep hill you have to climb to get to the villa…it didn't bother us and we walked it every day, sometimes up to 3 times…I can tell you I am a lot fitter now then when we arrived!
It was however quite amusing to watch cars trying to get up the hill and onto the lookout…many of the backpacker vans don't have good grip, and more than once, we saw the hill defeat a driver, and they had to carefully reverse down again…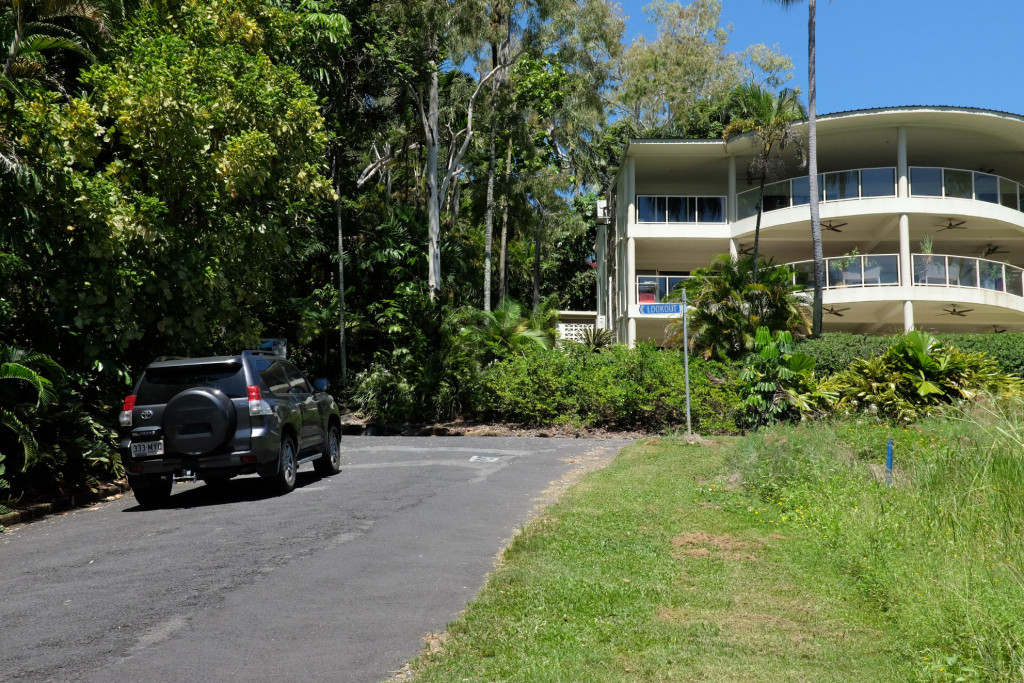 But in so saying, you are literally about 5 – 10 minutes walk from the main shopping/restaurant area of Macrosson Street…and you are already over half way to the lookout…we found it to be the perfect location!
If you do have a car, there is undercover parking literally right outside your door…just four steps up for easy for unloading and unloading…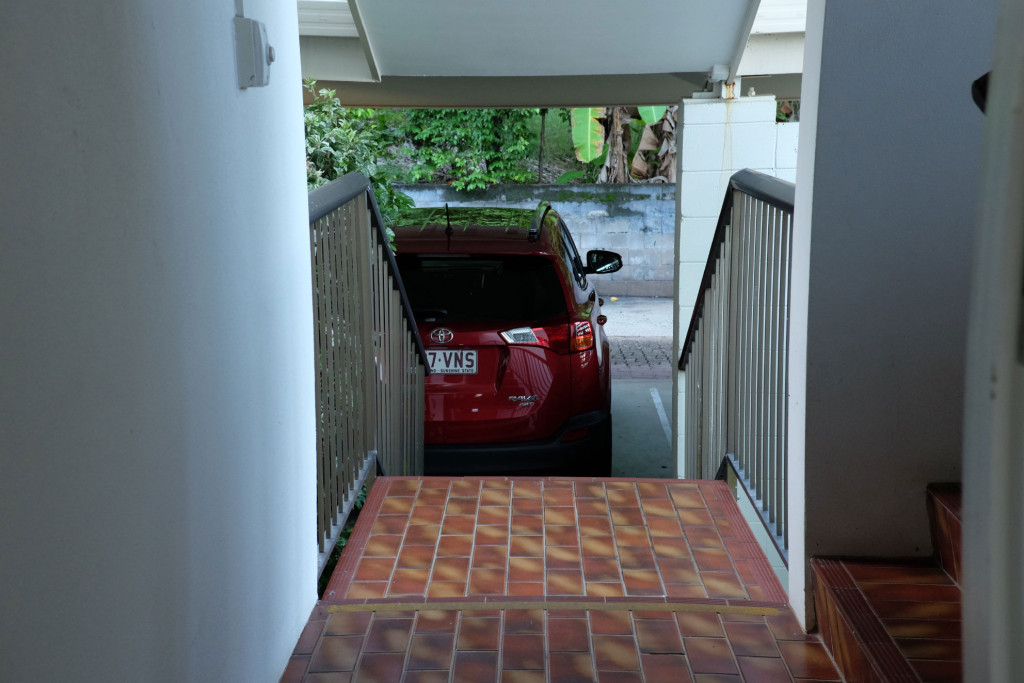 There is a pool, which for some reason we never used….it is located right behind the villa, which could be annoying if a lot of people use it, but it was all quiet during our stay…in fact, apart from the permanent neighbours beside us, we only had people above and below us for a few nights.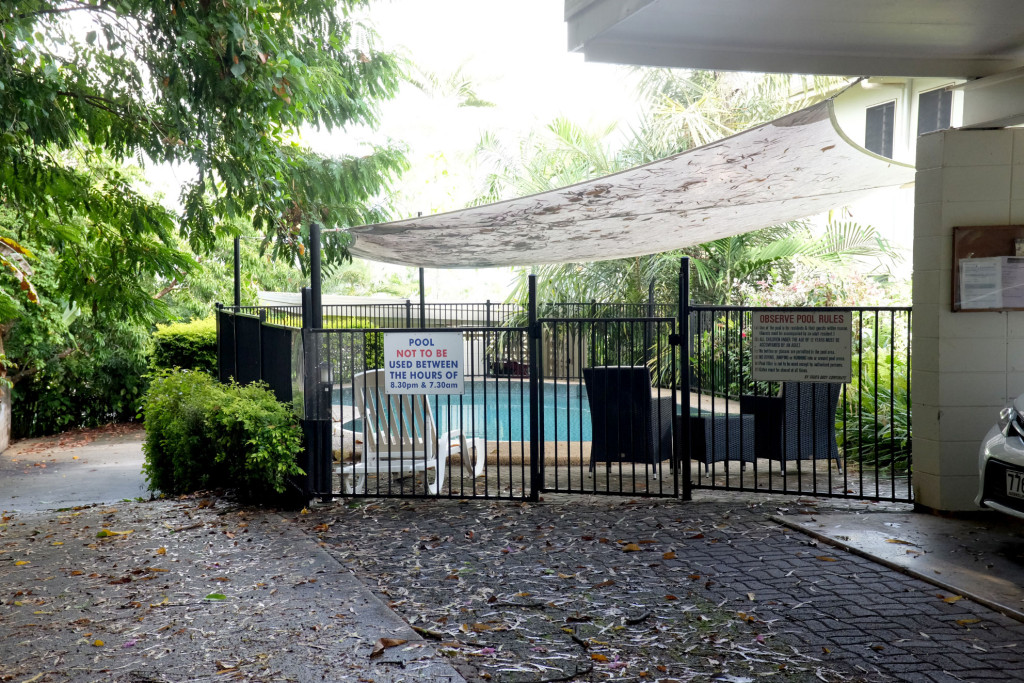 Another big plus for us is there is free wifi…yes, free!
And if you are so inclined, there is a huge TV connected to Foxtel…but we hardly turned it on…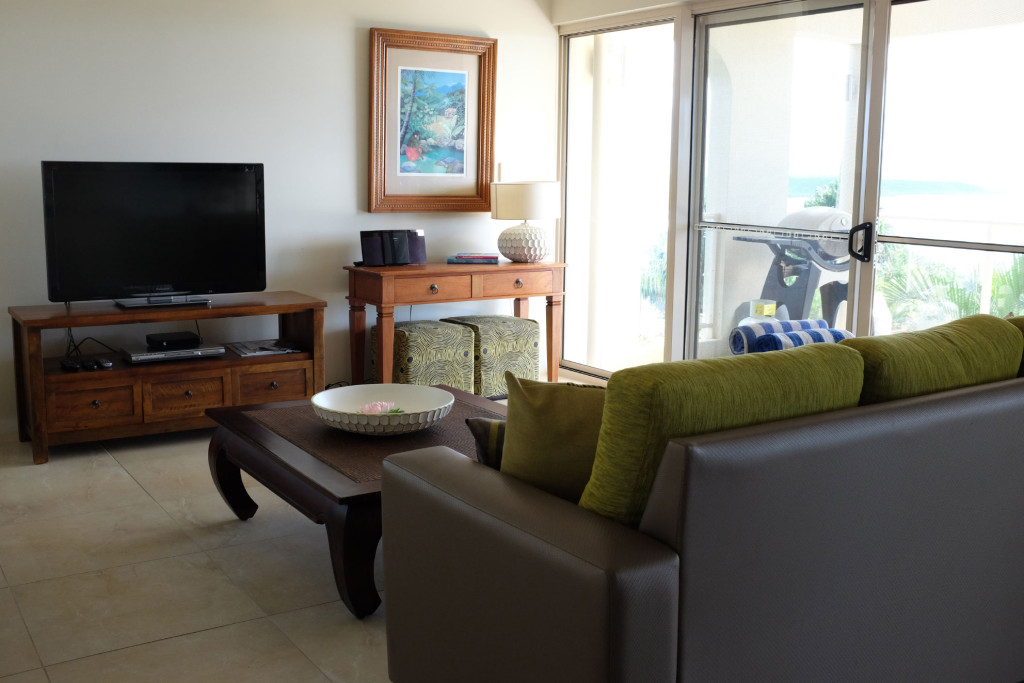 There is an excellent collection of books to read…I took up my Kobo e-reader all loaded up, but never used it as I delved into all the library and read all these…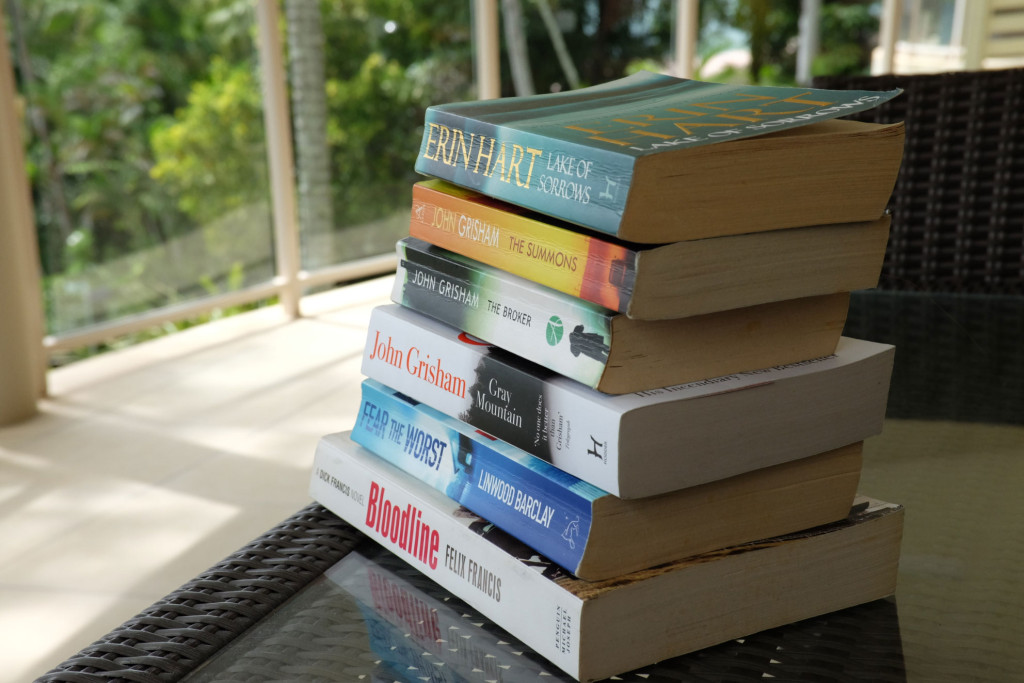 The villa is definitely more suited to couples than families…with two bedrooms, it accommodates up to four people…with two huge bathrooms..one being an ensuite, where you can have a shower while enjoying the view.
To be honest, I don't really want to share just how fabulous this place is in case someone books it when we want to return, but it really is too good to keep to ourselves!
This place is my definition of paradise…and I can't wait to go back!

Please note: this is not a sponsored post! My opinions are, as always, totally my own!
To find out more about Island Point Villas No 4, click here to visit Sanctuary Villas website.