If you live in Melbourne, you will know about the famous Myer Christmas windows in the city…this year is their 60th Anniversary, and the popular children's book Little Dog and the Christmas Wish was chosen as the theme.
Sadly, we haven't been able to get close to the windows but on the weekend, we were excited to meet the actual author and illustrator of the book, and hear about how it all came to life.
You see, the little dog in the story is a Westie…a very similar breed to our beloved Cairn Terriers!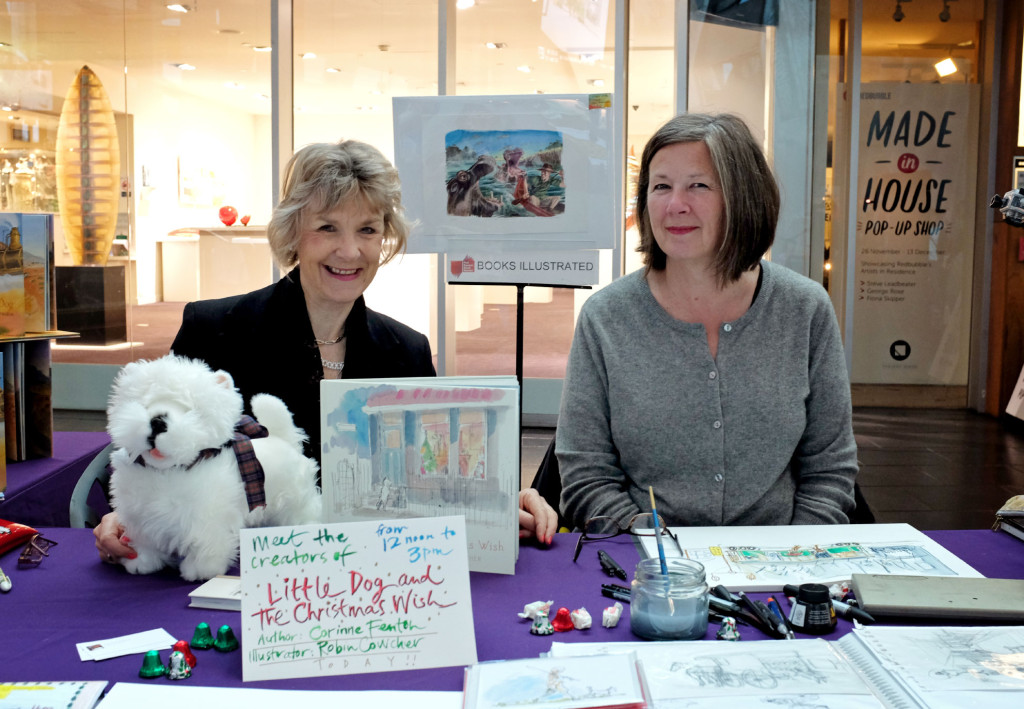 Corinne Fenton, on the left in the photo above,  first started writing this delightful Christmas book back in 2008, while sitting in the decadent Hopetoun Tearooms in the Royal Arcade.
Her idea came about from the want to send a message about taking care of your pets over the holidays, and as a child growing up in Melbourne during the 50s, she decided to set it in her hometown.
Published in October 2014, The Little Dog and the Christmas Wish is beautifully illustrated with ink and watercolour drawings by Robin Cowcher.
The story starts on Christmas Eve in Melbourne  in 1956….a boy called Johnathan and Little Dog are best mates, but on Christmas Eve, Little Dog was home alone and was frightened by a thunderstorm.
He escapes to find Jonathon, but finds himself lost and alone in a busy city.
Familiar landmarks such as Collins Street, the Block Arcade and Flinders Street Station can be seen as he searches for his family.
Don't know about you, but I hate to think of such a pup lost in a big city, especially at Christmas…I just wanted to scoop him up, give him a big hug and get him back to his family ASAP!
But don't worry, there is a happy ending…thank goodness!
In bringing the book to life for the Christmas windows, I discovered that more than 800 hours of research was undertaken to ensure historical references and sites were accurate!
There are 132 individual characters displayed, each with their own custom-made outfit and accessories…all reflecting the styles of the 1950s.
All in all, 17,000 hours of work went into these windows!
And now I have read this gorgeous book and fallen in love with Little Dog, I am going to make sure we go into the city, and see the windows before they close.
Little Dog and the Christmas Wish would make a perfect Christmas gift for a child or dog lover of any age!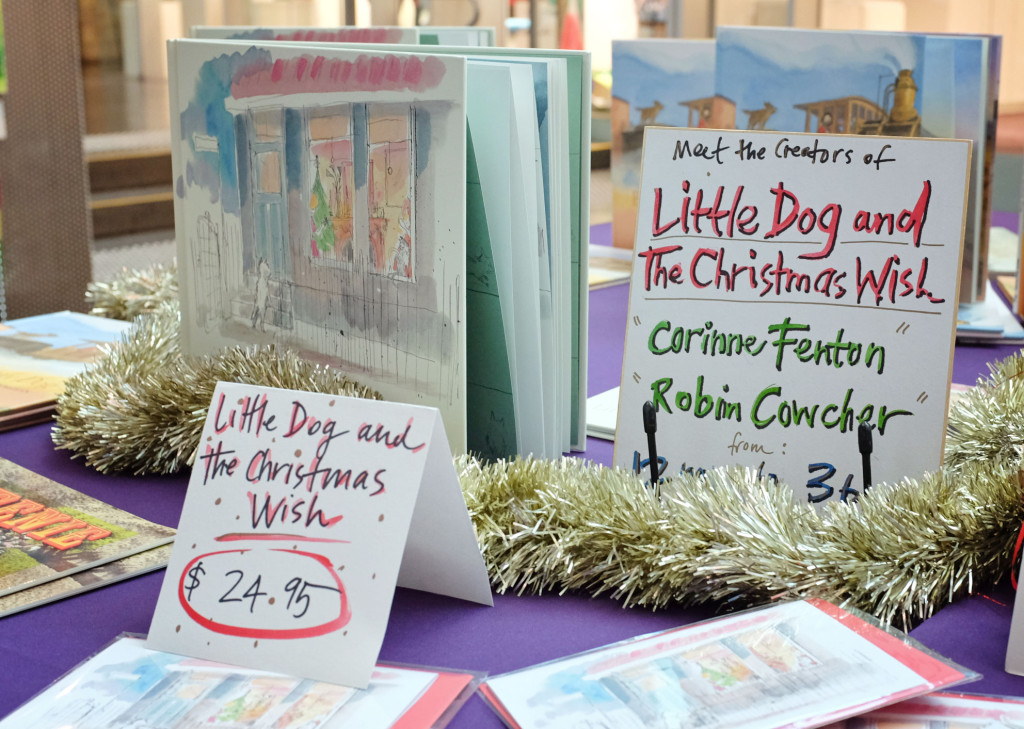 UPDATE – 3rd January 2016….click here to see the Myer Christmas Windows!
The Myer Christmas windows are on display until Wednesday 6 January 2016 from 7:30am – 1:00am daily.
You can buy the book from Myer (instore and online), local Melbourne bookshops and online
Have you seen the Myer Christmas Windows this year? What did you think of them?