When we travel, we much prefer to stay in places that have a bit of character…nothing worse then those clinical hotel rooms, where you can't get any fresh air!
We also like to be able to cook and eat in, rather relying on eating out…I am severely lactose intolerant and trying to find somewhere that has food I can eat in an unfamiliar city can be a bit tricky!
This trip we were heading to Brisbane for the National Brass Band Competition, which was being held at St Laurence College in South Brisbane, so we looked around to find suitable accommodation somewhere nearby.
And thankfully, we found the perfect place less then ten minutes drive from the college….a gorgeous little Queenslander cottage called At Home in Broadway!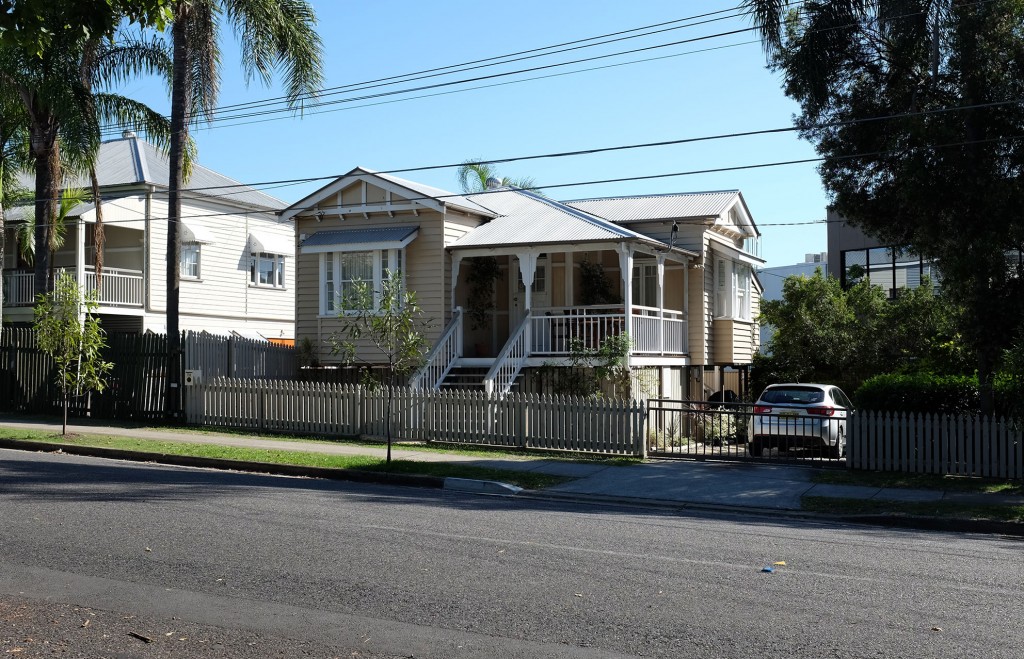 A quick email to the owners, Denise and Ross, confirmed that we were in luck and the house was available over the Easter break!
At Home in Broadway is located in Woolloongabba, which we discovered was an easy 30 mins drive from the airport…most of it was driving in tunnels…a big change from when we last were in Brisbane five years ago!
Denise met us on arrival, and gave us the lowdown of everything, including where the local supermarkets and cafes were located.
She also provided some food essentials to start us off…bread, milk, fruit, biscuits etc.
In an ironic twist, it turned out that the house was less then five minutes drive from the Princess Alexandra Hospital where the Brisbane Liver Transplant Unit was based…luckily we didn't need to pay them a visit during our stay!
Let me take you on a tour…
The cottage has two bedrooms…as it was just us, we used the main bedroom…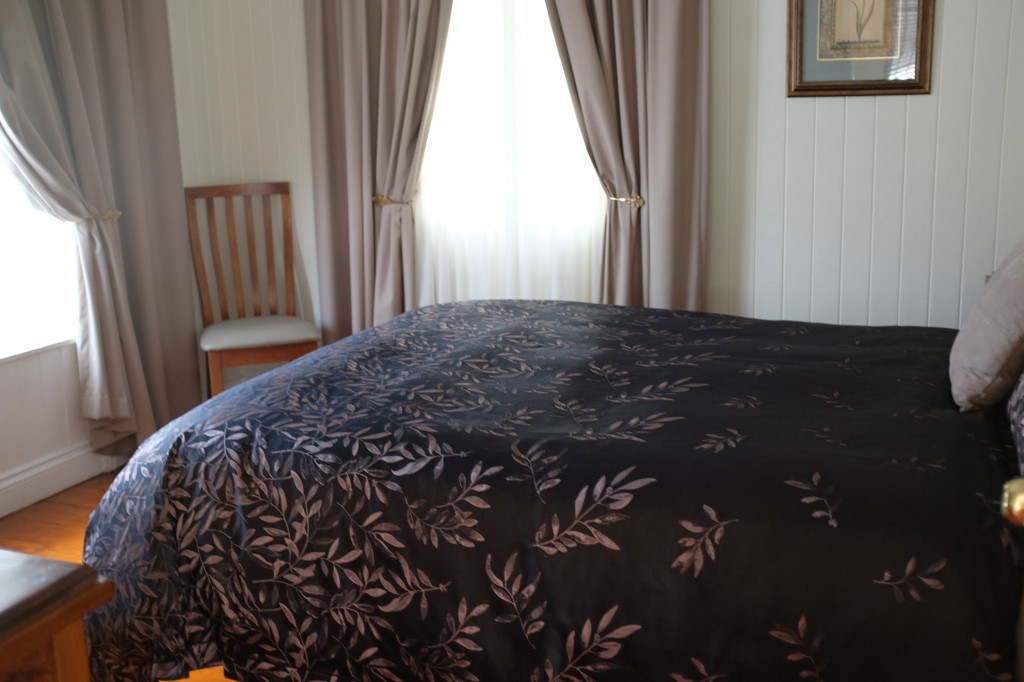 And used the spare bedroom to store our cases…
There is a comfortable lounge room with two large sofas, a large 42″ TV with Foxtel…and a desk which was handy for me…no holiday from blogging you know!
There is small kitchen that has everything you need….however, there is no dishwasher…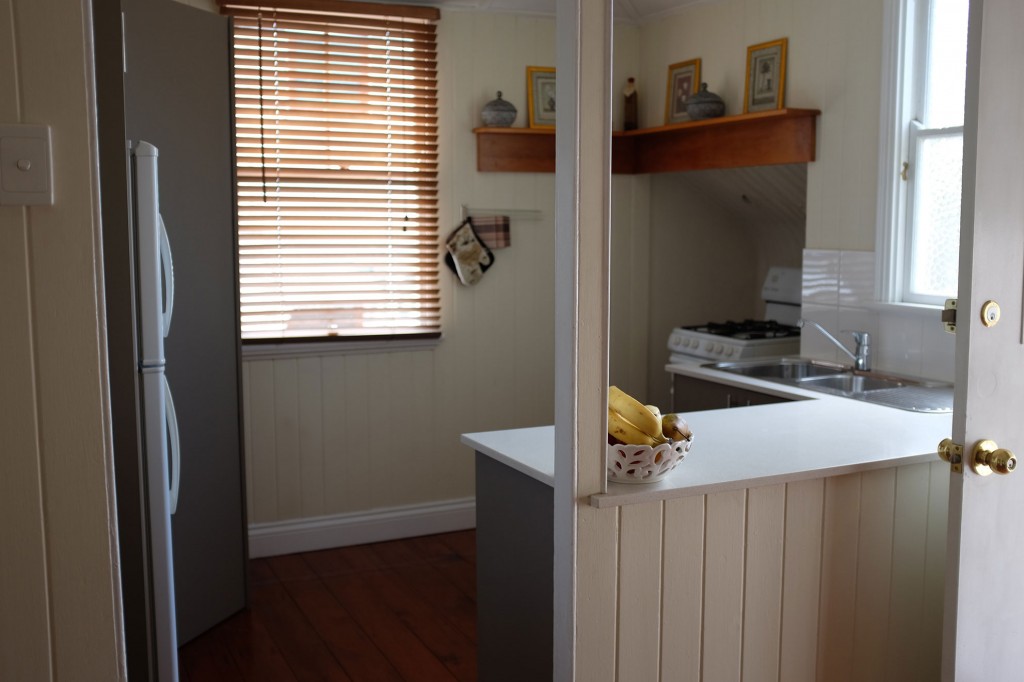 There are few options when you want to sit down to eat…there is a small table next to the kitchen..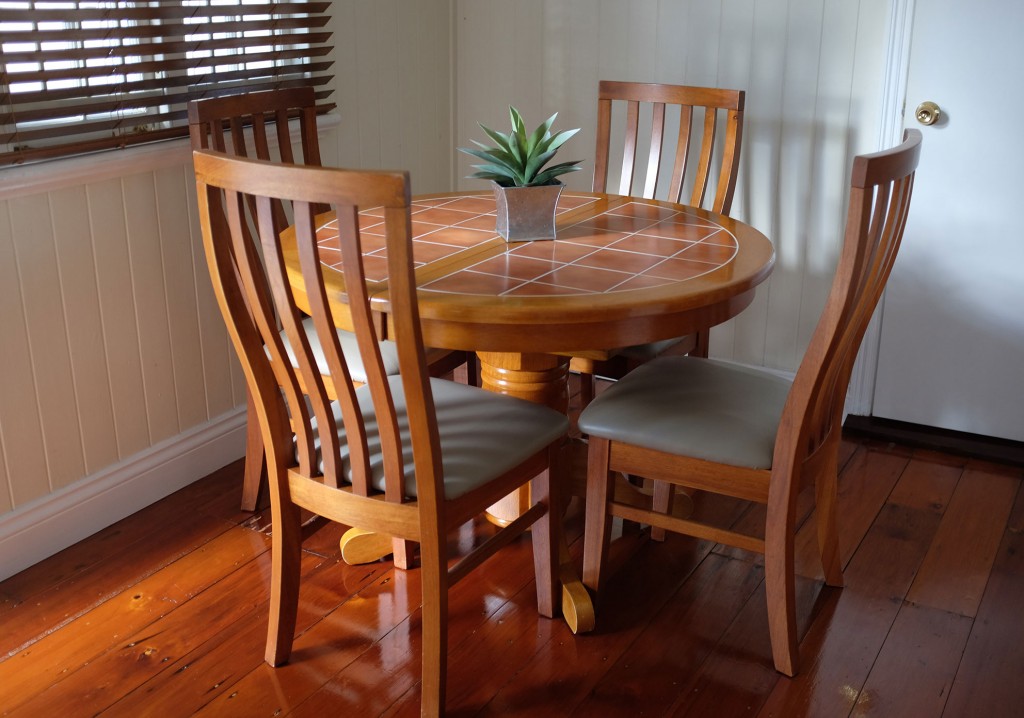 Or you can go and sit outside on the verandah and watch the world go by during the day and enjoy the sunshine…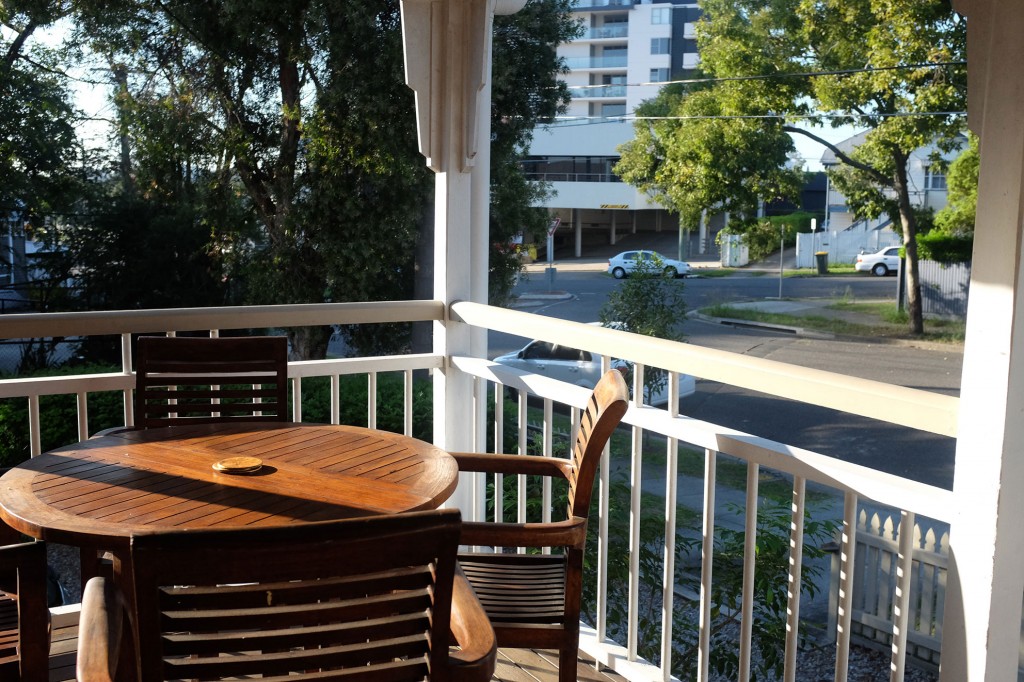 Or enjoy the lovely warm evenings…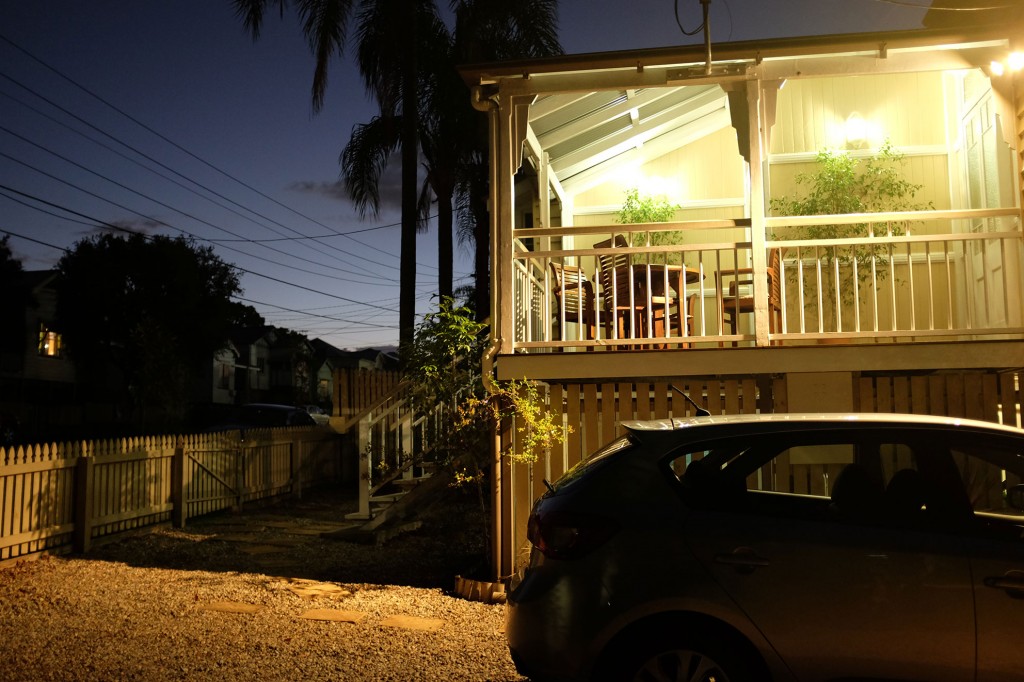 And if that doesn't suit you, there is a big area set up under the house, complete with a BBQ! The laundry is also located under the house….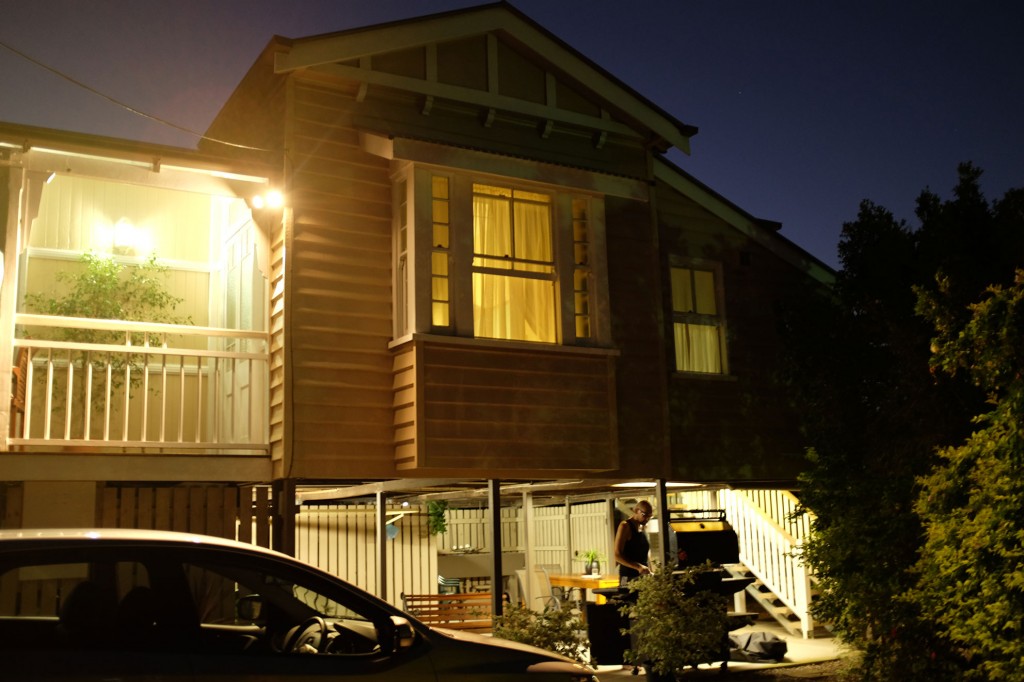 At Home on Broadway was a perfect size for us, but would also be good for small family….or two couples if you don't mind sharing a very small bathroom!
I have to mention that the shower is the best…so much better then the one we have at home…hot with good water pressure…heaven!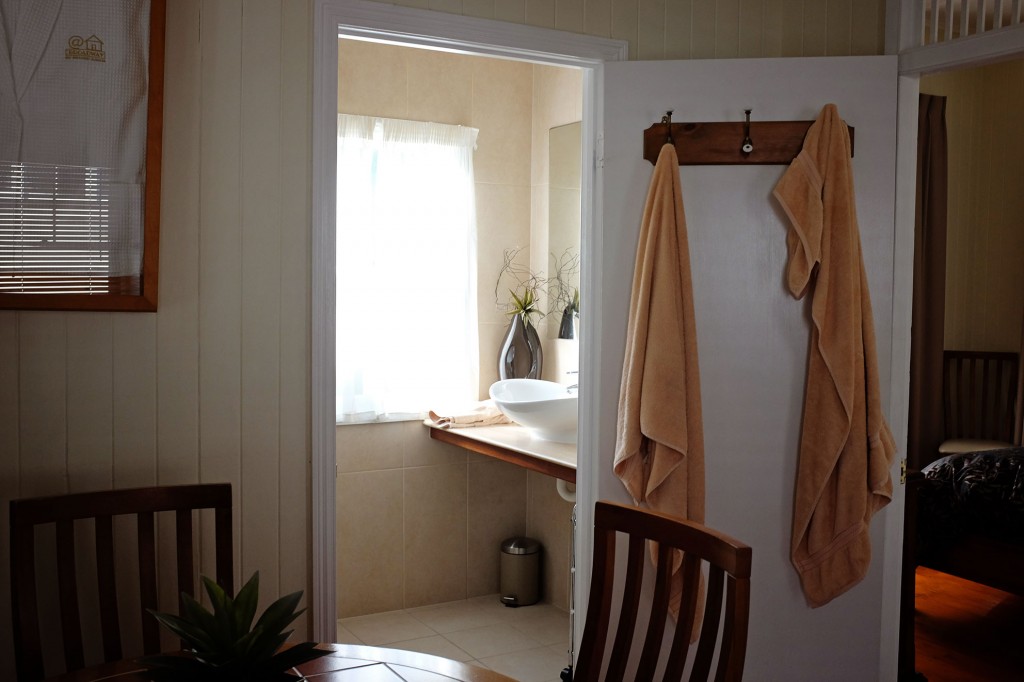 We loved the fact you can open all the windows and doors, and let the air flow through the house…although it was quite warm when we were there, we found we didn't need to turn on the fully ducted aircon!
The house is very secure…although we had to keep reminding ourselves to shut all the windows before leaving…and has an alarm system.
One thing to note is that you do have to go up stairs to enter the house, both at the front, and the back.
The location of At Home on Broadway is perfect for anyone wanting to explore Brisbane…its walking distance from cafes such as Pearl Cafe and fabulous shops like That Shop!
Southbank and the city is only about 10 or so minutes drive, depending on traffic!
And it is also very close to the GABBA…in fact, you can see the light towers from the back door…just a shame our team wasn't playing while we were there…Go Cats!!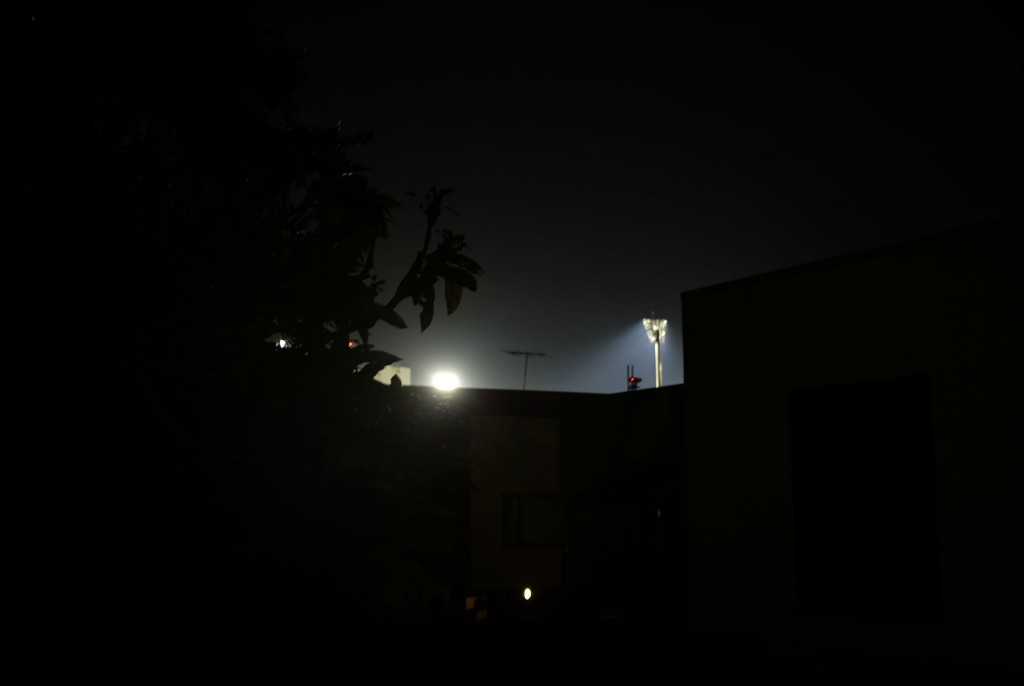 So if you are looking for somewhere to stay in Brisbane, we can highly recommend At Home on Broadway, and will definitely stay there again when we next have the opportunity to head up north!
At Home on Broadway is located at 70 Broadway Street, Woolloongabba QLD
For more information, please click here to visit the website!