Last week, I wrote about five reasons why I bought an e-reader…today, I thought I would share with you the e-reader that I am using.
To be honest, this was all a bit of an impulse buy…I hadn't really done a lot of research, apart from the knowledge that the two main players in this area are Kindle and Kobo.
I went into the store to just see what they had, and initially went for the Kobo Glo HD which is smaller…but they had no stock.
So the sales guy kindly did me a deal on the larger Kobo Aura H20…and as a gadget lover who also loves a good discount, I couldn't resist.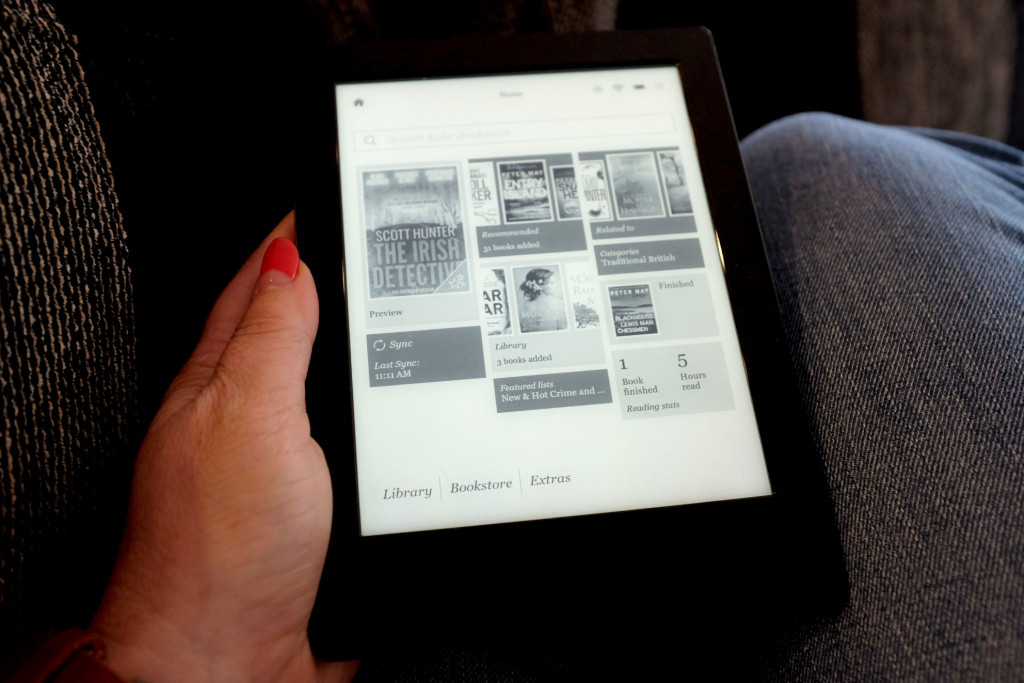 Getting a Kobo turned out a good choice, as I already had a Kobo account from when I first bought an e-reader about 5 years ago…all my purchased books were still there.
I discovered that this e-reader is a little different to others on the market as it is the first one that you can really take anywhere because of its waterproof and dust proof design.
So no fear of getting it wet or dropping it in the sand which is good as I intend to use this while on our trip up to the tropics, and that may involve some poolside reading.
I am not aiming to try out exactly how waterproof it is, but according to the instructions, it is ok for up to 30 minutes in 1 meter of water…as long as the port cover is securely closed!
The screen is a no-glare 6.8" Carta E Ink touchscreen that reads like print on paper…this is the closest you can get in terms of quality and the text is crisp and clear.
One of the features that was important in my decision was that I can read using this Kobo in the dark…it has a ComfortLight which directs the light at the page, not in your eyes.
You can adjust the brightness to suit…in fact you can personalise heaps of settings using TypeGenius…there are 10 font styles and 24 sizes, as well as the ability to adjust the margins.
And if you like stats, you can find out what your average read speed is, and how long it will take to finish the book you are reading!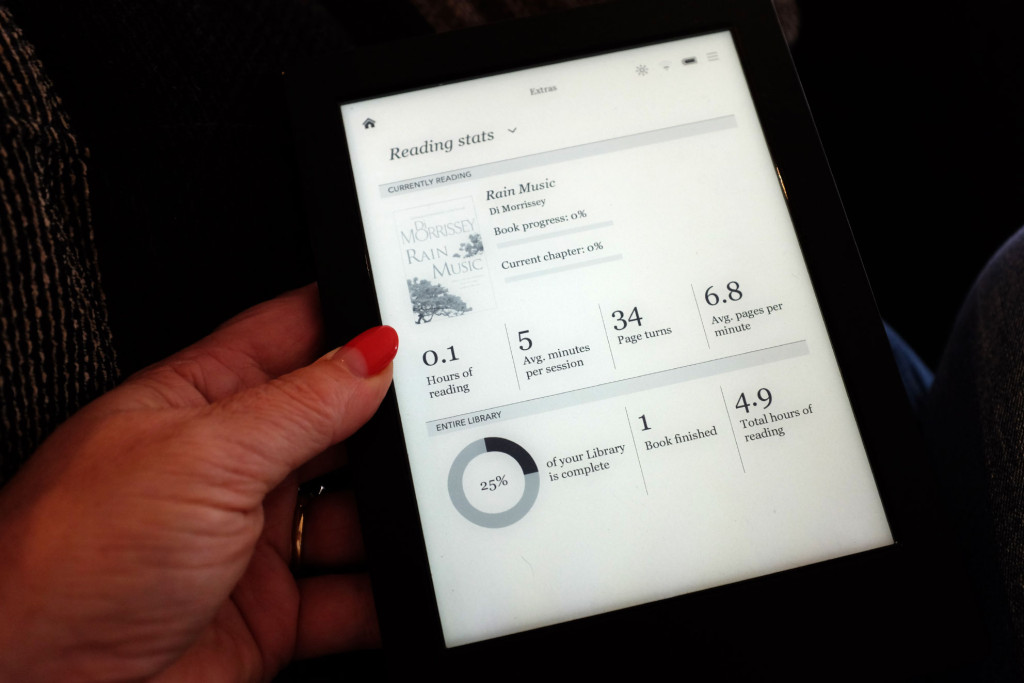 In regards to space, this gadget can store up to 3,000 eBooks in it's onboard memory of 4GB and if that's not enough, it has expandable memory which means you can store up to 30,000 with a micro SD card.
So in other words, you will never run out of books to read…ever!
To stock up your library, you can buy directly from the Kobo Aura H20 by connecting to WiFi, or you can plug it directly into your computer and sync that way.
The Kobo bookstore has over 4million e-books…but don't panic, it will give you lists to check out such as newest releases, best sellers, and recommended reads in your favourite genres.
And fully charged, this gadget will run up to 2 months…which means if you are doing short trips, you don't have to charge it!
I really wasn't sure how the Kobo Aura H20 would go for me…it sounded good and I love gadgets, but would I enjoy actually reading on it?
And the answer is yes…I can now read at night without disturbing my husband and I can slip an entire library into my bag, ready for any time I have spare to read.
And because it is waterproof, I can read it while in the pool…with no glare!
Now I just need to select some good fictional crime books to read and I am all set!
Do you use an e-reader? Has it replaced reading actual books for you?

And have you got any good holiday reads you can recommend?
The Kobo Aura H20 can be found at various retailers and online…I recommend to look around as you can often pick one up for a good price!
Please note: this is not a sponsored post! My opinions are, as always, totally my own!