Last week, I had a fabulously fun time taking part in vintage styling sessions run by Miss Chrissy (The Lindy Charm School for Girls) at the Melbourne Craft and Quilt Fair.
I was more then a little nervous about the whole thing, but it turned out I was worried for nothing.
And one of the wonderful benefits of doing the sessions was that I was able to learn so much about styling…Miss Chrissy has a wealth of knowledge to share!
So this week's topic for My Friday Five is styling secrets that I learned….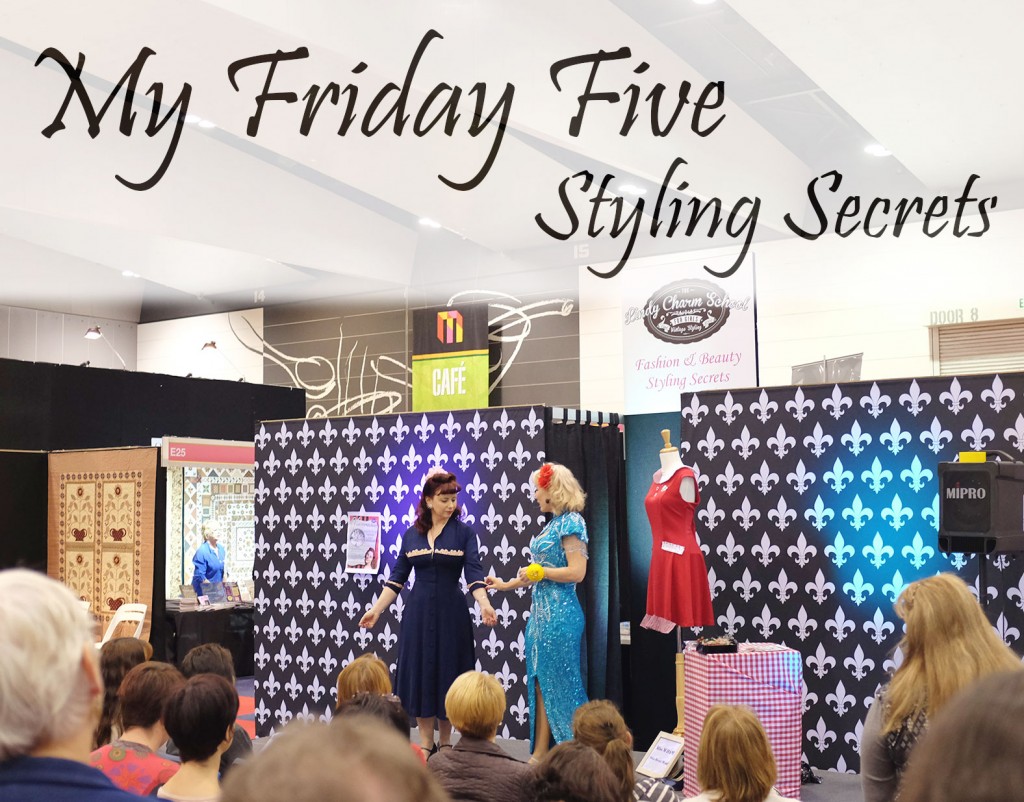 An outfit can go from drab to fab…
Don't be afraid to alter…take in, let out, embellish, repair…
I learned that with a few extras, a plain outfit from Target, can look amazing with little extra cost!
A boring op shop dress can be made unique and stylish with a few tucks and additions!
I am now looking at my wardrobe with totally different eyes…and I know to look beyond the outfit, and see its potential!
And don't forget shoes can also be dressed up, repaired and altered!
Create shape…
Get hold of a cinching corset and drop inches while keeping that perfect hour glass shape!
I went from 31 inch waist to a 28 inch waist in a couple of minutes…I was sold and bought one straight away.
And surprisingly, it was comfortable to wear….although you wouldn't want to squeeze into it all day everyday!
Its recommended to start wearing for about half an hour a day till you get used to it…and it does take a bit of strength to get into one.
But its worth it!
Treasure can be found in unlikely places….
Always keep an eye out for hidden treasures….some amazing finds have been saved from a throwout bin.
Check out op shops, jumble sales…vintage stores and shows…family and friends….
You just never know when you find a gem amoungst the rubbish…and that goes for accessories too…shoes, hats, handbags….
Dress up…
Take the time to dress up now and then….get out of the trackies, do your hair and makeup and voila!
A great outfit combined with a gorgeous hairstyle and makeup can make you feel so fabulous and confident!
And don't forget to take into consideration how your outfit and hair look from behind…because if you look amazing, people will look at you as you go past!
Individual style…
Find your own style…take the elements that you like from past eras, and put them together to create something that is you!
There are no rules….just choose what you like, what suits your shape and what you are comfortable with!
I am loving the 50's dresses that suit my hourglass figure, but I have also added pieces from the 1940s and the 1970's to my wardrobe!
But I am very much a newbie with my L Plates on when it comes to things vintage so grab every chance I have to learn more….and I am always up for a styling session!
Do you have a styling secret…I would love to know! Please share in comments below!