Something a bit lighter for this week's Friday Five….some of my favourite songs from the movies!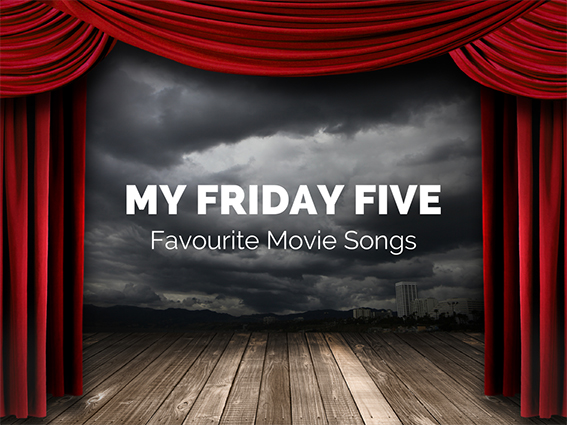 You will see from my choices that I have quite eclectic tastes…and that I haven't really been to the movies for many years…but hey, you just can't beat the old favourites!
Enjoy!
Danger Zone – Kenny Loggins
American singer-songwriter Kenny Loggins recorded and released Danger Zone in 1986, and it appeared on the soundtrack for Top Gun which was also released in 1986.
I am not a fan of Tom Cruise anymore, but I adore the movie Top Gun…no idea why since I don't normally like anything to do with war…
According to Wikipedia, the U.S. Navy described this video as "the most effective recruiting poster ever produced."
I've had the Time of My Life – Jennifer Warnes and Bill Melody
I've had the Time of My Life is one of songs from the well known movie, Dirty Dancing which was relased in 1986….it is sung by Jennifer Warnes and Bill Melody.
It appears in the last scene in the movie…which is probably my favourite part.
The song has been covered many times since, but nothing beats this version for me!
Nobody puts Baby in the corner!
Summer Nights – Olivia Newton-John and John Travolta
Summer Nights is a well known song from the musical movie Grease!
It was performed in the movie by Olivia Newton-John as Sandy, and John Travolta as Danny.
Summer Nights became a massive hit in both the United States and United Kingdom during the summer of 1978.
It is certainly frequently played song from my childhood, and Grease is a movie I still love today!
In fact, earlier this year, we saw Grease the Musical live which brought back memories!
http://www.youtube.com/watch?v=HlgDbTpFYJc
Circle of Life – Elton John
This song came from the Disney's animated film The Lion King which was released in 1994.
It was composed by Elton John with lyrics by Tim Rice.
Circle of Life was performed by Carmen Twillie (female vocals) and Lebo M (opening Zulu vocals) as the film's opening song.
I love listening to this turned up loud on good speakers…such uplifting music!
Well, Did You Eva – Bing Crosby and Frank Sinatra
This song was originally written in 1939 by Cole Porter for his musical DuBarry was a Lady.
But the version I know and love was from the movie High Society which was released in 1956! The song was performed by Bing Crosby and Frank Sinatra, and whenever I watch this, I get the feeling that they had some fun making the film!
And I have to admit that High Society is my all time favourite movie…gorgeous fashion, amazing houses, plus Grace Kelly!
What are some of your favourite songs from the movies?