One of the unexpected benefits of going on this roller coaster transplant journey has been the wonderful opportunities that have been presented to us.
Neither of us were ever fond of public speaking, but as time has passed, we now love telling our story and sharing just how life changing organ donation can be.
This year alone, we have done 7 school talks and one to a group of theatre nurses.
So my husband was very honoured to be asked by DonateLife to be part of a feature article published by the Melbourne paper, the Herald Sun.
The article was published last Saturday in the Weekend section (30th July 2016), and it promotes the life changing process of organ donation from three aspects.
From a donor family who tragically lost a loved one…to someone who is waiting for that call…to a recipient of a donor organ…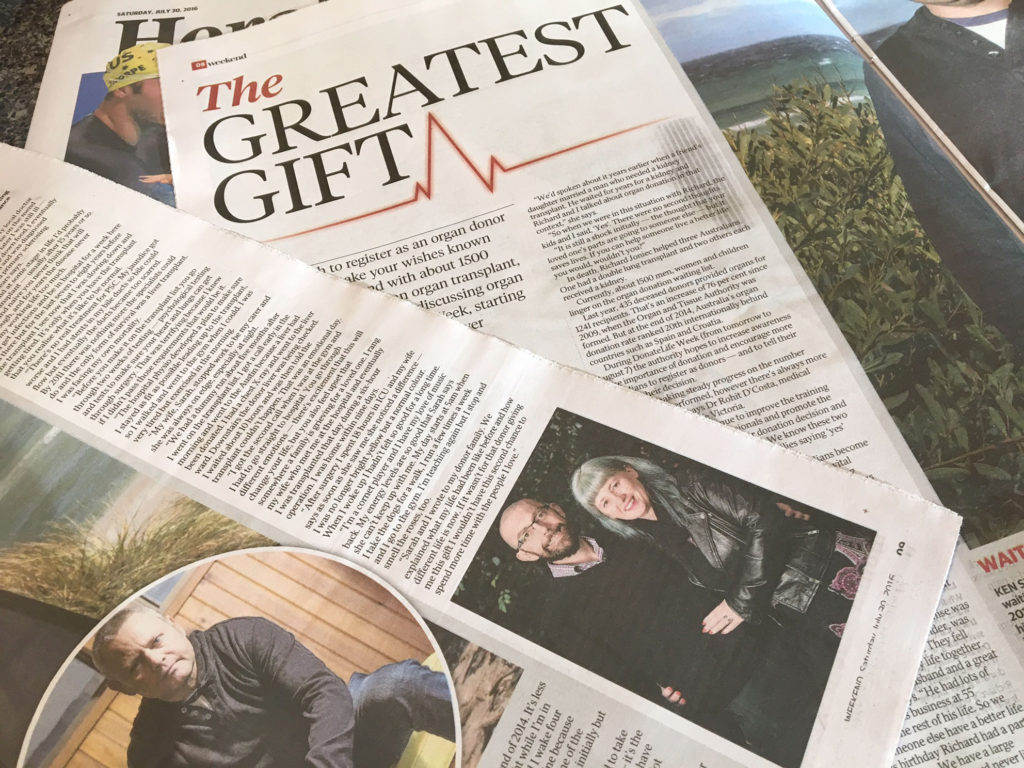 My husband received a donor liver just over four years ago and it not only saved his life, but totally transformed it.
If someone had told me back then what our life would be like now, I would never have believed them.
He is healthy…in fact, he would be the healthiest person I know!
We have a future…we can plan things…something which we weren't able to do for years.
Death is not a subject that we humans like talking about..it is difficult…it can be very confronting.
However, by talking about your wishes regarding organ donation to your loved ones can make things easier if in the unlikely event, you pass away.
And the actual reality is, you are more likely to NEED a transplant than ever becoming a donor…hence the long waiting lists.
There are around 1600 Australians waiting on lists for organs at any one time….we waited 14 months…some wait a lot longer…we know of someone who has waited over three years!
The good news is that in the first 6 months of 2016, a record 707 Australians received an organ transplant.
Their lives were saved and transformed through the generosity of 238 deceased organ donors and their families who agreed to donation at the time of their loved one's death.
I would have done anything to save my husband, but we had to wait alongside others for the right donor liver to become available.
And it is all because a family…somewhere…gave permission for organ donation that my husband, and numerous others, were able to have a second chance at life.
So please, have the discussion today and maybe one day…hopefully long into the future…you may save lives too.

If you have any questions about organ donation and liver transplants, please don't hesitate to contact us.
Or click here to visit the DonateLife website where you can find lots of information.