UPDATE 20/12/2015 – As this post is very popular again this year, I checked with Ikea (Australia) to see if they still had this wall Christmas tree or something similar. Sadly, they don't which is such a shame. Hopefully, they will consider returning it to their range in the future!
I wanted to find something different for this year in terms of Christmas decorating, and then I found this post asking about Ikea's Fabric Christmas Tree!
So I had to have a look and see if there was one available this year…and the good news is that there is…and this version has a neat twist…it glows in the dark!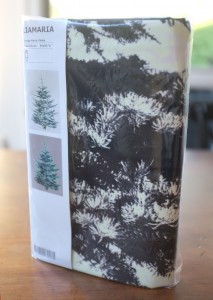 We found it in the fabric section of Ikea, not the Christmas section, and it comes pre-packaged…not cut off the roll.
When we visited went to the Richmond (VIC) store, there were quite a lot left, but that was a few weeks ago now.
If you are more creative then me, I am sure it would be easy but I had a bit of an issue working out how to hang it…managed to take a chunk of paint off the wall (so not happy)…
Its very large, but we have the perfect wall for it. Used one of those removable hooks (which wasn't as removable as it should be, hence the paint issue when I repositioned it), and a couple of black curtain rods,  from Bunnings. Just used some jute twine tied to each end of the top curtain rod.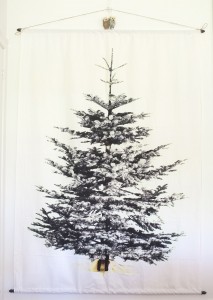 Here is a close up of the curtain rods and ends I used….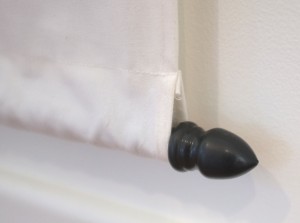 And here it is glowing in the dark…sorry its not the best image but it was a little hard to capture!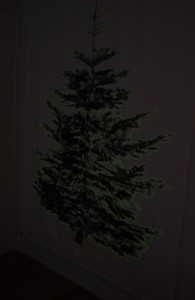 If you are wondering what is hanging from the hook…I have put two cute owls (from Bed, Bath N Table…decorations are now 30% off)….to hide the missing paint area…
But I think they look right at home up there!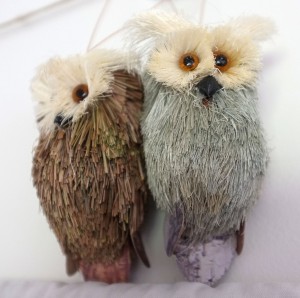 No idea how long it will stay up there before it all comes crashing down but its done!
So if you want a quick and easy Christmas tree that doesn't take up much room, and that kids and dogs can pull over and destroy… this is the perfect solution!