Some of you may have already seen this clip that is doing the rounds of social media, but I love it so much I just had to share it!
Passengers on two WestJet Airline flights..one flying out of Toronto Pearson International Airport and the other from John C. Munro Hamilton International Airport…were casually asked by an interactive Santa "what do you want for Christmas?"  before boarding their flight.

While the flights were in the air, more than 150 staffers rushed out to buy the gifts and then wrap and label them!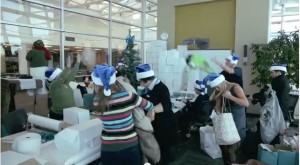 By the time the two flights had landed in Calgary, WestJet's "Christmas miracle" was complete and the passengers had absolutely no idea what was waiting for them!
The looks of total surprise and disbelief are absolutely priceless….you just have to watch it!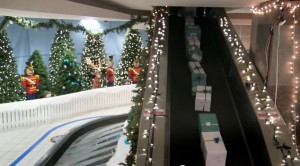 Yes, I know its purpose is marketing and PR for WestJet but what an amazing and wonderful idea…..and so heart warming…. it brought a tear or two to my eye!
And so cleverly put together – this is technology at its best!
It must have been a little emotional for the staff involved in organising this "miracle" to see the reactions as the passengers opened their presents!
A job very well done!
If I was asked what I want for Christmas, it would be good health and happiness to all our family and friends…as we are very aware that money can't buy these things.
I am spoilt and don't want for anything, yet I don't have my health…am definitely getting there though!
Mind you, I wouldn't say no to a new gadget….
So if Santa asked what you wanted for Christmas, what is on your list?