Melbourne is currently abuzz with excitement for the AFL Grand Final taking place this Saturday (27th Sept), but there is another important event which begins in this very city this weekend….the Australian Transplant Games!
I wrote about the Games a few weeks ago…click here to read…and now the action is about to begin!
The Australian Transplant Games will commence with a public activation at Federation Square which celebrates the number of years of extra life being enjoyed by the Games participants…2478 years to be exact and counting! A "human" 2478 will be formed by the participants, all wearing their orange Games "thank you" shirts!
The participants will start walking towards Federation Square from Queen Victoria Gardens (0pposite the National Gallery of Victoria) at 11.15am, arriving at approx 11.45am…so keep your eyes out for them and show your support!
The first event is a fun run, which is being held on Sunday (28th Sept) in Albert Park. Everyone is welcome to take part….there is a 3k for under 17s and a 5k Open run or walk.
Doesn't matter if you plan to walk, run, jog or stroll, everyone is welcome to join in and show your support and appreciation for transplantation!
Registrations start at 7.30am…for more information, click here!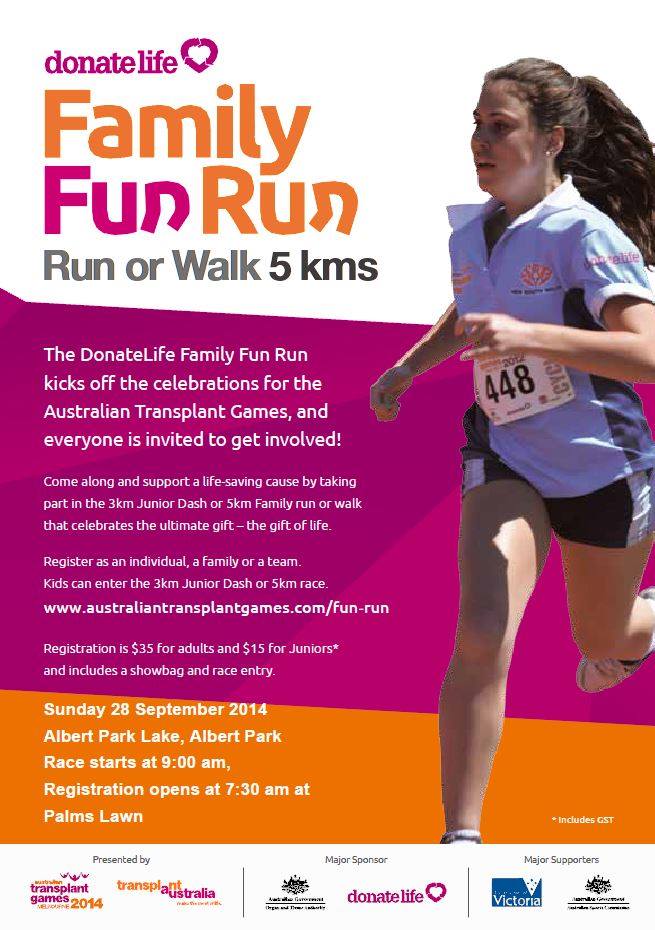 Then at 11am, there will be the Opening Ceremony held at the Lakeside Stadium in Albert Park…and the Games will officially begin with events being held through to Saturday 4th October!
My regular readers will know that my husband had a liver transplant just over two years ago, and he is very excited to now be fit and healthy enough to compete in the 5km run, and take part in the cycling events which are on the Monday at Sandown Racecourse!
He will also be part of the brass band that will be performing as part of the Opening Ceremony!
I will be there, not only supporting my husband and all the other transplant recipients taking part but I will also be one of the official photographers for the Games!
So once the Grand Final is done and dusted,  come along and support these amazing people, as they take part in the various events.
For without transplantation giving them this second chance of life, they would be able to compete, let alone even be alive today….my husband included!
In fact, there will be 806 participants competing over 21 sporting events!
To find out all the details…what is on when and where, visit the Australian Transplant Games website.
Will look forward to seeing you all there!