The countdown has begun…the Australian Transplant Games are being held right here in Melbourne from 26th September – 4th October!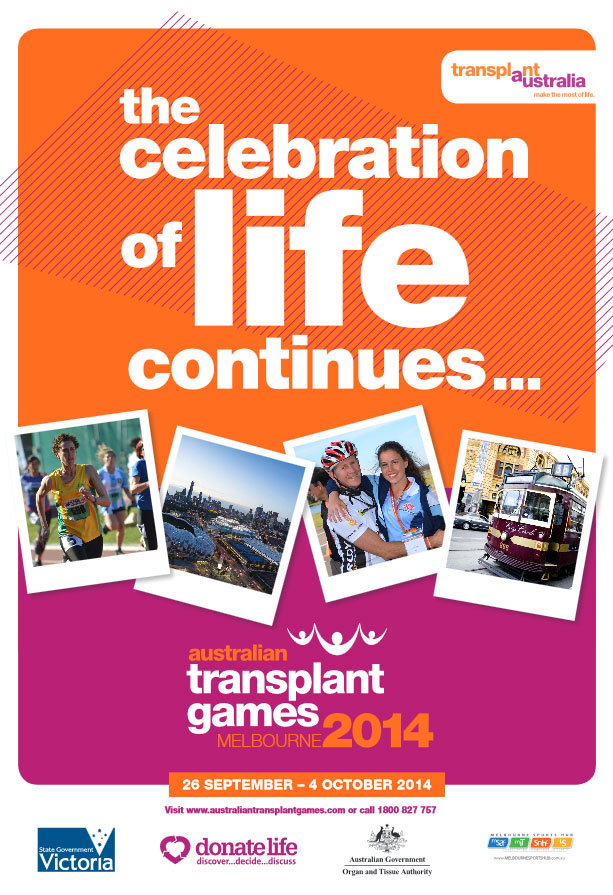 At the time of writing this, there are 442 registered participants who will compete in 21 sporting events….and my husband will be one of them!
I still find it hard to believe that the man who was so sick a couple of years ago, has been in training to compete in the 5 km run, 5km cycle time trial, and the 20km bike ride!
The Australian Transplant Games were first held in Melbourne in 1988…150 recipient competitors competed in Tennis, Golf, Table Tennis, Lawn Bowls and for children, Quoits.
And since then, the Games have been held every two years, in different cities around Australia!
This year sees the 14th Transplant Games, and it is fabulous that it will be held back in Melbourne…the first time since 1988!
The Games are all about celebrating the 2nd chance of life….and to unite all those touched by donation including transplant recipients, donor families, living donors and those waiting for a transplant, as well as their families and friends.
And they have an important role in promoting awareness of organ and tissue donation…something both my husband and I are very passionate about!
A liver transplant has given my husband his health back, and is allowing him to live life to the full….something we only dreamed of only a few years ago.
We give thanks every day to the family whose generous decision to allow organ donation meant that my husband, and probably up to 9 or so others, were able to live again.
To be eligible to compete in the Games, participants must "have received an organ, tissue or bone marrow transplant, be on dialysis or have cystic fibrosis or hypoplastic left heart syndrome".
We have been joking that in contrast to other sporting competitions, you need to be on drugs to take part in these games….anti rejection drugs that is!
There are also a number of events that living donors, donor families and supporters can take part in!
To view the full schedule, and the eligibility, click here!
If you can, get along to some of the events, and cheer on these amazing competitors, who have beaten serious health issues by receiving organ or tissue transplants.
And every single one will be a hero for taking part!
I can hardly wait to see my husband compete in his chosen events….I am going to be so proud of him!
For more information on the Australian Transplant Games 2014, click here to visit the website!