The last four houses we have lived in all had the luxury of having ensuites, which meant it wasn't far to negotiate if you needed to get up in the night!
However our new home is an old style house with one main bathroom. So I needed to find a solution to provide a "little night light" that doesn't light up the whole house!
I know a torch is an easy answer but who can ever find a torch in the dark….I just end up knocking things off my bedside table!
So I started looking for a solution…seemingly a small task but I just couldn't find something I liked….and then I found it….a LED pillar candle that has a timer! I love candles but am always wary of having them around the house in case I forget to blow the flame out!
There are many LED candles available, but the one I have found is from Dusk.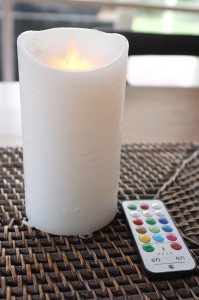 It is called the Enlighten LED Candle and I chose a medium sized one. It has a real wax finish, so don't leave it near heat because it will melt…ie don't put near a hot hairdryer….!
The candle runs on three AAA batteries.
But the best bit is that it comes with a remote, and the ability to switch it on for 4 or 8 hours!
Added bonus is the option of different colours but I tend to leave it just on a natural white.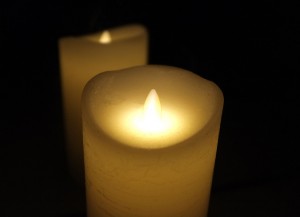 It's safe to use…no flames needed!
Switch it on before going to bed and it provides a soft glow in the bathroom all night, and switches itself off in the morning! It's bright enough to light the bathroom but doesn't shine into our bedroom.
Sorted!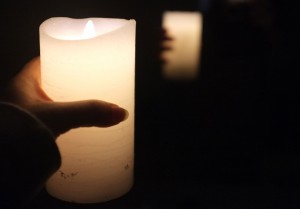 Please note this is not a sponsored post – I sourced and bought this item!