I have to admit, I am totally addicted to Instagram…I still use Facebook but much prefer the more visual format of IG and the friendly community.
Near the end of last year a trend started called 2015 Best Nine, and the blog I wrote about it was one of the most popular for the year.
You just went to a certain website, entered your Instagram ID…the algorithms do their thing and come up with your most liked images for the year.
You can also find out anyone else's top nine just putting in their Instagram ID…you can do this for anyone who has an account!
The 2015 website was a little dodgy but it seems to be much better this year.
So I jumped back on the band wagon and did my 2016 Best Nine…this is what came up…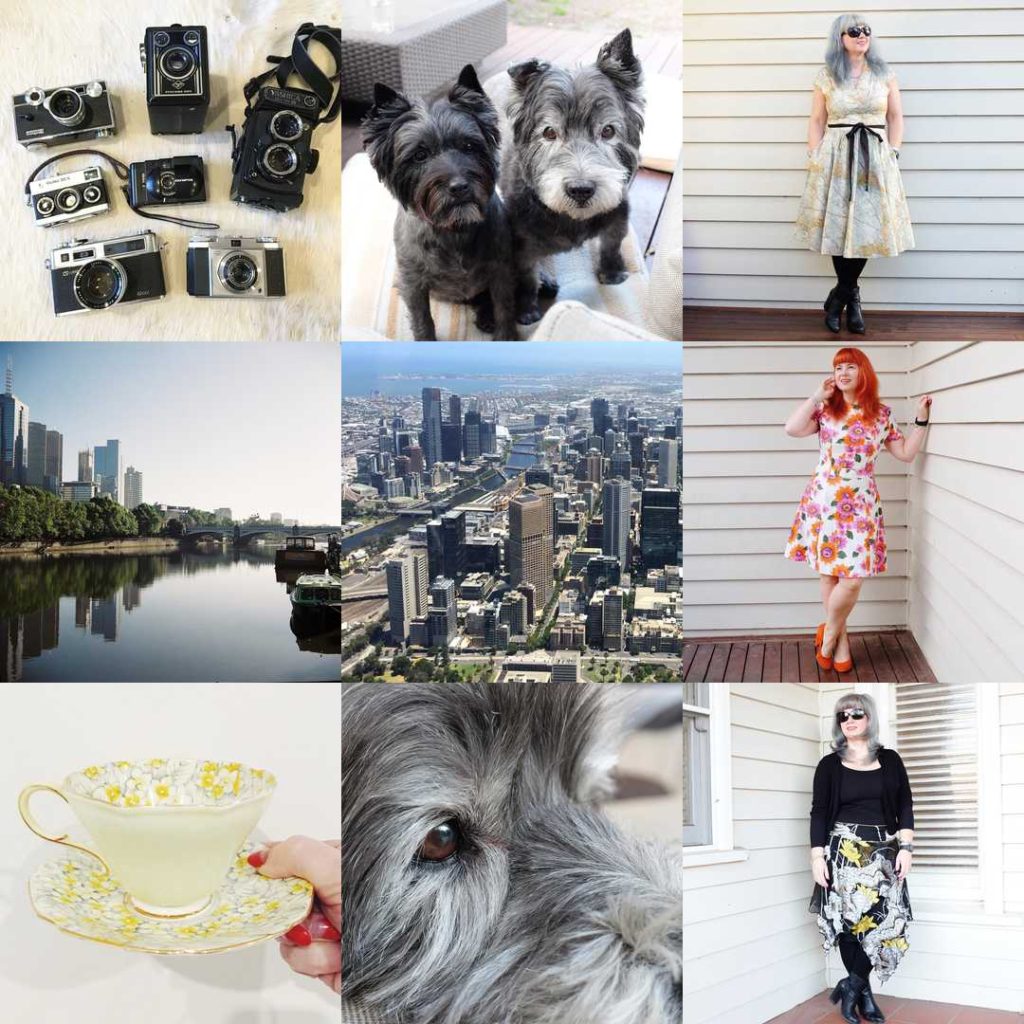 The result is an interesting collation of my most liked images.
Not surprisingly, considering my new found passion in vintage cameras and film photography, the first and most popular image is a snapshot of some of my collection.
Unlike last year, Miss Charlotte only appears once alongside her big brother, who we sadly lost a few months ago.
I am glad to see the gorgeous close up of our Bill…we are missing him terribly.
Three outfits made the Best Nine…and three different hair colours!
I miss my vibrant red hair but am loving the grey…so much easier to maintain too.
Top outfit is a vintage map print dress I found on our holiday to Port Douglas.
The middle one is one of my favourite vintage dresses, and one of the first ones I ever bought…very glad I can fit back into it now!
And the bottom one is an op shopped outfit…which perfectly matched my grey hair!
The gorgeous tea cup and saucer used to belong to my grandmother…just love that pretty design and so did many of my followers.
The photo of the Yarra River was taken on an old medium format vintage camera….a Voigtlander Bessa 66.
Yes, that was taken on film…an absolutely crystal clear image, captured by a camera from the 1940s!
And the image of Melbourne from above was taken on a helicopter ride we did a a few years ago…I used it for one of the FMS Photo a Day prompts and it was very popular!
For those that like stats, apparently I posted 1580 times (as of today…told you I was addicted) and have been honoured to have received 68,982 likes!
So a big thank you and lots of love to all my Instagram "family".
I really appreciate all the likes and comments, and love being part of such a friendly community!
And if you want to check out my Instagram feed, come find me @zincmoon – look forward to seeing you there!
Please note: this is not a sponsored post! My opinions are, as always, totally my own!
If you have an Instagram ID, click here to create your own 2016 Best Nine!