We live in a digital world now and as a result, the images we capture as part of our lives never make it into print. I am guilty of it…I have a camera with me at all times, whether it be one of my fuji digital cameras, or just my iphone. I take hundreds of photos…but rarely print any.
Now at first thought, this may not seem to be an issue, but it has occurred to me that so much history is being stored electronically, and probably in many cases, not backed up. In the past, photographers recorded aspects of their daily lives, and these photos are viewed with great interest as time goes on.
I have discovered photos taken by the American photographer George Tate. After remaining largely unseen for over 50 years, they are now being shared after his death. The photos were taken in the 1950s and 60s, in LA and give a valuable insight into life during those times.
For example, here is one that interested me..being the gadget geek I am…this was taken in 1956 by George Tate…shows how computers have changed! Wonder what this guy would have thought of the smart phones and tablets available nowadays!

Here is another one taken in 1957 of a car yard selling sports cars…would love one of those nowadays!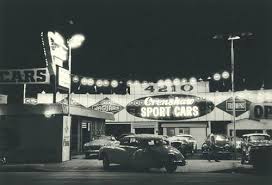 If you want to see more of George Tate's work – go to this facebook page set up to show his photographs…they are such an interesting record of those times!
But to get back to my point of discussion….children will grow up without having a photo album to look through of their childhood….their memories will fade and they won't be able to show their children. The next generation won't have any reference to their family history through photos as technology moves on and makes current gadgets defunct. Tablets and phones get old and break…or get stolen or lost. And there goes all the photos too, unless someone has carefully backed them up, or printed them.
There is a balance…don't need to print every image ever taken. That would be a waste, particularly for me as the beauty of digital cameras is you can take as many as you like without having to worry about wasting film. ..and not every one is a keeper! The point is to print those which tell a story, for whatever reason…children and pets growing up, houses changing over time, weddings, even images of cars, local streets ….the list goes on and on…
When my parents had to sort through all my grandparents photos, there were boxes and boxes of them and it took them ages. They sorted through and kept selections that create a visual family history…and I find it absolutely fascinating to look through them.
So my aim is to now print images that are important to us.
Don't get me wrong, precious photos should also be stored electronically, as printed photos can be damaged, fade, or lost, but I now realise the importance of having "physical" photo albums!
Someone, someday, may find what our life is like now as fascinating as it is for us to look back at previous history…a history where digital cameras didn't exist….and remember…a picture is worth a thousand words!