When we visited the city for our recent weekend away, we came across a variety of brightly painted pianos, located in various spots around town.
You would be wandering down a city street, and then suddenly the sound of a piano can be heard, sometimes being played very well!
The mystery was solved when we found out it is part of the Arts Victoria Summer Program, and that there are actually 24 pianos spread around Melbourne's streets that anyone can play.
Touring internationally since 2008, Play Me, I'm Yours is an artwork by artist Luke Jerram.  There are now more than 1050 pianos that have been installed in 38 cities across the globe, bearing the simple invitation Play Me, I'm Yours.
And its now Melbourne's turn to take part!
As we didn't have a lot of time, we only found four of the pianos…but hopefully will be able to go back and find some of the others.
Most are in the CBD, or in the Arts Precinct, however there is also one in Dandenong, one in Coburg and one in Altona!
The first one we came across was outside the Tivoli Arcade in Bourke St…it was mid morning Saturday, but there were no takers to play as we went past…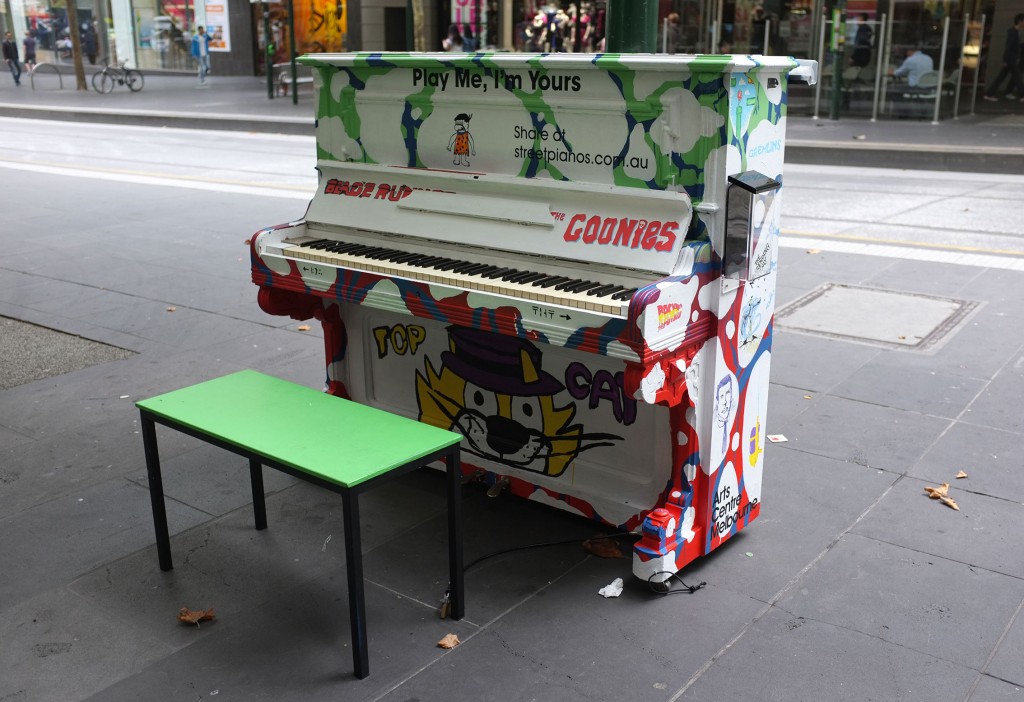 Next one we found was on the Princes Bridge…two young kids were having a ball….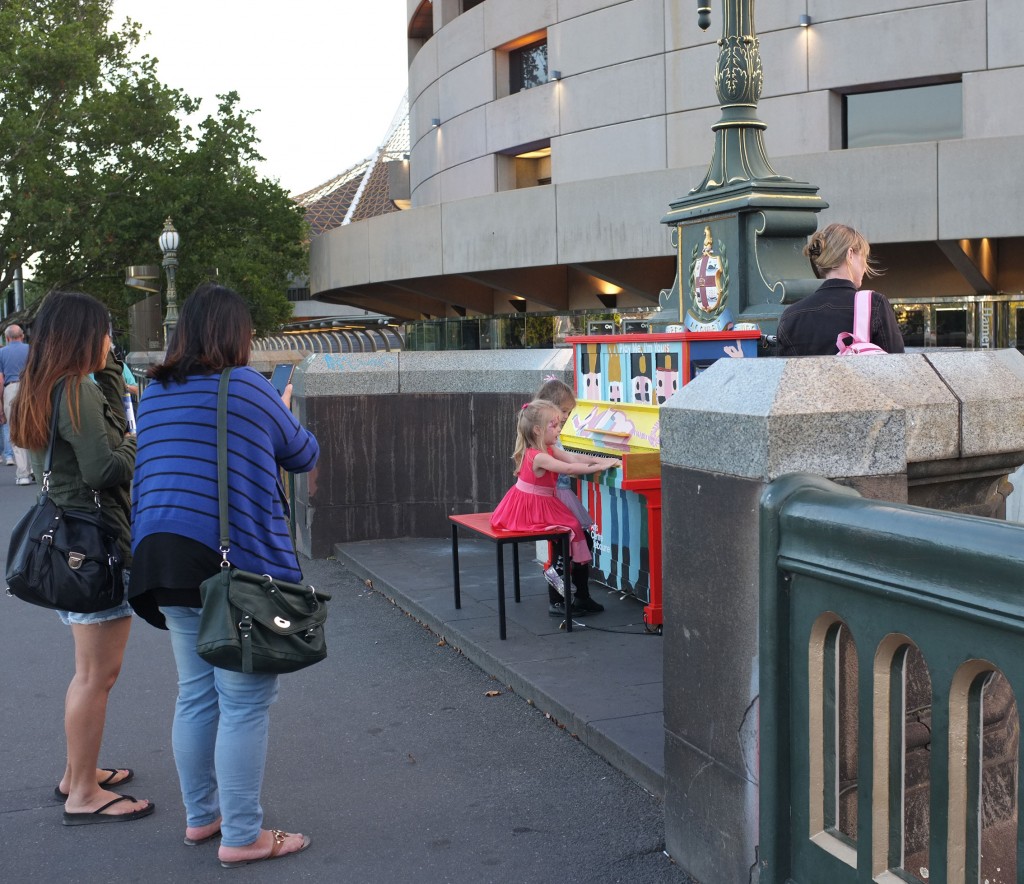 Next one was on the St Kilda Road Terrace, Arts Centre Melbourne…two guys were playing absolutely beautifully…we stopped to listen for a few minutes….
It was one of those perfect moments in time that just happen out of the blue…complete with the sun shining and a fantastic view of the city…and a free mini spontaneous concert!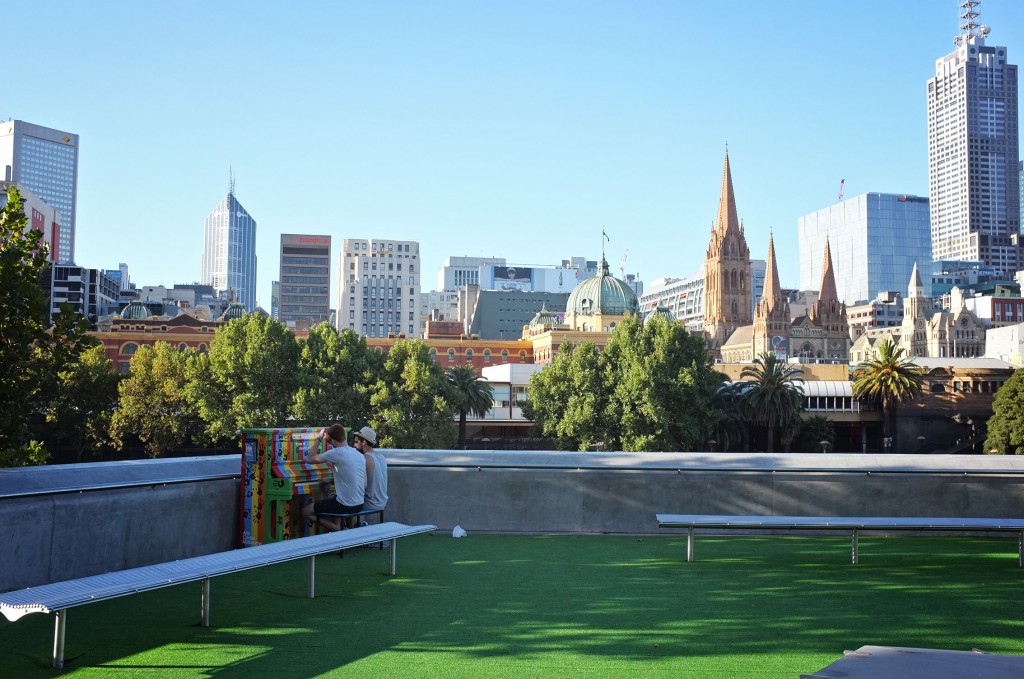 The last one was Riverside Terrace, Arts Centre Melbourne…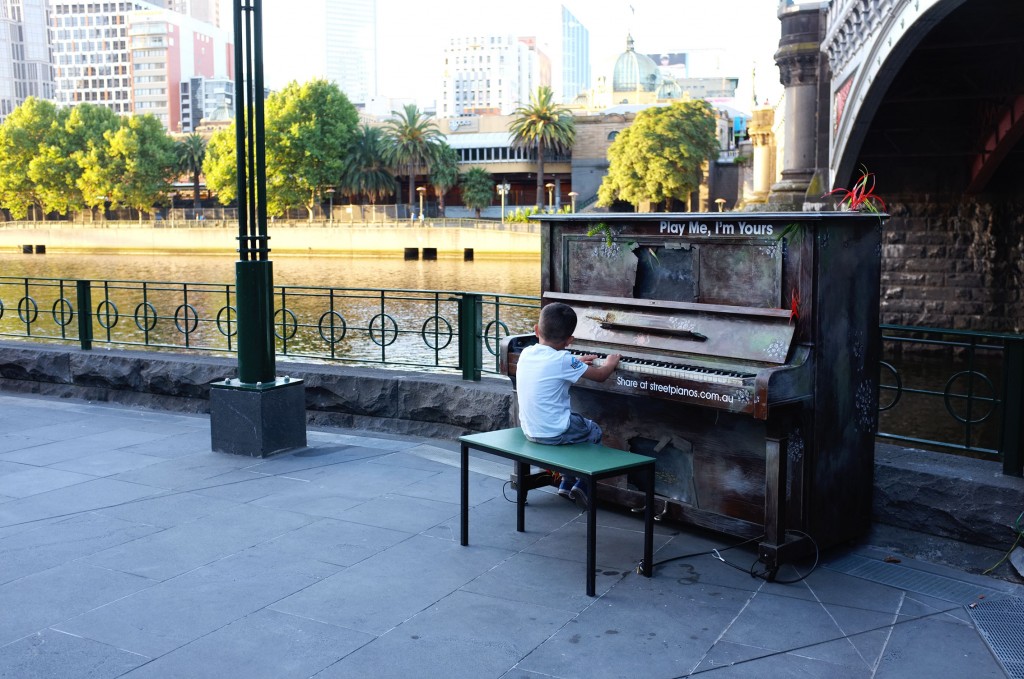 Even though I can play…although not so well nowadays…I wasn't game enough to have a go on any of the pianos!
But it was so heart warming to see everyone from kids just having fun, through to musicians who could play really well, pull up the stool and begin to play….and to see the enjoyment in their faces!
If I was able to, I would love to spend some time observing the people who use the pianos…there would be so many stories….I mean, what draws a person to sit down and play a brightly painted piano set up in a public space?
An absolutely fabulous community project!
Have you played any of the pianos…in Melbourne or any of the other locations round the world?
"Play Me, I'm Yours" is on in Melbourne till the 27th January…check the website for more details!