We don't know Phillip Hughes…to be honest, I had barely heard of his name.
But last Tuesday, Hughes appeared on my social feed…but not in a good way.
Over and over, the sickening images of a young cricketer being hit by a cricket ball, and his subsequent collapse, where being shown.
Along with thousands of others, we waited for news….news that he would pull through and survive…that he would be OK.
But on Thursday, social media once again kicked into motion, announcing that Hughes had lost his life without ever gaining consciousness….he never knew what hit him.
I was sitting working at in my home office when the news started to appear, and although I knew very little about him, I must admit I had tears…
Immediately the tributes started to appear in an outpouring of grief….the nation was in shock, and this soon spread across the world.
I am so proud of my fellow countrymen, as we as a nation wrapped our arms around the Hughes family in their time of great sorrow.
And let's not forget the bowler who was at the other end, just doing what he does every game….Sean Abbott.
I can only image what distress and anguish he is experiencing….our arms are also wrapped around him as he receives support from his loved ones, team mates and others.
Abbott is not at fault in any way – it was a freak accident, that occurred in what should have been a routine game of cricket….a game that is played everywhere from backyards, to local grounds, to world arenas….it is played by the young, it is played by the not so young.
Since Friday, there has been numerous things done to acknowledge the loss of this young man.
Junior cricketers around Australia have observed a minute's silence…many wore black armbands
Senior cricket club matches were cancelled in Sydney and Adelaide…states in which Hughes played his Sheffield Shield cricket.
And it hasn't just been in Australia…there have been similar tributes all over the world.
Google added their contribution…..a lone bat leaning against the wall…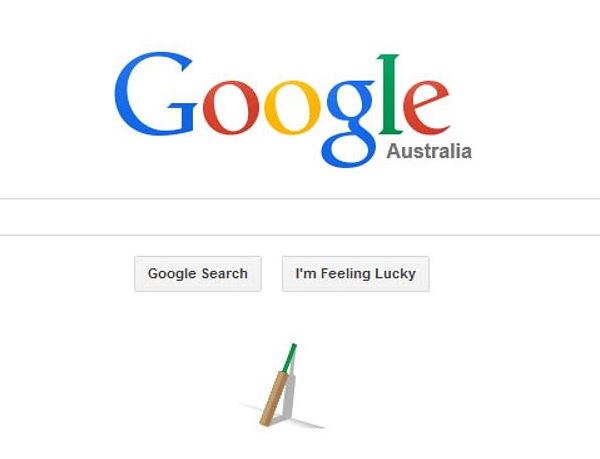 Elton John even dedicated a  performance of  his 1974 hit Don't Let The Sun Go Down On Me during a concert in Germany.
Hughes's one-day international shirt number of 64 will be permanently retired.
Hughes was well loved and well liked….he loved cricket and had the future at his feet…there is no rhyme or reason as to why this had to happen.
His loss has touched not just cricket fans, but sports supporters across the globe.
It has touched people like me…who really had no idea who he was, until this tragedy.
And if it couldn't get any sadder, today is his 26th birthday…instead of celebrations, there are tears.
Safe journey…RIP Phillip Hughes….63 not out….