All cancer is bad, but ovarian cancer is particularly insidious.
This cancer is the growth of malignant cells in one or more ovaries…often with the spread of malignant cells to other organs in the abdominal cavity.
Many believe that this cancer will be picked via a pap smear, but the scary fact is that there is no early detection test…yep, you read right…and what makes this even worse is that often there are no symptoms until its too late.
For this week's My Friday Five, I am listing some of the very frightening stats about ovarian cancer..
1. Every year, approximately 1200 Australian women are diagnosed with ovarian cancer…most are already in the advanced stage of the disease by the time they are diagnosed. However, the data is forecasting that an estimated 1488 women will be diagnosed this year.
2. One in 90 Australian women will develop ovarian cancer in her lifetime…on average, 3 are diagnosed every day.
3. The average age of women at diagnosis is 63 and the risk increases with age.
4. The 5 year survival rate for Australian women with ovarian cancer is only about 40%. In comparison, the 5 year survival rate for breast cancer is about 88%.
5. A woman dies from ovarian cancer every 10 hours…that's at least 2 a day…
So why I am I giving you these depressing stats?
Because October is Frocktober…a month long event aimed at raising funds for the Ovarian Cancer Research Foundation, as well as raising awareness about this horrible cancer.
I am proud to be a Frocktober Ambassador and my aim is to raise $700 towards the foundation so they can continue their important research into developing an early detection test that will save women's lives.
My challenge as a Frocktober Ambassador…to wear a dress every day for October…31 days, 31 dresses!
Here is what Week 1 looked like…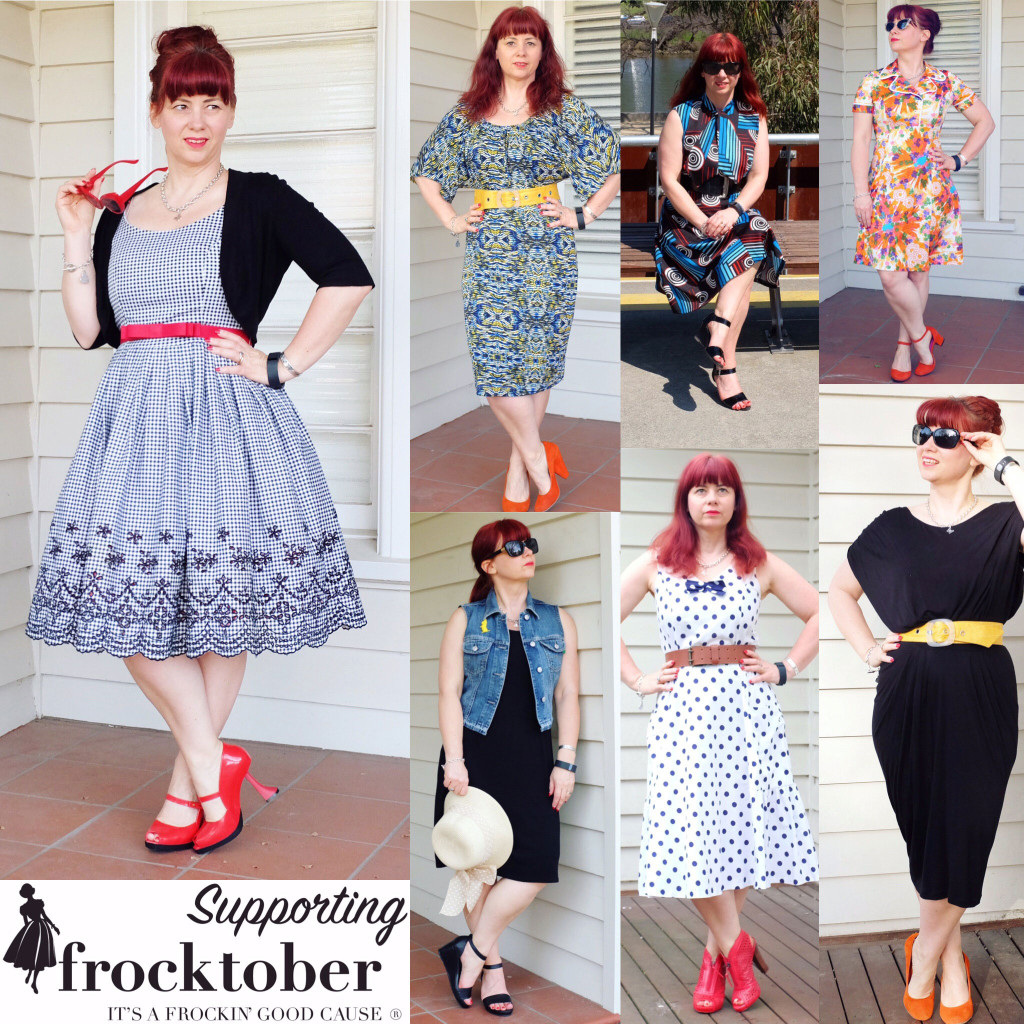 If you are able to donate even just a small amount, please click here and help the OCRF prevent more women dying due to ovarian cancer.
To those who have already donated, a big thank you! xx
To find out more about ovarian cancer and the research being done, click here to visit the Ovarian Cancer Research Foundation website.