It was with impatient anticipation that I have been waiting for the return of Miss Fisher's Murder Mysteries, and on Friday night, my wait was over…although I have to admit I didn't actually watch it till Saturday afternoon when I had the TV and the house to myself!
I am a late follower of the fabulous Miss Phyrne Fisher, as I only discovered the series last year…but quickly ended up buying the first two series on DVD and working my way through them, enjoying every minute!
And I can report that the wait for a new series was definitely worth it as Phyrne returns as sassy and stylish as ever…and don't forget Jack…
The first episode of Series Three has magic, mayhem and murder, including the surprise appearance of Phyrne's estranged father.
The romantic tension between Phryne and Jack is once more ever present…am I the only one who wishes they would just get it together?
I love the fact that Miss Fisher's Murder Mysteries is filmed around my home town, Melbourne…Episode One features the Forum Theatre in the city.
And to celebrate the return of the private detective extraordinaire to our screens, there is an exhibition currently being held at the Ripponlea Estate, where much of the series is filmed.
The exhibition includes dresses that were especially made for the series as as well as original 1920s pieces donated to the program by Melbourne owners, including hats, jewellery and hand-made accessories.
It is all display until September 30, but I am hoping to get there in the next few weeks…I have already made a few sneaky online purchases from the Exhibition Shop…shhhh…
PLUS there are various events happening during the next few months, including walking tours, mystery dinners, even a garden party!
Now the series has finally started, I can hardly wait till next Friday to see Episode two!
And with a huge fan base, both here and overseas, lets hope that the Miss Fisher shares her adventures for many more series!
I will finish with one of Miss Phryne Fisher's best lines from Episode One…
"Men. Can't live without them, can't hit them with an axe"!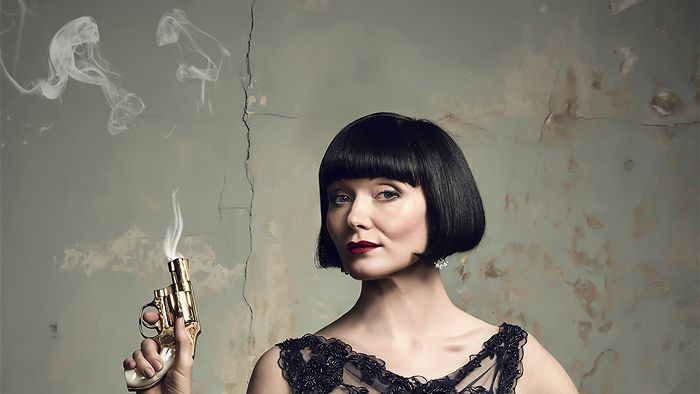 To find out more about the Miss Fisher's Murder Mysteries Exhibition and other events, click here!
Miss Fisher's Murder Mysteries is currently showing on ABC TV Friday nights at 8.30pm.
If you missed last week's episode, it is currently available via ABC iView (Australia only)!