I have always had a love for magazines, but as I got older, I began to resent spending good money on  mags that only took me 30 minutes to read…all froth and bubble..plus advertisements!
Now I am not against a bit of celebrity gossip, but I get that for free with a visit to the Daily Mail website…yep, I know its a UK site, but it does gossip better then any Australian website…and did I mention it was free?
Plus I get my monthly dose of those sort of magazines at the hairdressers….
But I still have a yearning for looking forward to the next issue of a magazine that I enjoy, the excitement of finally seeing it arrive on the shelves, and the joy of settling in on the couch with a cup of tea for a good read.
So I have started exploring the racks at my local newsagent…and any other newsagent I go past…to find publications that are different…that will hold my attention for more then half an hour…that can broaden my mind, and widen my horizons.
And thankfully, I have found some that make me quite happy to hand my money over!
So every Monday, I will share the love and write about what I have found…welcome to "Mag Monday"!
And the first featured magazine is called Renegade Collective!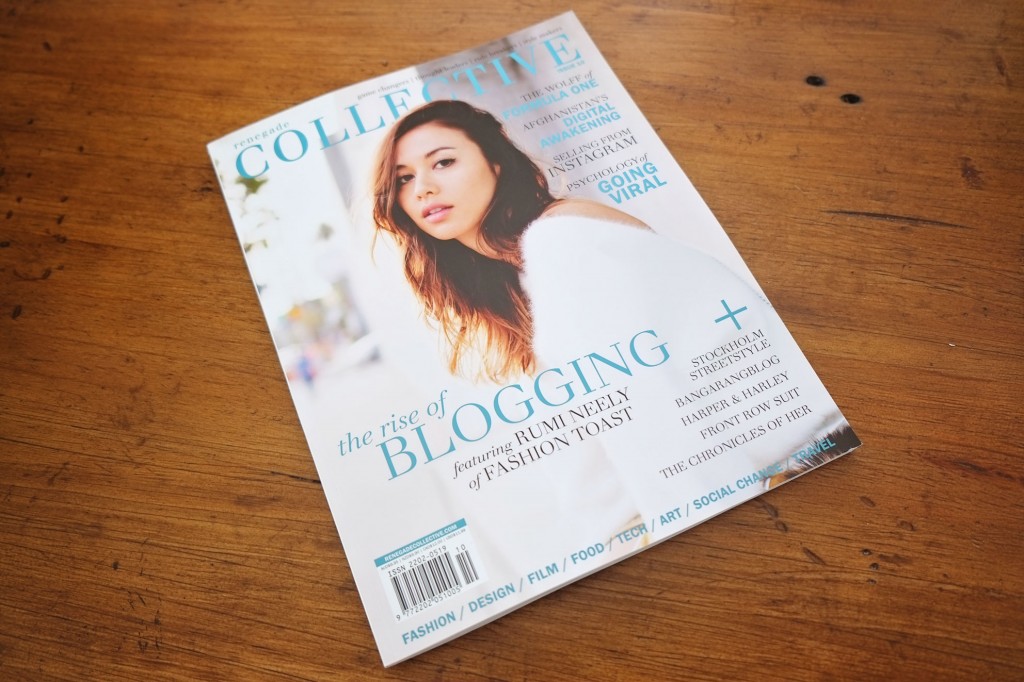 I have to admit I only discovered this last week, thanks to some fellow bloggers posting on Instagram about it….have no idea why it hadn't made it onto my radar as yet!
Sounded interesting, so I paid the $9.95 for latest issue (#10), and headed home for some quiet time on the couch!
And after reading the first few pages, I was very pleased to find that this was definitely a publication that could hold my attention AND I could soak up some fabulous inspiration from within its pages!
Renegade Collective is an Australian, and now monthly, magazine for "the Thought Leaders, Game Changers, Rule Breakers and Style Makers"….and hopefully, aspiring bloggers like me!
I love paper…for me, it adds to the reading experience…and Renegade Collective is presented beautifully…a glossy colour cover, with the first half of the magazine presented on glossy paper and the second half on matt, with a return to gloss at the back.
Its full of photos…definitely a plus for me…beautifully laid out, complete with handwritten quotes!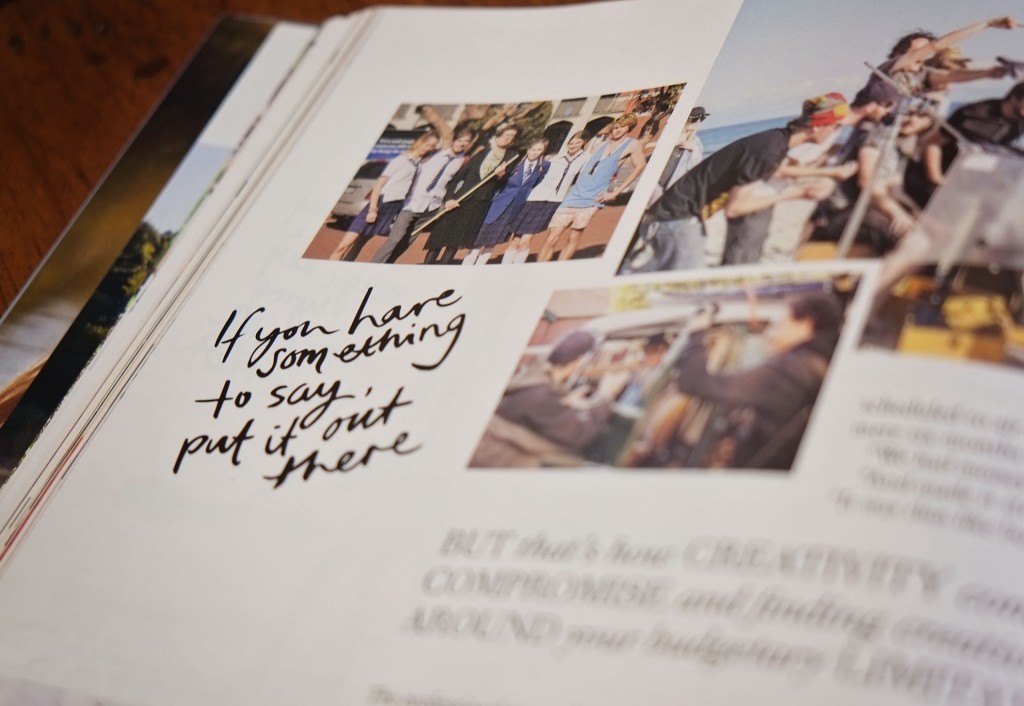 Various topics are covered…fashion, design, film, food, tech, art, social change and travel….covering all my favourite subjects!
It's hard to list what my favourite articles are in this issue…each one was interesting in its own way, and almost all gave me ideas for what I could do to improve me and my little "brand"!
For example, the article on Sara Critchfield, the managing editor at Upworthy….a company that is responsible for a large percentage of stories and videos going viral on the internet…was fascinating, particularly the information on the use of the right headline to grab people's attention…something to keep in mind for this newbie blogger!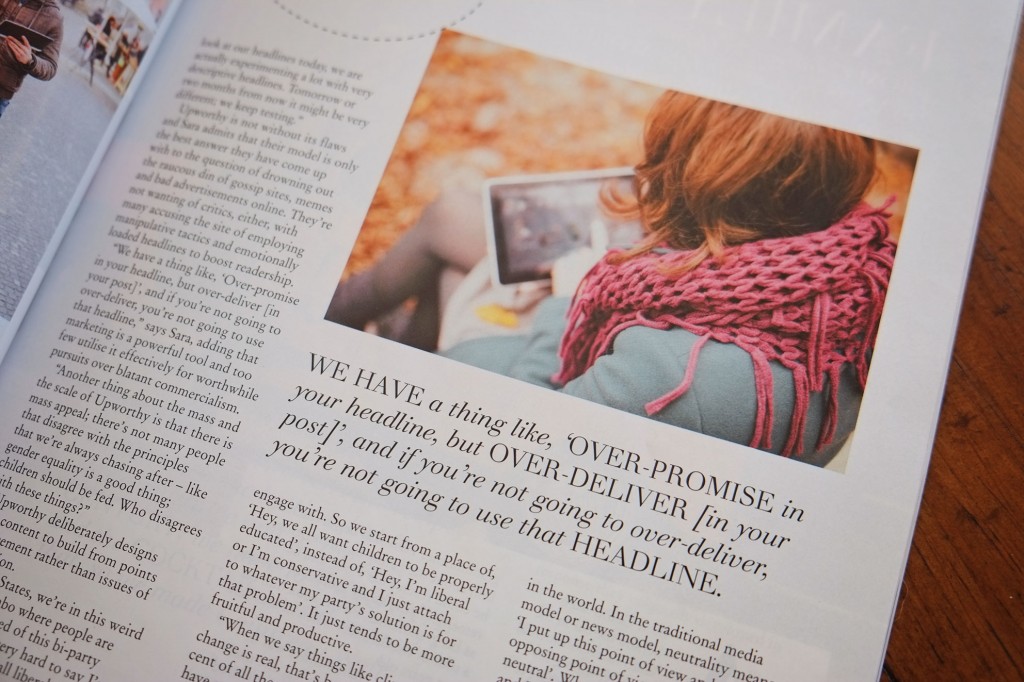 The article "Family Ties" also hit home, as my day job is within a family company…I am part of the third generation now involved in running the business…not something I talk about on this blog, but it is something I am proud of!
I loved reading about a fellow blogger who was in the group who did the Blog with Pip course back in February…Tessa White of Down that Little Lane…if you haven't visited that website, grab your credit card and go…now!
An amazing lady with a gorgeous online store!
It was also good to read about the many featured bloggers…gives me the strength to keep going…to keep working at it…
I have to admit I am still finding bits I missed on my first read through…it's a magazine that keeps giving!
Renegade Collective would be perfect for a long flight….or a long wait…you will find it hard to put it down!
So if you are looking for a publication that rises above the noisy gossip, and provides some real solid reading, grab a copy of the Renegade Collective, and be prepared to be inspired!
I can hardly wait till the next issue!
Have you discovered Renegade Collective….do you love it?
Renegade Collective is available at newsagents or you can purchase a digital version….for more information, click here!
Please note: this is not a sponsored post! I have written about Renegade Collective because I love reading it!