Both my husband and I are musicians, and we love live music…so we always keep an ear out when in the city to find what buskers are out performing…and this particular group has become our favourite!
Mixed Up Everything is a band consisting of four brothers, aged 16, 14, 13 and 11…but don't be deceived by their youth…these guys are good…very good.
Toby, the eldest, sings and plays guitar…Kevin plays drums/buckets…Blake plays guitar…and Koby, the youngest, plays bass.
We first heard them earlier this year, also playing in the Bourke Street mall, but weren't able to stop and listen for long.
Today, we were in no hurry so listened to them perform a set while enjoying a beautiful sunny Melbourne morning…and going by the crowd that congregated behind us…and even over the tram tracks which got a little exciting…we weren't the only ones appreciating their performance!
These guys are a class act!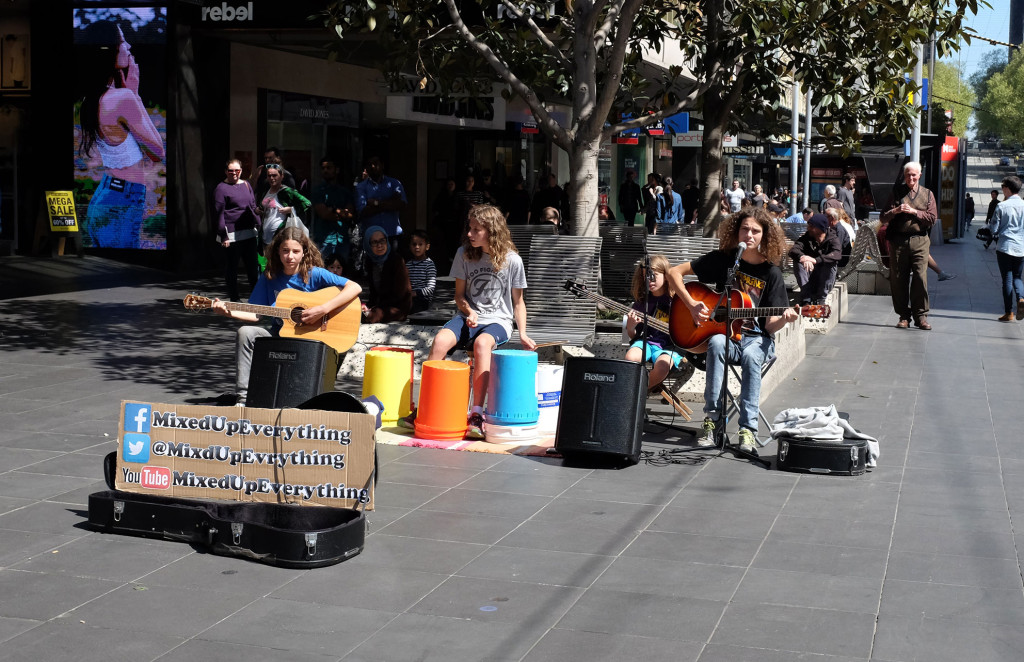 Mixed Up Everything perform rock and grunge covers….included in the set we heard today was Offspring and Rage Against the Machine.
But don't take our word for it….if you want to check out what they do, click here to go to their You Tube account.
And when I checked their Facebook page, I discovered that during the year, they have been busking over in some European cities, including Rome, Heidelberg and Prague.
While watching them perform, you can tell they love their music and that they love performing live…their family must be so proud of them!
And they are grateful too…every person who put money in the case was thanked.
We hope that they can go far on their musical journey, and achieve their biggest dreams!
In the meantime, we look forward to the next time we can hear their unique sound reverberating off the buildings in the mall!
Click here to go to their Facebook page for more information on upcoming gigs!
Have you heard Mixed Up Everything perform? Did you love them as much as we do?