Did you know that actor Tom Hanks is a lover and collector of vintage typewriters?
He started collecting typewriters in the late 1970s, and he still uses a manual typewriter every day!
Hanks has now partnered with Hitcents, to produce a new app that aims to recreate the experience of using a manual typewriter….on an ipad.
It is called Hanx Writer….Hanx is what he uses to sign off on his tweets…and this is what it looks like!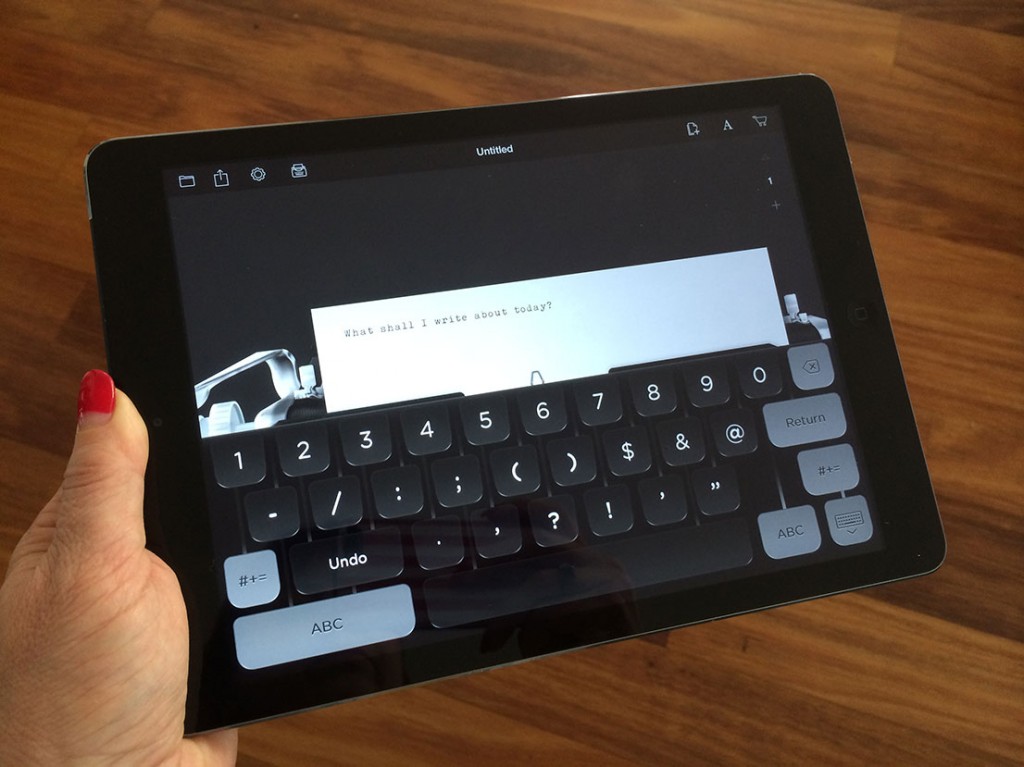 Three vintage typewriters from his personal collection were loaned to Hitcents, to assist in building the app and from these three typewriters, three new fonts were designed!
Hanks says the app is designed to make you slow down….to organise your thoughts before typing.
However, I have to admit, I never really used a typewriter…my school work was mostly handwritten, and then computers came on the scene by the time I hit my late senior school years/university.
But that doesn't mean this app doesn't appeal to me…hey, I like all things retro!
And the good news is that the basic version of Hanx Writer is free, however to add more features, you need to make an inapp purchase….
So what is this app all about….it is basically a simple editor…but with a difference!
There is only 4 options that can be turned on and off…animation, sound, modern delete (ie not by XXing out the words) and show cursor.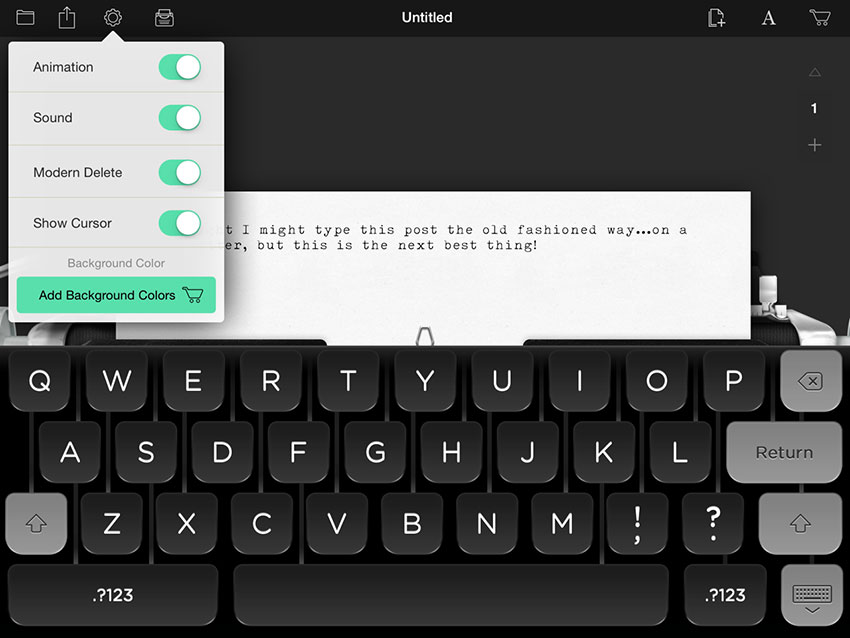 You can also change the background colour….but only if you make an in app purchase
Once you have typed, you can save, copy, print, email etc like you can with other word editors….but it certainly looks much more retro!
Let's talk about the sound…in the "old" days, you could tell how busy someone was by the sound of the keys clattering….nowdays, computers mean that offices can be a much quieter place to be…unless you have one of THOSE people nearby who needs to keep everyone updated with whats happening every minute….but I digress…
If you close your eyes, this sounds exactly as a typewriter, complete with the return ding!
OK, so it doesn't physically feel like typing on the real thing, but the sound effects certainly are spot on!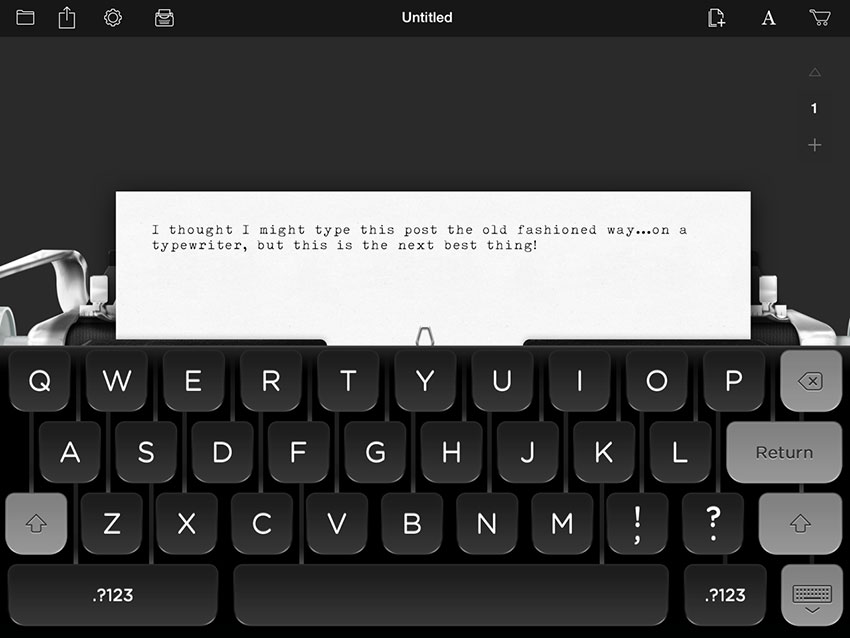 However, you can type using a wireless keyboard if you wish!
What could it be used for…Hanks suggests that it probably isn't the best to write something important like a essay or a legal paper, but it is perfect for writing a journal….or even a special love letter….
Hanks must be on to something because within days of the app being released, Hanx Writer reached number one in the Apple App store, and has also been featured as an Editor's Choice.
How long it will be used once downloaded, who knows…but at least it is free to have a play with until the novelty wears off….and you can reminisce about the days when typewriters where alive and clattering away in offices and homes all over the world!
But it will never be the real thing…I must admit I wouldn't mind this gorgeous red one seen earlier in the year at Minette's Vintage...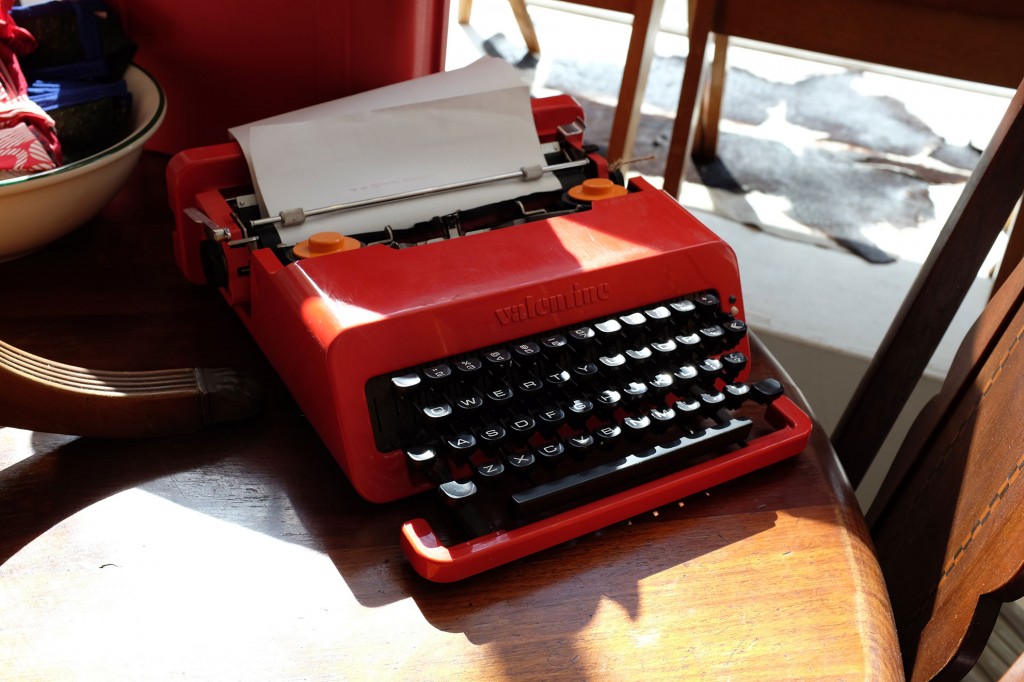 To download Hanx Writer to your ipad, go to the Apple App Store.
Hanx Writer is free to download, however there is the option of inapp purchases!
Do you miss the typewriter? Have you tried Hanx Writer?