Last week to my surprise,  I received my RACV Gold Card in the mail…for those who don't know, RACV is the Royal Automobile Club of Victoria, which amongst other things, provides emergency roadside assistance.
I have been a member since I got my license…way back in 1990.
OMG – I had no idea that I have been driving for over 24 years….I feel so old…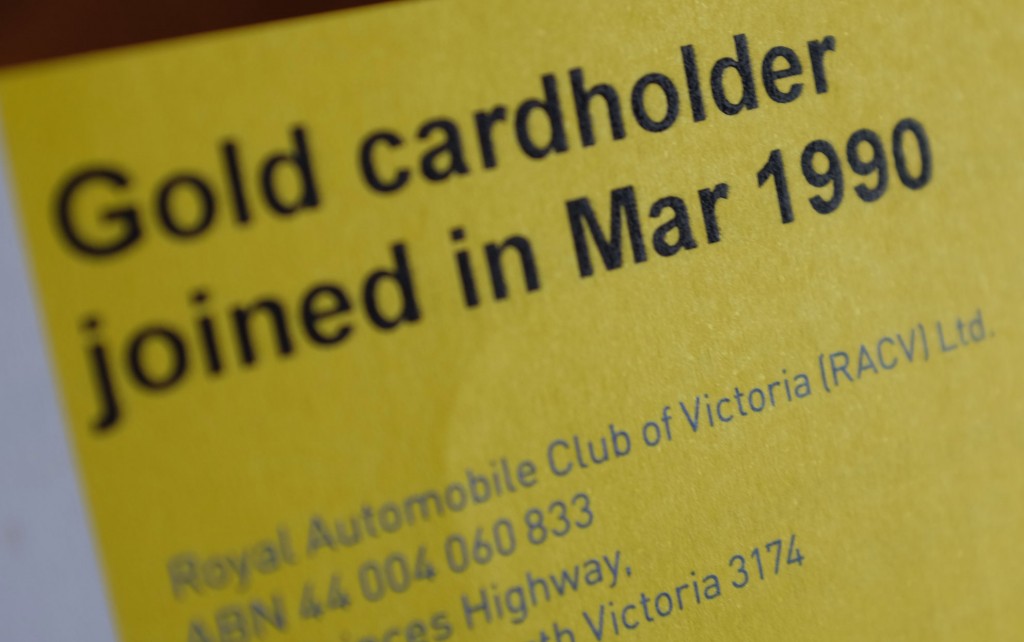 Initially, I hated driving…thought public transport was much easier..what on earth was I thinking?
Looking back at my car history, you can see my tastes change as I start to fall in love with driving over the years.
My first car was a silver station wagon…a volvo…complete with one of those original car phones as it was Dad's old company car.
My parents used to give me the keys and push me out the door saying "go drive" because even though I passed my liscence test, I just didn't have the inclination to actually go out on the road.
I remember when I first got my license…it was so weird to drive with no one else in the car…then my brother discovered that it was handy having an older sister who could drive, and I became his taxi driver till he was old enough to drive himself!
Then when he got his license, we both got our first cars…Nissan Pulsars. Mine was white and an automatic….my brother's was red and a manual.
The number plates were one number apart and whenever we travelled in convoy, it was funny how many people pointed that out to us as if we hadn't noticed!
That little car got the nickname of "The Esky"…well it was white and boxy! It was a great little car and did me well for many years…until I got sick of not having air conditioning…hard to imagine having a car without it nowadays!
So I saved up and bought my first Subaru and started my love of the Impreza….this one was a second hand, very base model and it was white…again! But it had aircon so I was very happy!
After about 7 years, I got my first company car…and went for another Impreza…an RX this time….and you guessed it…white!
This was the closest I was going to get to a WRX, which is a good thing as I probably would have done some damage with that much power!
That car was fantastic…my husband ended up driving it for quite a few years too, and we were sad to eventually sell it.
I took this one on an advanced driving course, and it cornered like it was on rails….had the best fun!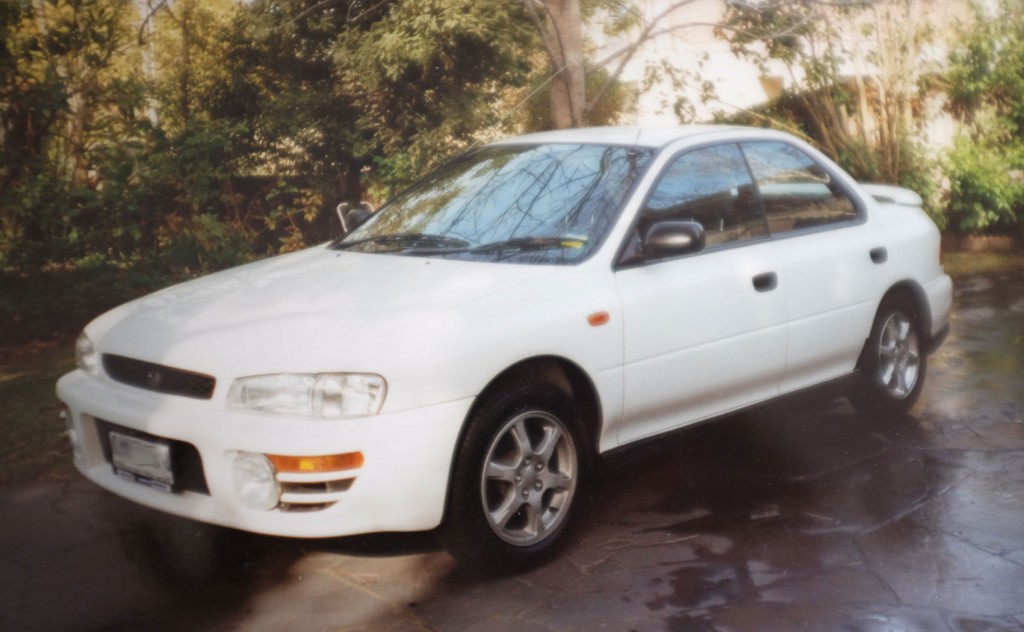 We decided to go for a larger car for my next car…and got a Suburu Liberty…finally a different colour…silver.  This car was the only one I have had that has had a sunroof…and this one had two…miss that…
The next car was even larger…and finally I got out of the white/silver phase…and got a black Ford Territory which ended up with the name of "Zac"!
This car was like the Tardis – you could fit everything plus the kitchen sink into it..and then more…plus it sat seven!
We used to take a whole bus load of muscians, plus instruments, to band practise twice sometimes three times a week…I felt like a tourist guide…"the bus is leaving in 5 mins, sharp!".
We did so many road trips round Victoria and beyond in "Zac" – it was a great car to travel in!
This image was taken in the bush up behind Bright….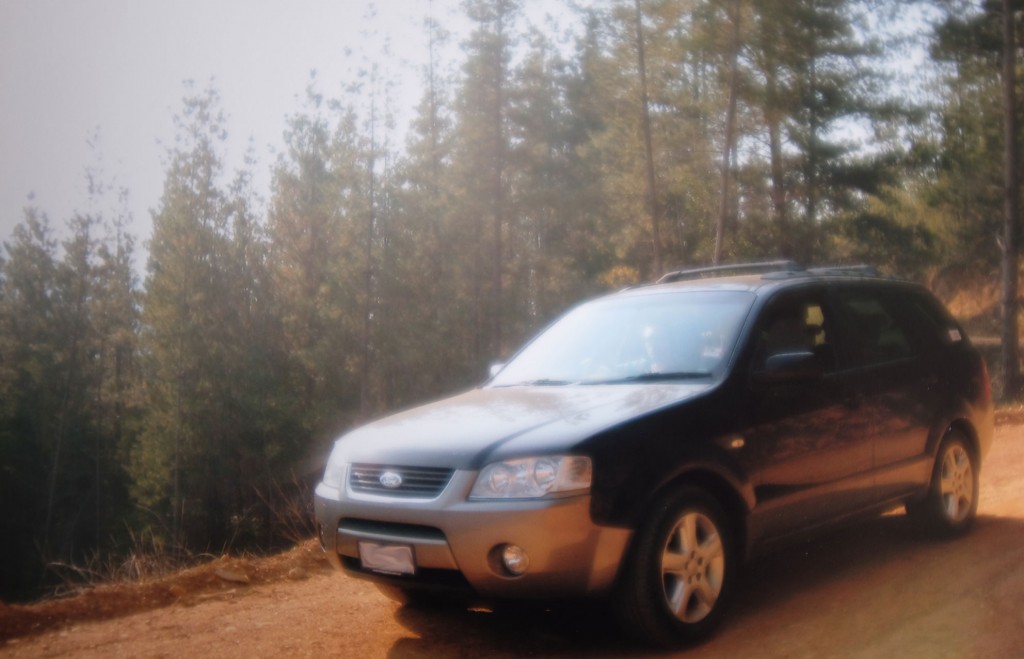 Then I had an early mid life crisis…definitely no girly or family cars for me….I was..and still am…addicted to Top Gear…I wanted something sporty…..something with grunt!
Enter "Max"…a butch, black Audi coupe with tinted windows, which goes totally feral when its been raining and the roads are slippery… no ladylike behavior here!
It is the base model and doesn't have all the bells and whistles that the newer models have as standard, but I absolutely love it!
I still reckon its one of the best looking cars on the road and in the four years I have been driving it, I have only seen one other female at the wheel of one….and that suits me just fine!
We have taken it on many road trips.. admittedly to some places a sports car really shouldn't go…like Bruney Island off the coast of Tasmania…..with lots of dirt roads…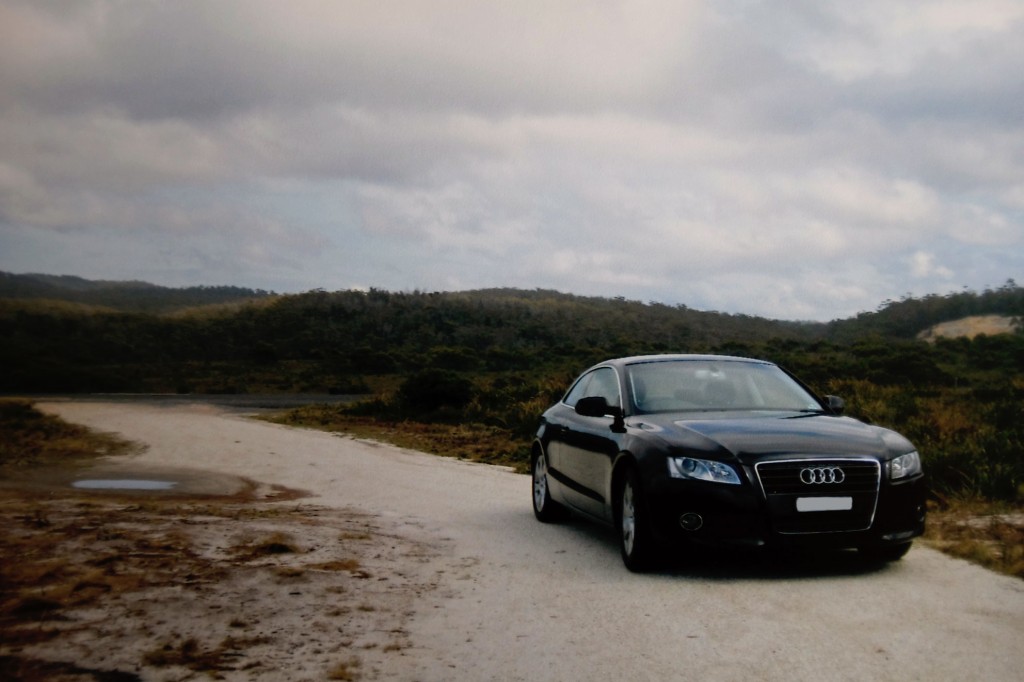 So how long will I stick with driving a low, two door car…who knows!
I must admit I do notice how much harder it is to see when turning, compared to my husband's SUV…especially in this area which is filled with parents driving large 4WDs.
And it can be a little harder to get in and out of…but I can safely say I am not ready for my zimmer frame just yet!
Just give me a full tank of petrol, good company and the open road!
Our cars become part of the family and end up with nick names…do you name your cars like we do?