Over the last few years, I have developed a keen interest in fashion…but not mainstream fashion as such because following the latest trends just isn't for me.
Instead, I am loving creating my own unique look from a mishmash of modern, vintage and op shop…Zincstyle!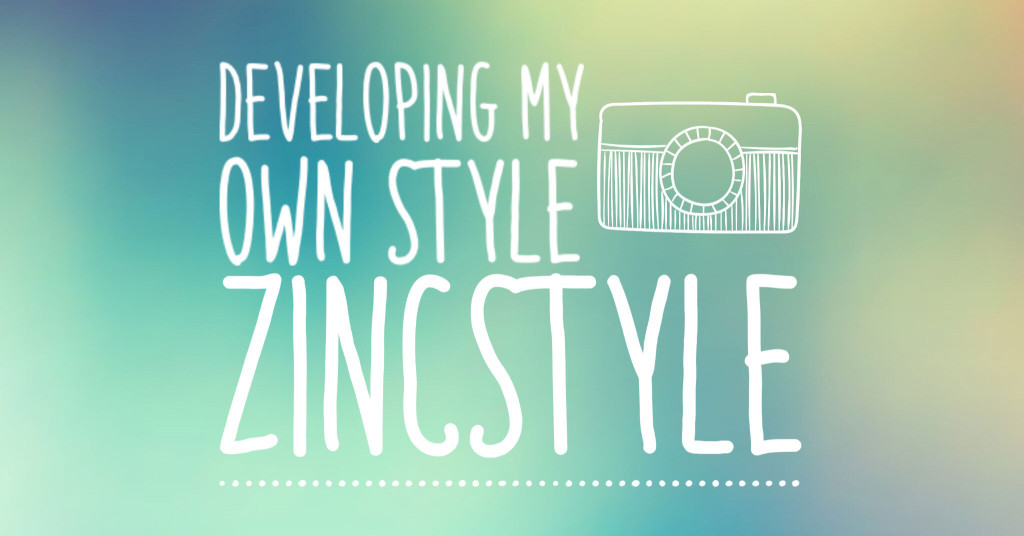 If you follow my posts about What I Wore, and follow me on social media, you will know that I certainly don't wear a similar style every day.
I love the freedom my wardrobe now gives me…but it wasn't always this way.
As a child, I went to a school that required a uniform so I didn't have to put much thought into what I wore.
On weekends and holidays, I also didn't put much effort into what I wore…I will admit I did follow some trends as I entered my late teens but I just wasn't one of those girls who lived for clothes and makeup.
My uni years were the same…initially I loved being free of wearing a uniform all the time, but then the novelty wore off.
Don't get me wrong…I loved shopping…just not for clothes…I did however develop a lifelong passion for shoes and handbags!
Then I entered the workforce…initially as a music teacher, but then settled into an office job.
My wardrobe direction dutifully headed into more corporate wear…a safe and somewhat uninspiring look.
Time went on and my husband became very sick while waiting for a liver transplant so I tended back towards living in gym wear…not because of going to the gym, but because it was comfy for long hours sitting in hospital waiting rooms.
My weight crept up too, which we now know was because of thyroid issues…black, loose outfits were on high rotation.
When I got my health issues back under some control, I realised I needed to buy some new clothes as everything was too big.
And then I discovered vintage and a whole new world opened up for me…a vibrant, colourful world!
I realised that there were clothes out there that would not only fit me perfectly, but would also make me feel totally fabulous!
With the guidance of wonderful ladies such as Tracey from Frocks and Slacks and Amy from Minette's Vintage, I learned to step outside my comfort zone and develop my own unique style.
So my wardrobe of 2015 is so very different to what it was only a few short years ago.
I have rediscovered my love of vibrant colour…the brighter the better, although I haven't quite got to fluro levels yet.
I initially stayed with styles from the 1950s, but then slowly fell in love with the 60s and 70s…I now have quite a few 70s maxi dresses that a younger me would never have looked twice at.
I learned that op shops can be full of treasures if you know what to look for…I even have my husband hooked now too!
But the main lesson I have learned is that if I wear something that makes me feel confident and powerful, I really do feel confident and ready to take on whatever the day holds.
Clothes really can be a source of joy…a theory I would have laughed about not long ago.
And it doesn't matter whether your sources are modern/new, vintage, op shop…or like me, a mixture of all these..it's how they make you feel!
I do admit that I use my outfits as a sort of adult "dressing up"…a kind of getting into character.
Some days I want to be more feminine…full skirts and high heels…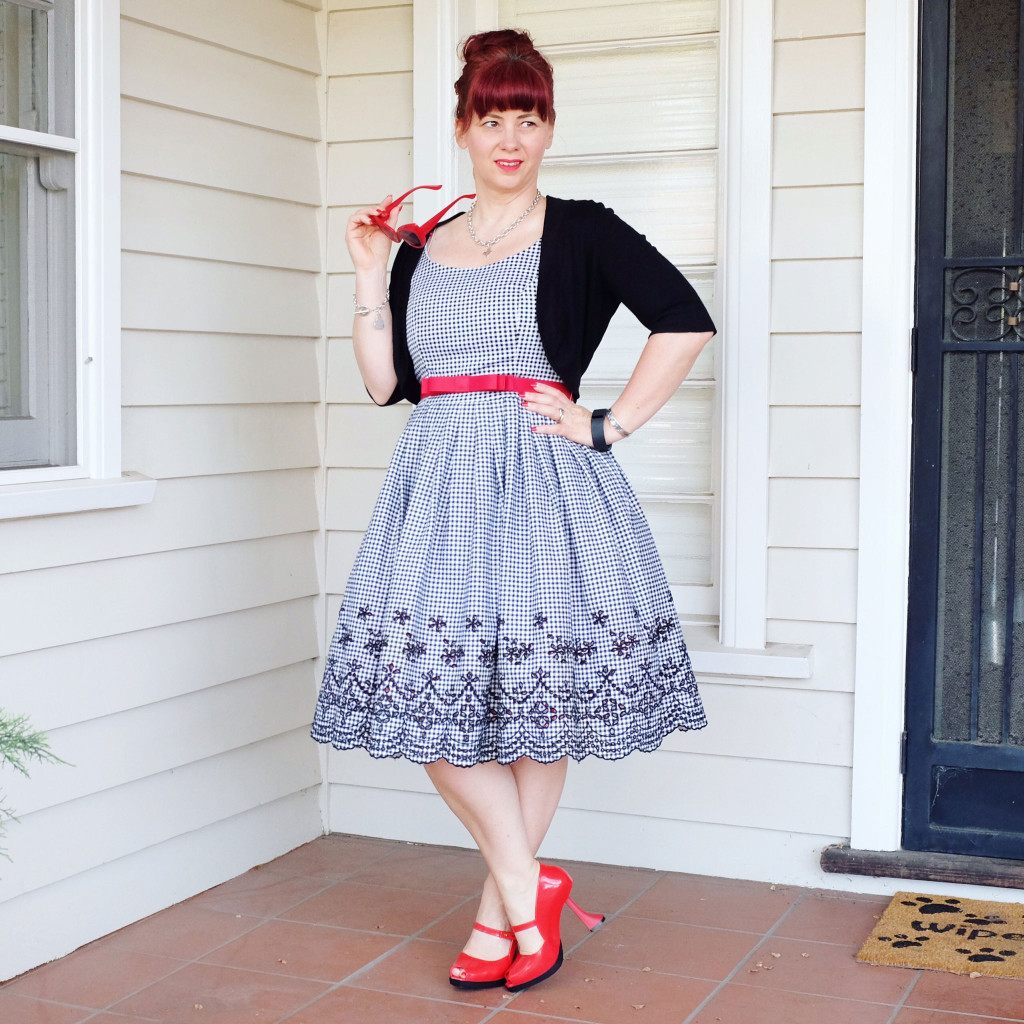 Other days, I need to be more business like…yes, that is a vintage top…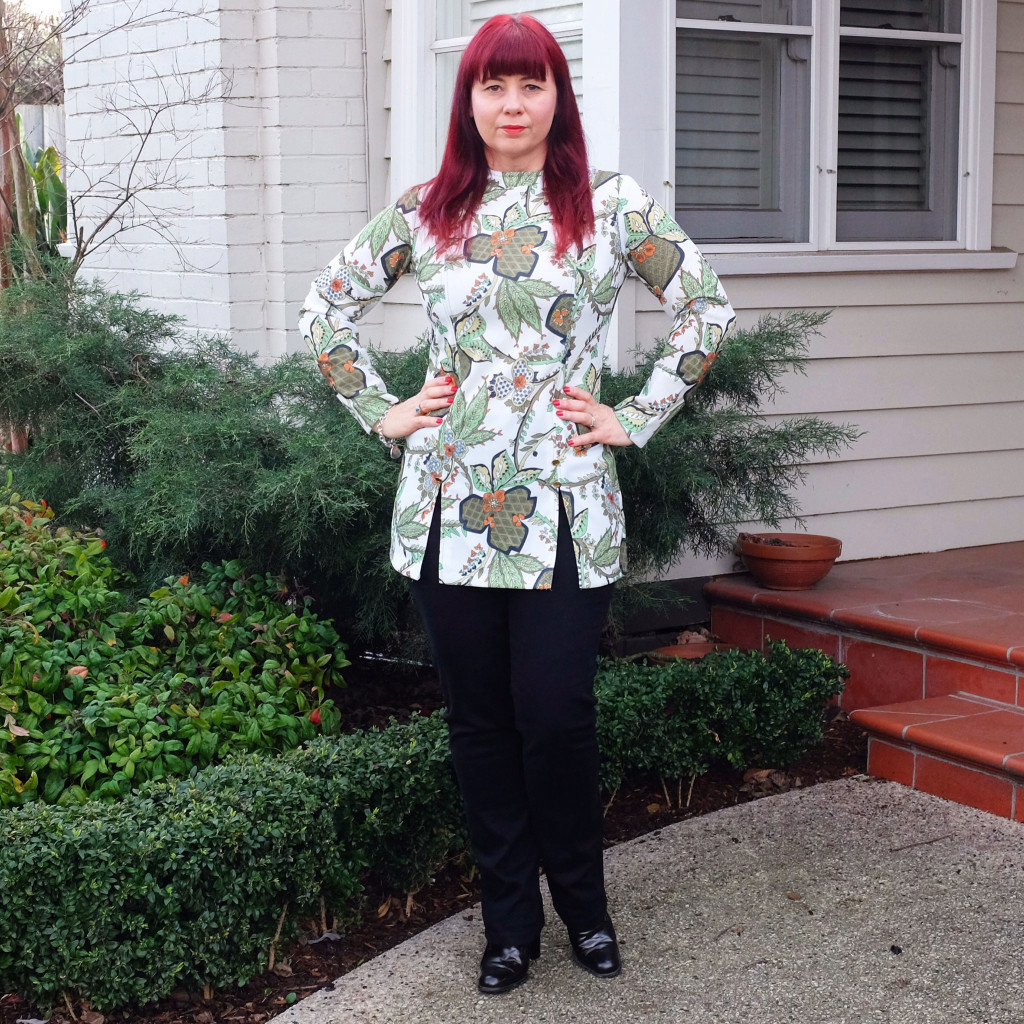 Sometimes, I go for a more edgier look…with a 60's vintage dress…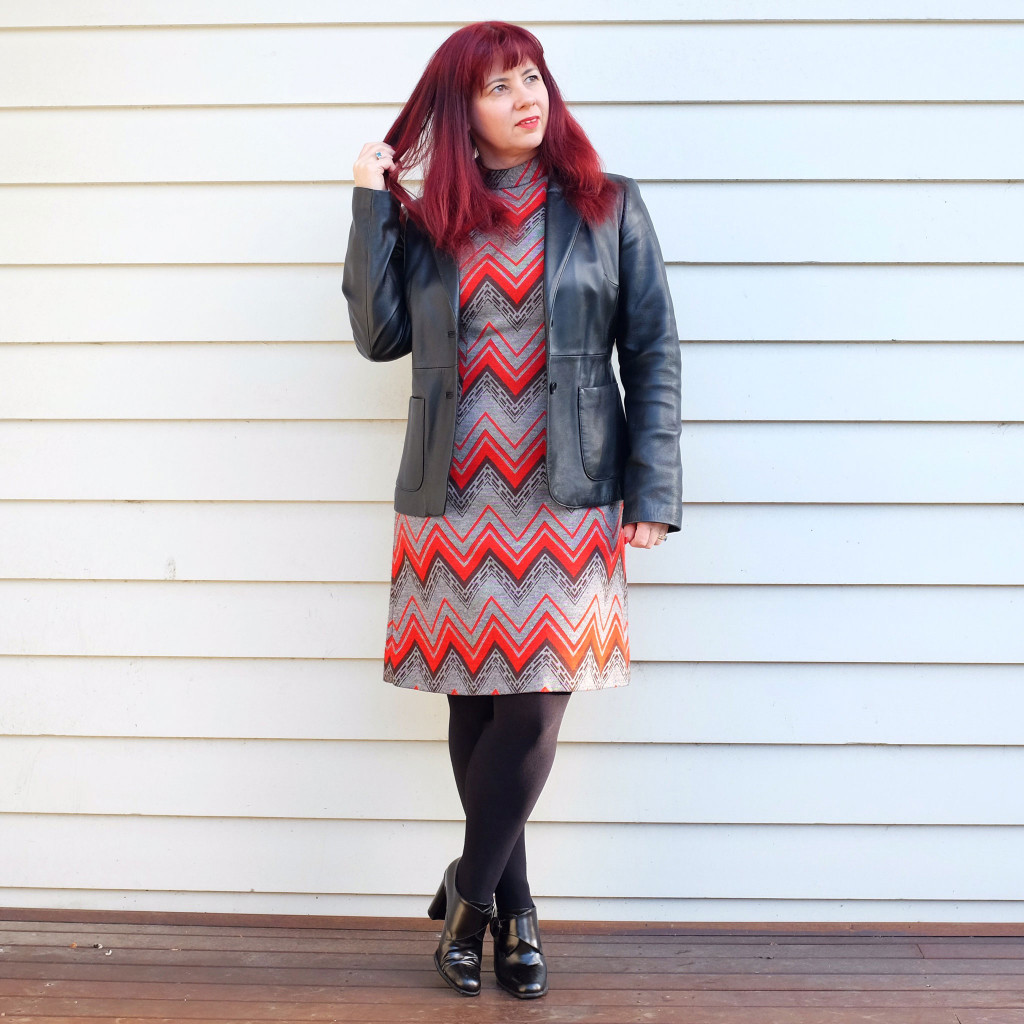 There are certain clothes that are my go to outfits…these are ones that I know work perfectly for me…this vintage lace dress is one of those…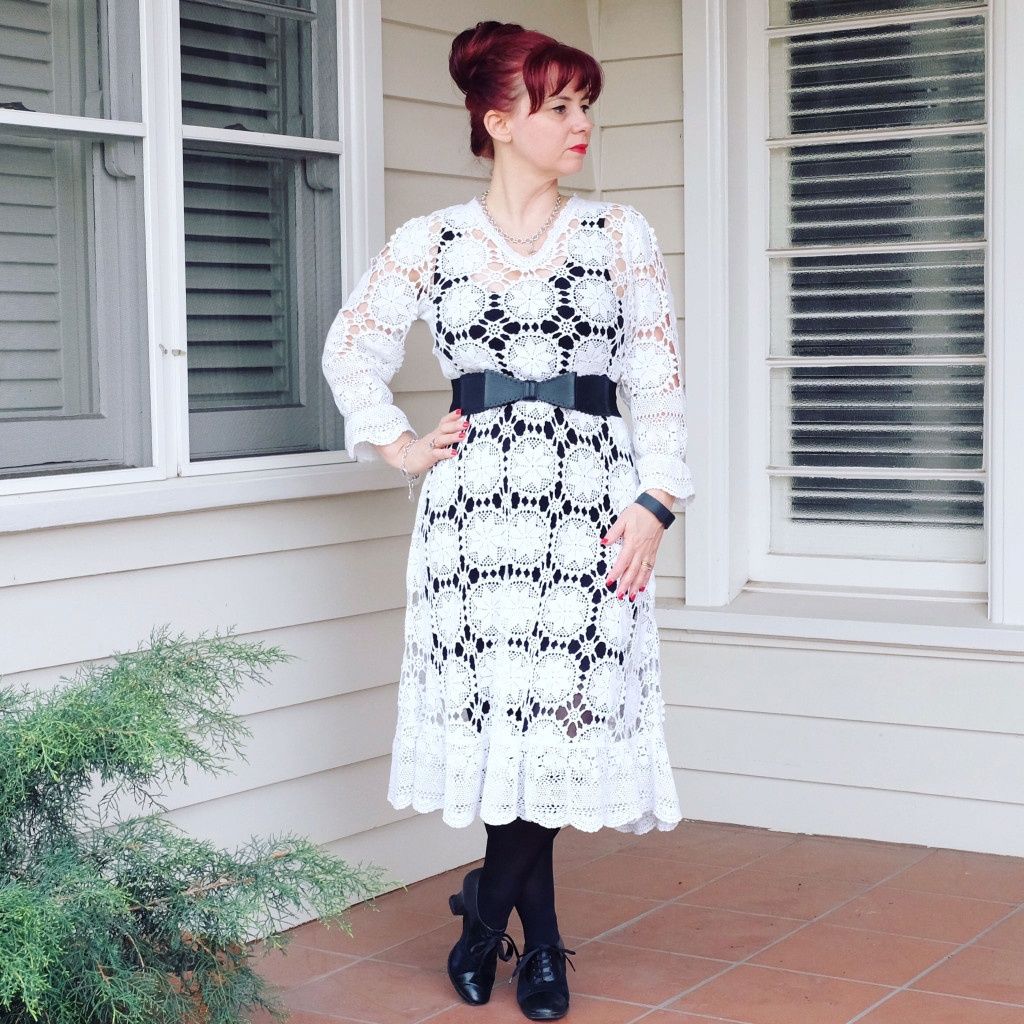 And every now and then I try something that pushes my comfort zone…such as over the knee boots!
Never ever thought I would wear boots like these, especially in my forties…but I do and love them…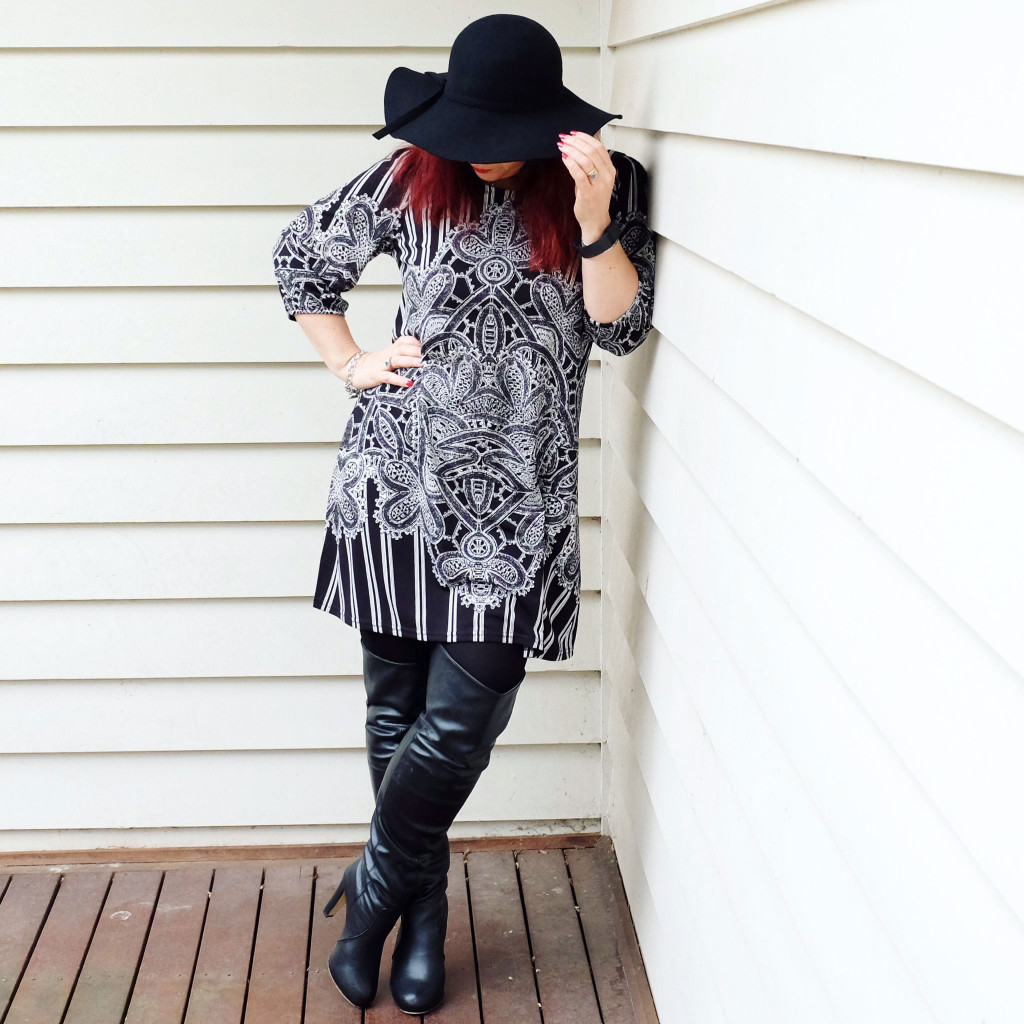 And the beauty of having my own Zincstyle…I don't have to worry about wearing the same outfit as someone else because I have made it uniquely mine!
So, it's never too late for a change…doesn't matter what size or shape you are, you can develop your own unique style.
You may prefer to be pure to a certain era or style…or you can go to the other extreme like me and give everything consideration!
Step out of your comfort zone and see what you can find…you won't regret it!
Share your style and how you developed it in the comments below…vintage, op shop, classic, modern etc…I would love to know all about it!