Did you know that the Christmas wreath has many meanings?
For example, the circular shape represents eternity, with no beginning or end.
In religious meaning, the wreath represents Jesus's thorny crown and the berries represent his blood.
A more modern meaning is that a decorative Christmas wreath on your door means "welcome" and the acknowledgment of holiday cheer!
And one last interesting fact…the word "wreath" comes from the word "writhen" that was an old English word meaning "to writhe" or "to twist."
I had absolutely no idea where our previous Christmas wreath went in the big move, so decided to look for a new one….and couldn't find anything I liked…I searched the shops and even on line….
And then ended up going against tradition by getting something a bit different…a Scandinavian Christmas Door Swag!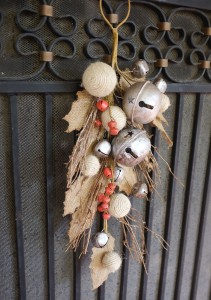 It has large silver bells, and small red bells as "berries"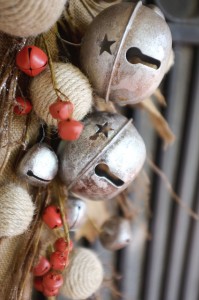 I liked the rustic, "home made" look, and it suits our decor style!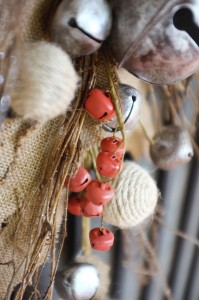 It's not a Christmas wreath in the traditional sense, but it's meaning is definitely the same…welcome to all with plenty of Christmas cheer!