I hadn't heard of this book till my mum read it and loved it so much that she bought a copy for me to read…and I am very glad she did as I loved it too!
The book is all about Ralph, a Giant Schnauzer who "bought hope, happiness and healing to sick children"!
Written by Anne Crawford, the story starts right back at Ralph's arrival on 21st March 2004 in Ulverstone, Tasmania, and follows how he went from a show dog, to causing trouble with the local council due to incessant barking while his owner was out…he was facing an uncertain future.
It then goes off on a tangent, and introduces the Lovick family who initially had another Giant Schnauzer, and who would ultimately take Ralph on.
And then there is a US dog psychologist, Wesley Laird…
All these people are part of why Ralph became the amazing dog he is, and how he became a worldwide celebrity!
Under the guidance of Caroline Lovick, Ralph passed the therapy dog training with flying colours, and began visiting a local old people's home…after the intial shock at his size, the residents and staff loved him!
But it was when he became a therapy dog at the Royal Children's Hospital in Melbourne, that his true character began to shine…he just loves children!
Initially, he visited a couple of wards within the hospital, spending time with each child but as he became known throughout the hospital, more and more kids, their families and even the staff wanted to spend time with him.
Ralph then met Zeke, a toddler who suffered from Maple Syrup Urinary Disease (MSUD) and who became the first MSUD patient in Australia to receive a liver transplant…he has now become a new kid, full of life and sickness is just a distant memory.
But his friendship with Ralph resulted in this gorgeous photo that spread across the world, and made this Giant Schnauzer famous!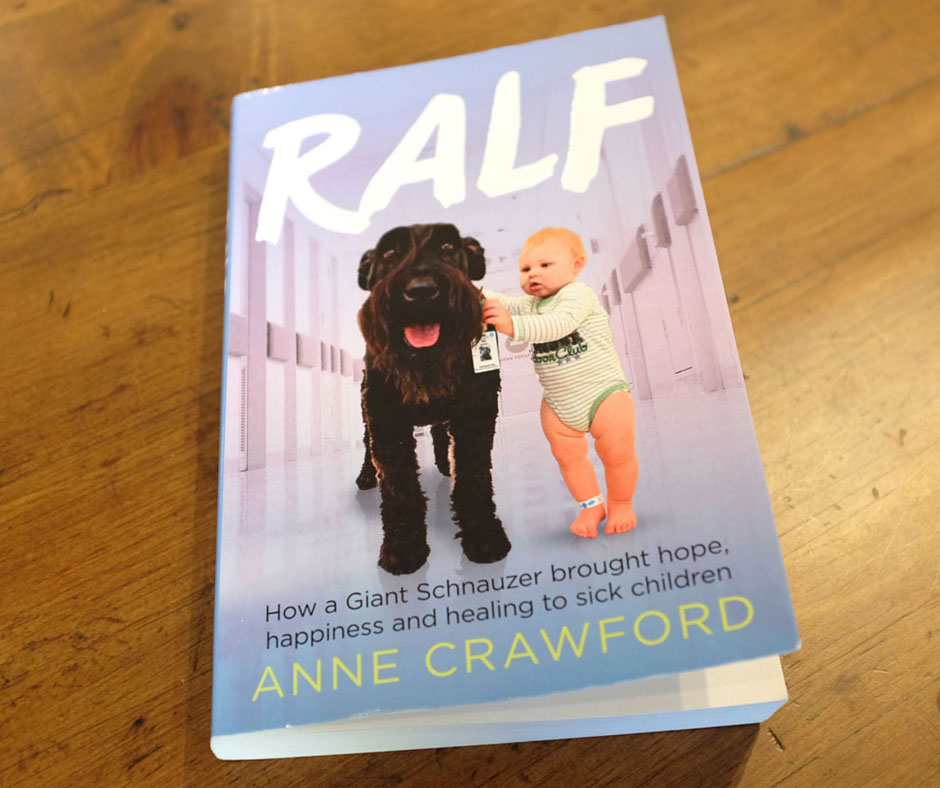 Reading this book bought so much warmth and joy to my heart, especially when learning of Ralph's amazing intuition and his special care for sick children.
It brought back memories as I have had a transplant experience due to my husband having a liver transplant almost three years ago…under the same Liver Transplant Unit as Zeke, but at the adult unit at the Austin Hospital…I wish there had been a Ralph there during those stressful times.
It has also made me wish for two things…I would love to meet a Giant Schnauzer one day, and I wish that one of our furkids could pass as a therapy dog, as the joy these dogs can spread to those unwell or infirm is just priceless.
Even if you don't particularly like dogs, this book is a must read…it will bring tears to your eyes, and make you realise how a dog can really be man's best friend in so many ways.
Ralph's family are donating their share of the royalties to the Royal Children's Hospital, Melbourne and Lort Smith Animal Hospital.
Ralph by Anne Crawford can be found at all good bookshops and online…my copy was bought from The Bookshop at Queenscliff