I am developing a rather full wardrobe with my obsession with vintage, which means I sometimes get overwhelmed by what outfit to put on…and that age old cry comes into my head…I have nothing to wear!!
Which of course is rubbish as I have actually two wardrobes that are full of gorgeous things…granted some are too big for me since losing a heap of weight, but nothing a nice wide waist belt won't fix.
But I digress…I have been looking for someway of getting my outfits in some form of order for easy selection…and I then found out about the Dressed app.
Dressed was created by a husband-wife team, Adam and Kara Shaw, and came from Kara's suggestion of developing an app to help keep track of her clothing and plan new outfits.
And with Adam being a software developer, her wish was granted!
Now if you are into Instagram, go check out Kara's feed of @dressedapp – this lady has serious style and a collection of dresses/shoes/bags to die for!
Dressed is a virtual wardrobe for your iPhone, and makes it easy to keep an entire inventory of your clothing, shoes, and accessories.
It allows you to enter brand, price, color, season, function, custom tags, and more… it'll even remember the last time you've worn it…how clever is that!
The app is easy to use…just swipe the clothing from the racks onto the mannequin…you can even add a handbag and shoes to complete your outfit.
Now I bet you are asking how do you get the images of the clothes into this virtual wardrobe?
Well, it does take a little bit of work to get things set up…but the good news is you can import images from the web, photo library, camera, or from the set of built-in templates.
However, if you have one-off pieces like I do, you will need to photograph either using a camera or just your iphone.
The best way to photograph each item is to lay it out on a plain white background, in a well lit area…rather time consuming but once done, you only have to add any new items that appear in your wardrobe!
You can then easily remove any background, and add to the racks…it does take a bit of practise, but gets easier.
And it is good way to do a clean out…if it doesn't fit properly, or you have never worn it, or you wonder why uyour bought it in the first place, turf it!
Once you have captured everything, you can start putting your outfits together virtually!
If you want to share the virtual image of your amazing outfit, you can share via email, text message, Facebook, Twitter, and AirDrop.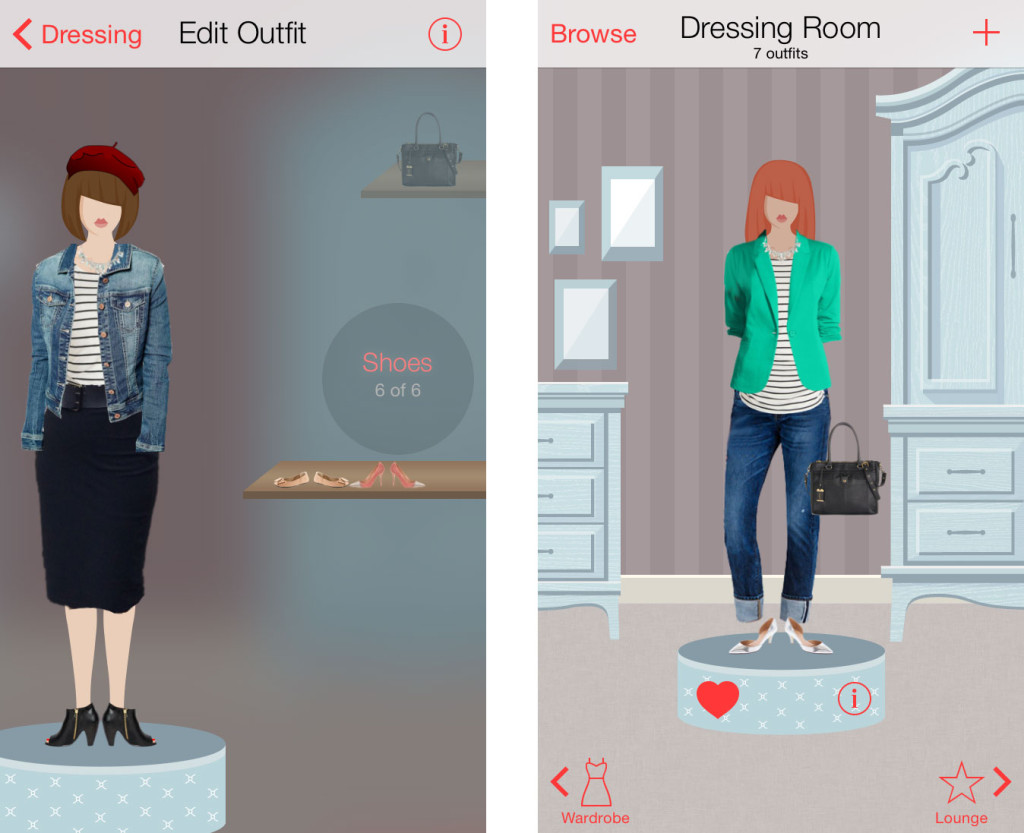 I am now committed to getting all my outfits into this app…although my shoe collection may take a while…stay tuned!
Dressed is available form the App Store…to find out more, click here to go to the Dressed website.
Please note: this is not a sponsored post. My opinions are, as always, totally my own!