We finally have a dining table..and chairs! Its been almost two years since we last had a table to sit at and I was really beginning to miss it!
Our previous place wasn't big enough for a table so never bothered buying one. We were renting so we thought we may as well wait until we get back into our own place again. Meals have been eaten balancing our plates on our knees or standing at the kitchen bench. It never really felt truly like home as we couldn't have friends or family over and all sit down to enjoy a meal
Our new home has the perfect spot, and a table setting was one of the first things I wanted to buy when we moved in. But every one I liked, my husband didn't like, and vicer verser! I was tossing round the idea of having a wooden table with coloured chairs…yellow is my favourite at the moment. Then thought maybe a shabby chic style, as the walls are all painted white (Dulux Whisper White to be exact!).
After dragging my husband through every furniture store I could find, we saw this one and both loved it straight away….SOLD! Totally different from what I had imagined, yet so right!
Only trouble was there were none of the chairs in stock so bought the four they had on the floor, and somehow got them in our car to take home. We have another four coming in a month or so…hopefully before Christmas.
The table was delivered but that was nearly a disaster…it was delivered flat-packed! And there was only the usual very sketchy pictures for instructions that came with it….but how hard can it be?
After a while of cursing and arguing between us, the table was finally put together, but boy, it was heavy to lift onto its feet. Just lucky we were able to do it…and there were two of us to lift it. We weren't told that it was being delivered flat-packed….
Anyway, it looks fantastic and fits perfectly in the space. Finally we can now have people over and have somewhere for them to gather and sit…once we get the rest of the chairs!
Now what colour do I want the bar stools….?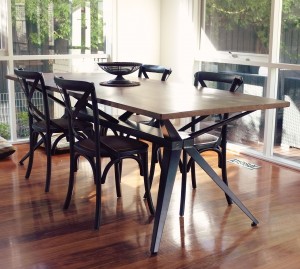 Table and Chairs from Early Settler