I love crime shows but prefer those from the UK…such as New Tricks, Midsomer Murder, Lewis etc.
Then recently, I saw the first episode of True Detective…and I find myself strangely hooked…usually I do other things while watching TV, but this show kept me mesmerized!
True Detective is a creation of crime writer Nic Pizzolatto, and it is dark…disturbing…and best described as a mix of pulp detective fiction with supernatural horror.
The series, which consists of eight episodes, follows two men who once were Louisiana State Police Criminal Investigations Division detectives hunting for a serial killer.
The story swings between January 1995 and Spring 2012 as the case is re-opened, calling into question their supposed solving of the crime.
Two well known actors star in True Detective….Woody Harrelson as Detective Martin Eric "Marty" Hart, and Matthew McConaughey as Detective Rustin Spencer "Rust" Cohle…and their performances are spell binding.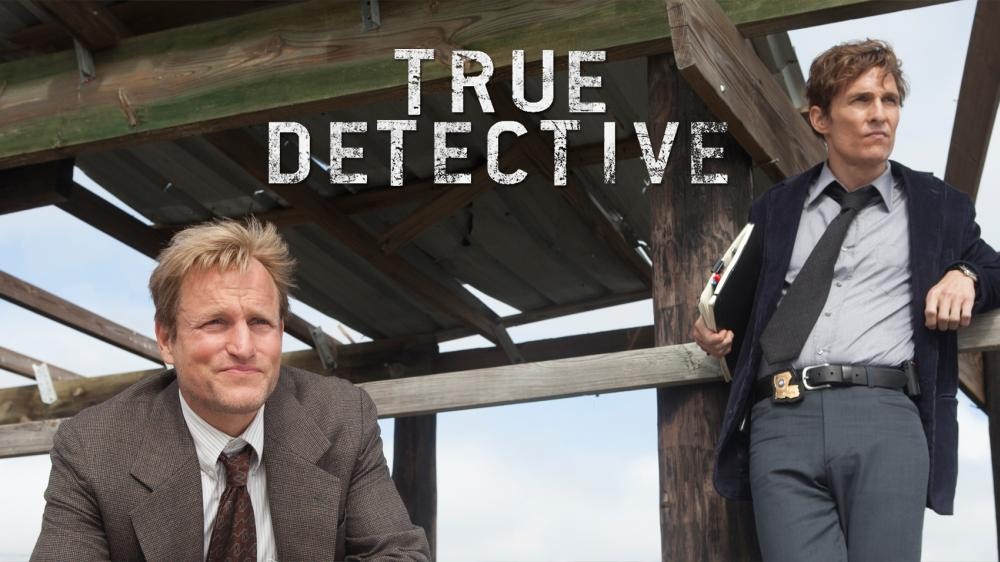 Funnily enough, I have never really taken much notice of either of these actors before, as I don't watch many American films or shows, but after seeing them in True Detective, I have to say they were perfectly cast!
They seem to suck you onto their lives, their stories…it is actually quite unsettling!
There is no rushed conversation, and there is plenty of detail…and there is silence…but even the silence is full of meaning and tension.
And unlike other crime series, the focus is more on the strangeness….rather then the blood and gore associated with murder.
It is very clever story telling, because as we see both characters in the present, we know they survived all the events back in the past…yet somehow there is still the feeling that something is going to happen…perhaps a weird twist to confuse us viewers!
True Detective also features something amazing in Episode Four…a spectacular final eight-minute sequence that was shot in one single, uninterrupted take…the creation of the director, Cary Fukunaga.
With the weather being somewhat inclement and/or very hot in the next few days in many parts of Australia, maybe this might be a good series to track down and watch.
But be warned….it isn't sugar coated drama…this is real and raw!
And if you love it, the good news is there is a second series in the pipeline…it has all been a tightly guarded secret but there will be new story with different actors as the storyline featuring Cohle and Hart concludes in the first series.
Let me know if you are a fan of True Detective! Are you looking forward to Series Two?
Please note: this is not a sponsored post! My opinions are, as always, totally my own!