We have had a few days spare at home during these Christmas holidays, so we have done something we have never done before…go on some op shop crawls!
One morning, we managed to visit 7 op shops, spread all over Melbourne…had no plans as such…just kind of random exploring as one thing Melbourne has plenty of, and that is op shops!
We even managed to inadvertently find the one that was voted the best op shop in Australia in 2015….the Red Cross in Bridge Rd, Richmond…and I can report it is a good one!
All in all, we had a ball…and came home with quite a haul…sorry, bad pun.
But what makes op shopping so much fun?
Here are five reasons….
The Thrill of the Find
Op shopping is like being on a treasure hunt…you just never know what you will find!
The little op shop tucked away in a little shopping strip may reveal the most amazing vintage dress for pocket change.
It can get a bit overwhelming sometimes, so I have found it is best to stick to a list…a list of things you want/need…otherwise, you could end up being on the next Hoarders series!
We have also discovered the power of Google when op shopping…if you come across a label that looks interesting, a quick search can reveal whether it is a real find.
For example, my husband found some shoes the other day….he looked them up to find they were from an English brand and cost well over 100 pounds…he got them for $8, barely worn.
Bargain Prices
Now there is a bit of an uproar going round about how op shop prices are going up….gone are the days of the true bargain.
And yes, I have noticed a few particular op shops have much more expensive prices then others…but keeping it perspective, the goods are often higher quality and you have to keep in mind that the shops have overheads etc to pay for too.
However, I know that there are still plenty of bargains to be had…for example, I picked up three dresses from well known labels for the grand total of $3 the other day.
And another shop was having a 50% off everything sale when we called in…I got a brand new pair of pants and a dress for $5.00!
My husband has scored heaps of cycling clothing…all as new for next to nothing.
I love the fact that you can pick up a new outfit to wear on the weekend for a fraction of the price you would pay retail, which leaves more money to spend on other things!
Just like this cute dress I found…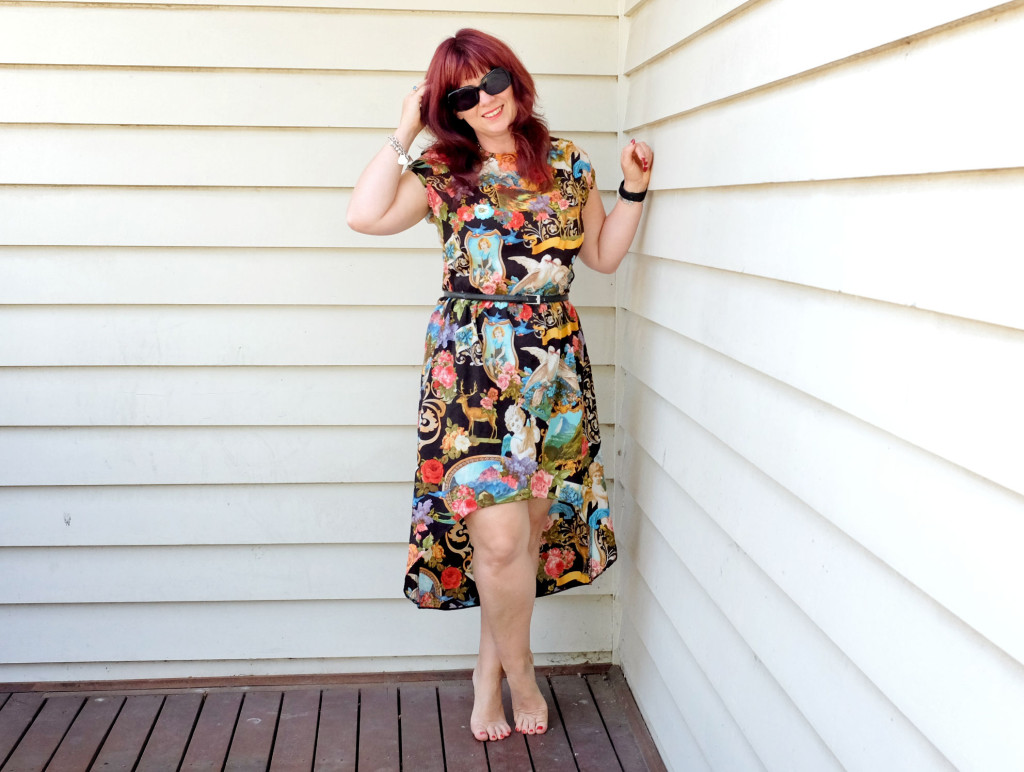 All Walks of Life
Op shopping is for every0ne…no matter where you are from, how much money you have, how old you are and so on…you can op shop!
I love the cross section of our community we come across…from the volunteers through to fellow customers.
Over the last few days, we have seen grandparents with their grand kids, introducing them to the wonders of the op shop.
We have seen bargain hunters who take their op shopping very seriously.
We had a funny experience in one shop….a song came on over the sound system from my favourite all time movie, High Society.
Both my husband and I started softly singing along, as did a few others in the shop, including doing the harmonies…loved it!
Never Boring
Op shopping is addictive…it really is!
In Melbourne, you can find an op shop in almost every shopping strip…we have started to keep our eyes peeled when passing through unfamiliar suburbs, just in case!
It is also great fun to go with a friend or even a group…more eyes to find the gold hidden in the corners and on racks!
I also love it because I find clothes that I wouldn't come across shopping retail…for example, overseas labels, handmade items and of course, vintage.
Op shops aren't seasonal or trend based so you might pick up a fabulous winter coat during summer, or a gorgeous summer skirt in winter.
Perhaps you want to try a particular style out, but not sure whether it will suit you…find it at an op shop, and give it a wear or two.
If it doesn't work, you haven't wasted a heap of money…if it does, you may have opened a whole new Pandora's box of fashion for yourself!
For example, I bought this green dress on a whim as I loved the colour…thought it might be a little too short for me…turned out that maybe I can still wear skirts this length….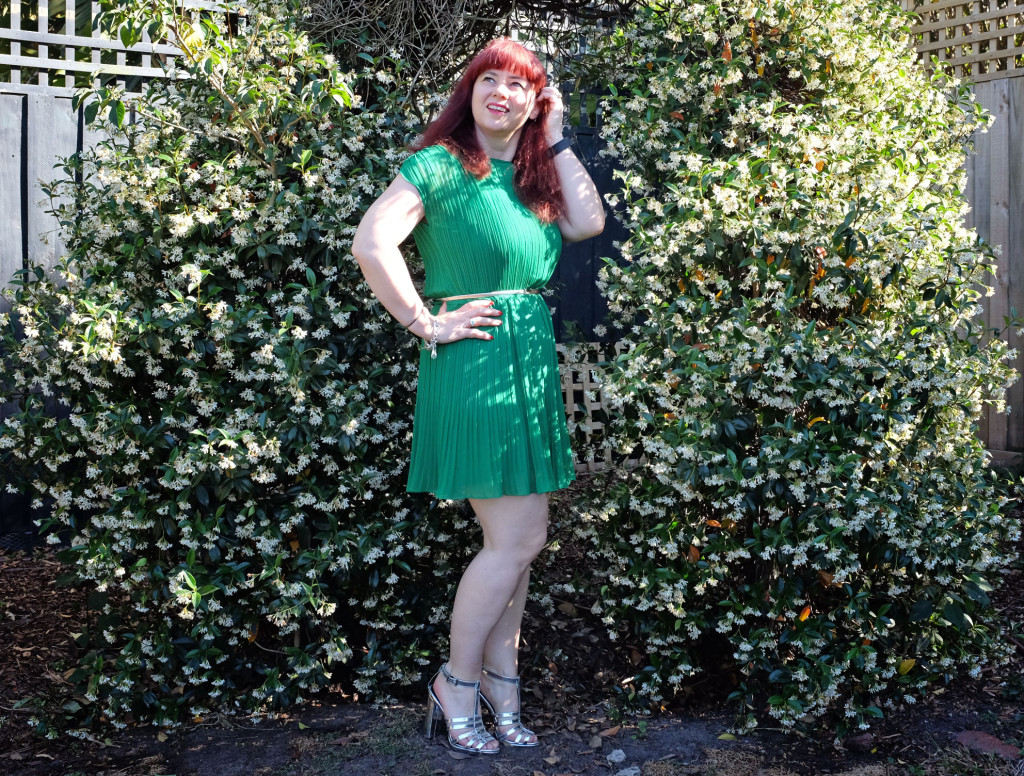 Helping Charities
The base of all op shopping,  and a important fact to remember,  is that it is all about assisting charities to raise money for those who need it, humans and animals….by buying from them, you are part of this important process.
It is a win/win situation…and a fun thing to do as well.
And don't forget that when you clean out your own wardrobe, the cycle can begin again!
So what are you waiting for…get out there, and check out an op shop or two!
Do you love op shopping? Where is your favourite shop?