This week is DonateLife Week 2015, and has been all about raising awareness about organ and tissue donation.
So for this week's  My Friday Five, I am giving five reasons why you should be a registered organ donor.
Be a Super Hero!
One organ and tissue donor can transform the lives of 10 or more people…in fact, often there are 20 – 30 recipients who benefit from one tissue donor!
Organ donation saves the lives of those who are very ill or dying from organ failure…people like my husband.
Tissue donation can mean someone blind can see again…someone's mobility can be restored…skin can be used to treat and heal severe burns.
Your Loved Ones
We can never know what the future holds…who knows, maybe you or someone close to you may need a transplant in the years ahead.
Are you willing to accept an organ for yourself or a loved one?
And if so, have you said yes to becoming an organ and tissue donor?
Demand is much greater then supply
Only 1% of people who die in hospital can become an organ donor which means the chance to be an organ donor is rare…in fact you are probably more likely to need a transplant then become a donor.
This means there are very few people die in such a way the organ donation is possible.
In terms of tissue donation, a far greater number of people are able to donate as this does not required the strict circumstances as organ donation.
Medical advances have meant that the success rates with transplants have improved so much, but sadly, there isn't enough organs available…the waiting lists remain long…there is around 1600 Australians on waiting lists at any one time.
In 2013, only 40% of patients on an organ transplant waiting list received a transplant….and 2% died while waiting…facts like this remind us of just how lucky my husband was to get a donor liver.
You won't die any sooner
Some people have the fear that by being a registered organ donor, their demise may be quicker then it should be.
This is a myth…medical staff are there to save lives…that is their first duty!
It is only when all efforts fail that organ and tissue donation will be considered.
Age is no barrier
Almost anyone can donate their organs and tissues, so don't assume you are too old, too young or not healthy enough.

Age and medical history will be taken into consideration, but there is every chance your organs and tissues will be suitable for use.
Even my husband who is a transplant recipient himself, maybe able to be an organ donor in the future.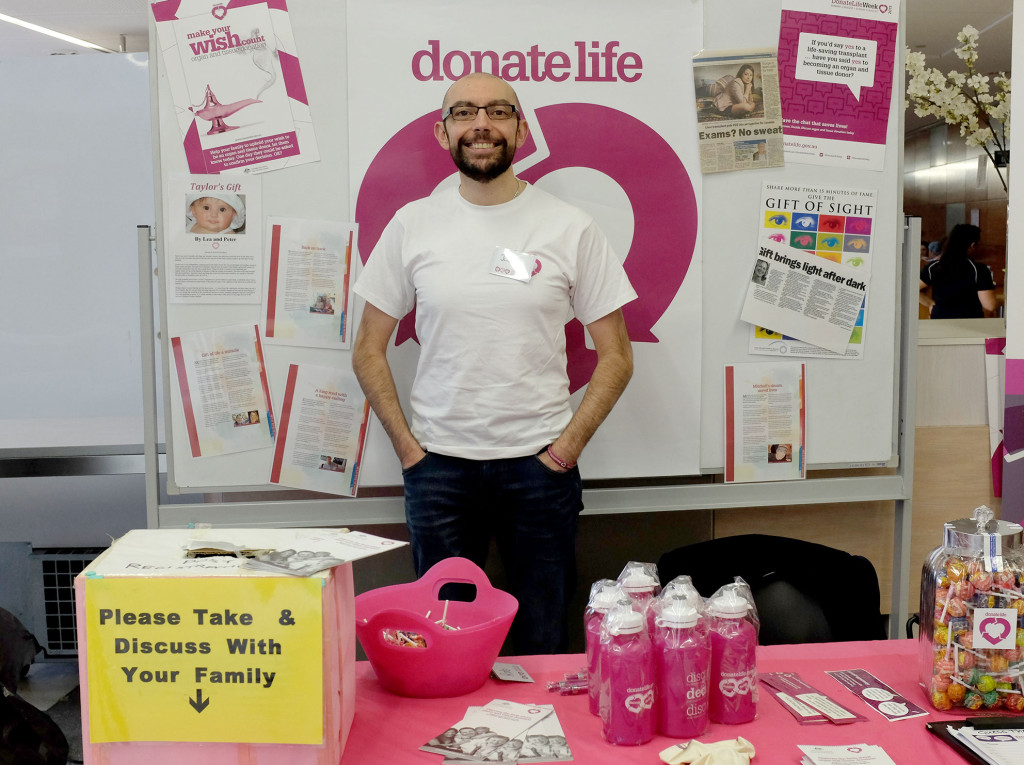 It is free to register as an organ and tissue donor…you can even choose which organs and tissues you would be happy to donate.
Sadly, despite huge advances in medical science and technology, death will still come to us all…you can't take them with you when you leave this mortal coil so leave them behind and give life to others.
To find out more about organ and tissue donation, including how to register, click here!
Click here to download the DonateLife Brochure and AODR Registration Form (1.85 MB PDF)