Never have I been more excited to see a musical then this one…the award winning Kinky Boots.
I saw the movie version when it came out on DVD around 2006, and immediately loved it.
I just knew it would be perfect as a musical so I was excited find that it actually was going to be brought to the stage.
But it has been a long wait…approx 10 years for it finally to arrive in my hometown.
My husband bought tickets for me as a birthday present, and last Saturday, I finally got to see the musical everyone has been raving about.
And I was not disappointed…absolutely loved every minute…and so did my husband!
The show is actually loosely based on actual events which were outlined in a TV documentary in 1999…it caught the eyes of Hollywood, resulting in the film, Kinky Boots.
The writers, Geoff Deane and Tim Firth, then took the story line, and after several years of development and filming, it burst onto the big screen.
After it was shown at the Sundance Film Festival in 2006, an award winning producer, Daryl Roth, saw it and recognised it's potential…the journey to becoming a well loved stage musical began.
The well known 80s singer/songwriter, Cyndi Lauper is behind the music..a newcomer to writing for Broadway but who has always loved musicals!
And I think she has done brilliantly, successfully capturing quite a few styles throughout the show – there are big ballads through to nightclub beats that rocked the old theatre.
The whole process from screen to stage took quite a few years, but Kinky Boots finally premiered in all it's glory on Broadway on April 4, 2013….and now it is in Australia after amazing success in the US, Canada, South Korea and London!
Melbourne got the honour of the first city Down Under to have the musical, and is housed at Her Majesty's Theatre…you can't miss it as there are a rather large pair of boots out the front!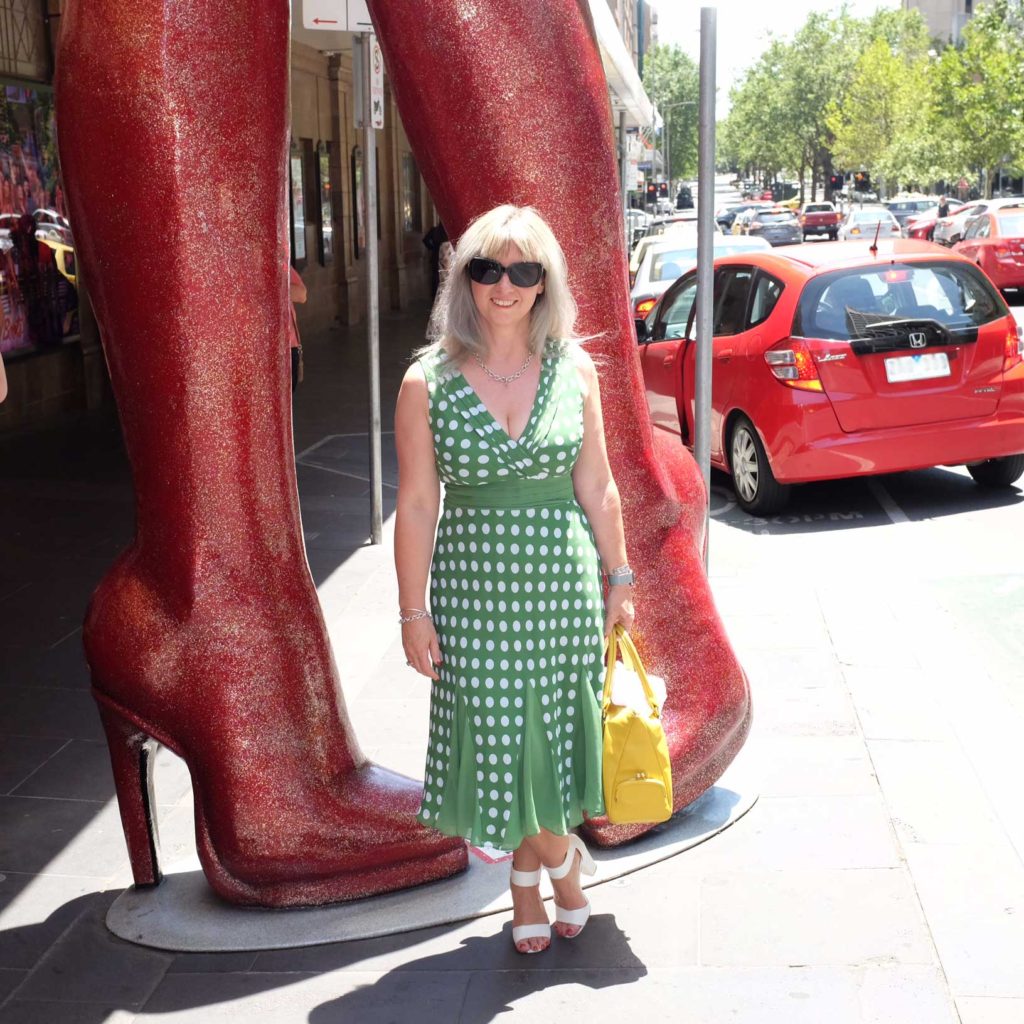 So what on earth is Kinky Boots all about?
The story is set in Northampton, UK and is all about shoes…well, boots really….amazing boots.
It tells of a struggling British shoe factory's young, rather strait-laced owner, Charlie Price, and how he was thrown into rescuing the business when his father suddenly died.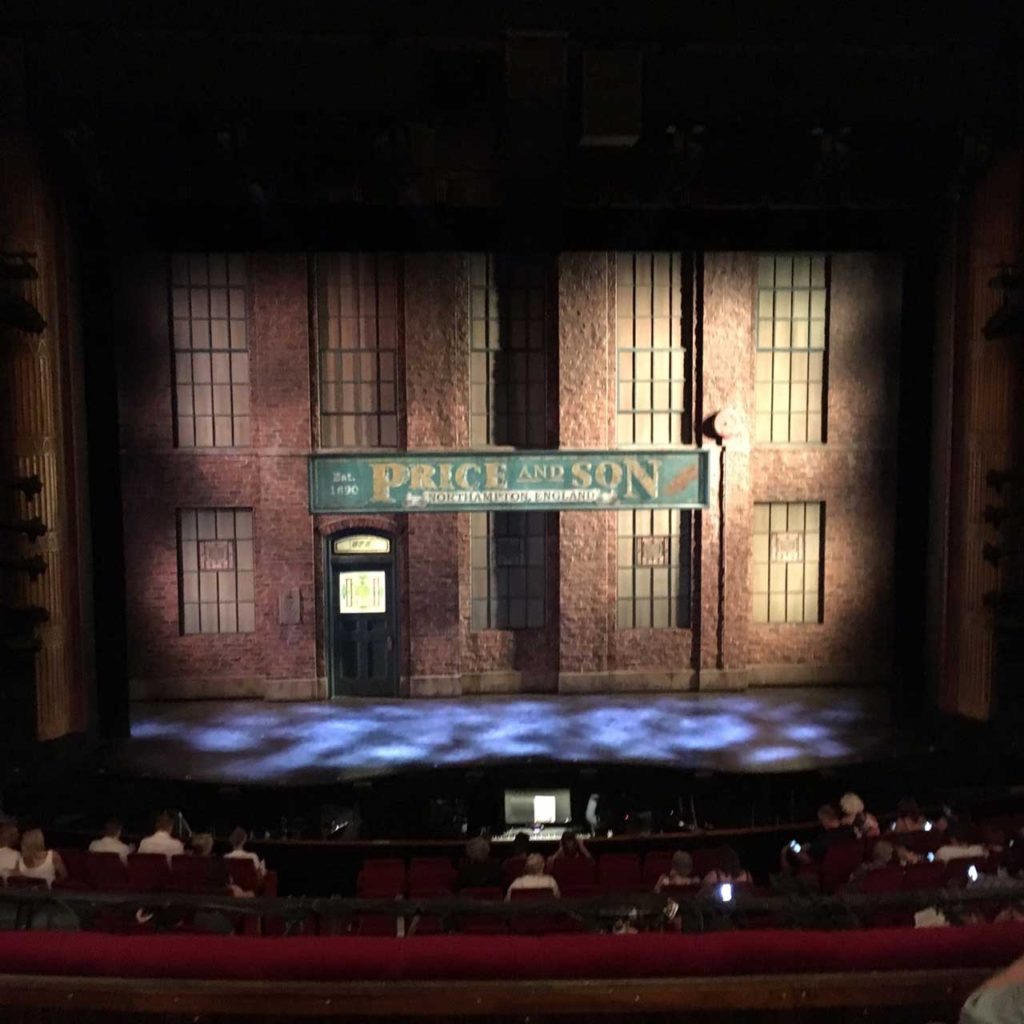 A chance meeting in London with Lola, a drag queen, lead to a growing friendship that gave hope to the business as a niche market is found.
There is a bit of everything…from difficult father/son relationships and overcoming prejudices, to a new romance and some comedy relief…and don't forget the dancing!
It gives an insight into the world of a drag queen, and shows us what can happen when two very different worlds collide.
The matinee we saw had all the leads except for Lola, who was ably played by Richard Crandle…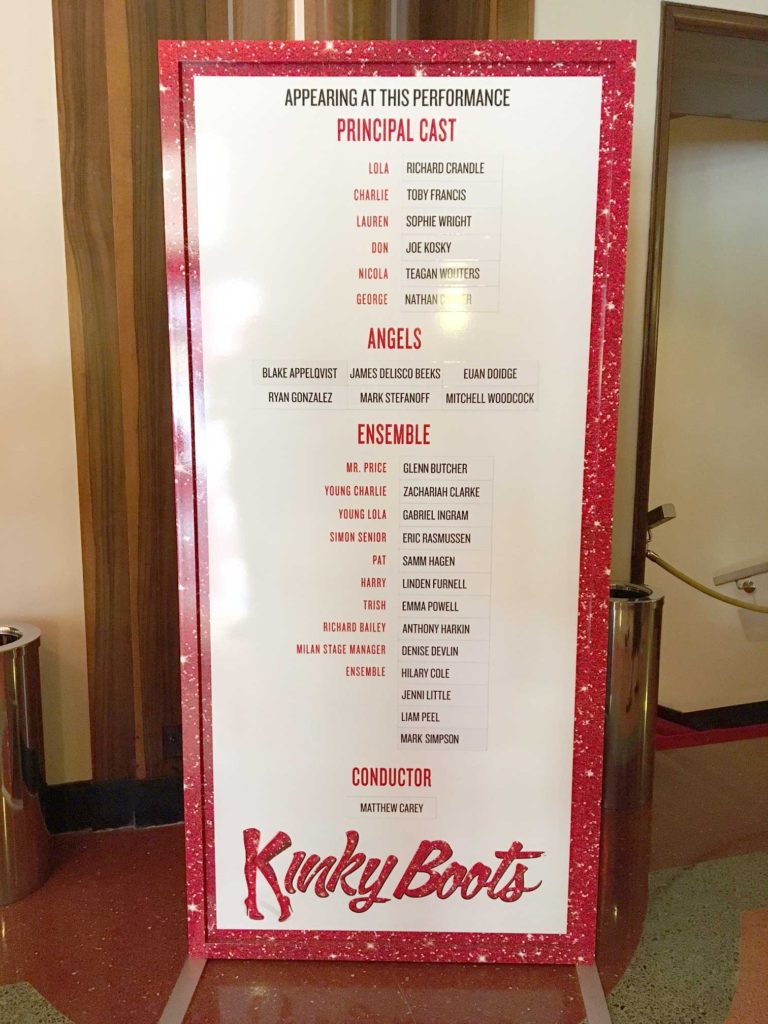 We thought the entire cast were perfect…loved Toby Francis as Charlie, and Sophie Wright as Lauren was hilarious!
Special mention to Joe Kosky who played Don….the perfect gruff and grumpy man to Crandle's Lola.
I especially loved the Angels…Lola's girls…those guys are incredibly fit..and their costumes were just fabulous…the boots!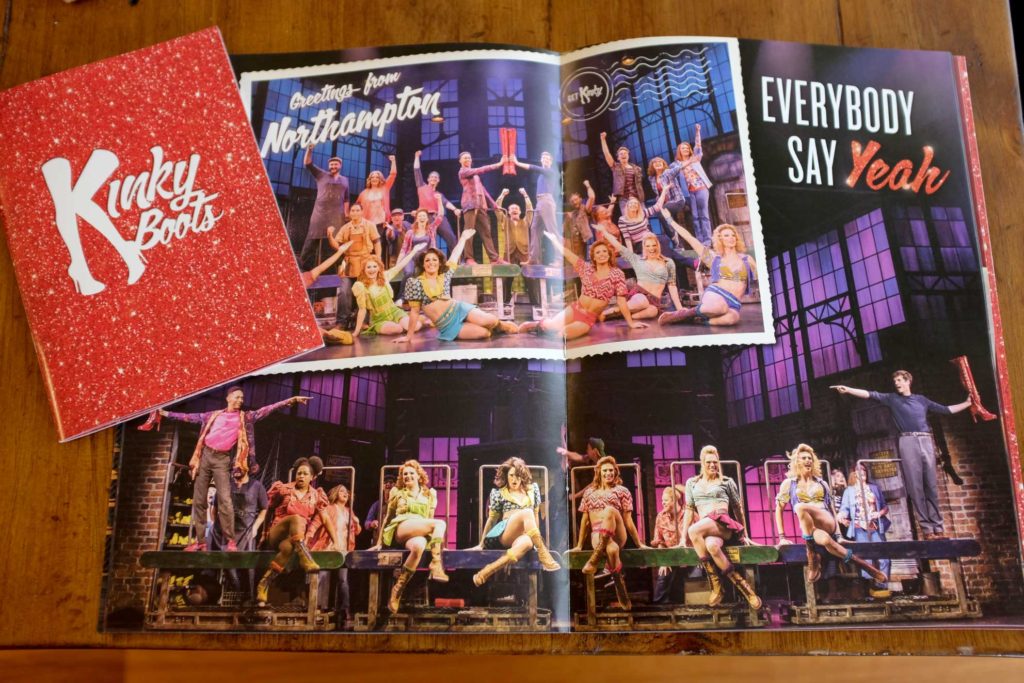 And I discovered that one of them, Euan Doidge, we saw play Marius in Les Miserables when it was in Melbourne… a role that couldn't be anymore different!
I also found out that he actually performed as Lola at the night performance after the matinee we saw.
Would have loved to see that!
In fact, it might be the perfect excuse to go see Kinky Boots again…yes, it is that good!
Please note: this is not a sponsored post! My opinions are, as always, totally my own!
Kinky Boots is on at the Her Majesty's Theatre in Melbourne for a limited season…click here to visit the Kinky Boots website for more information!