I have always loved Cairn Terriers…I grew up with a brindle one and a red one…and they were very much a part of the family.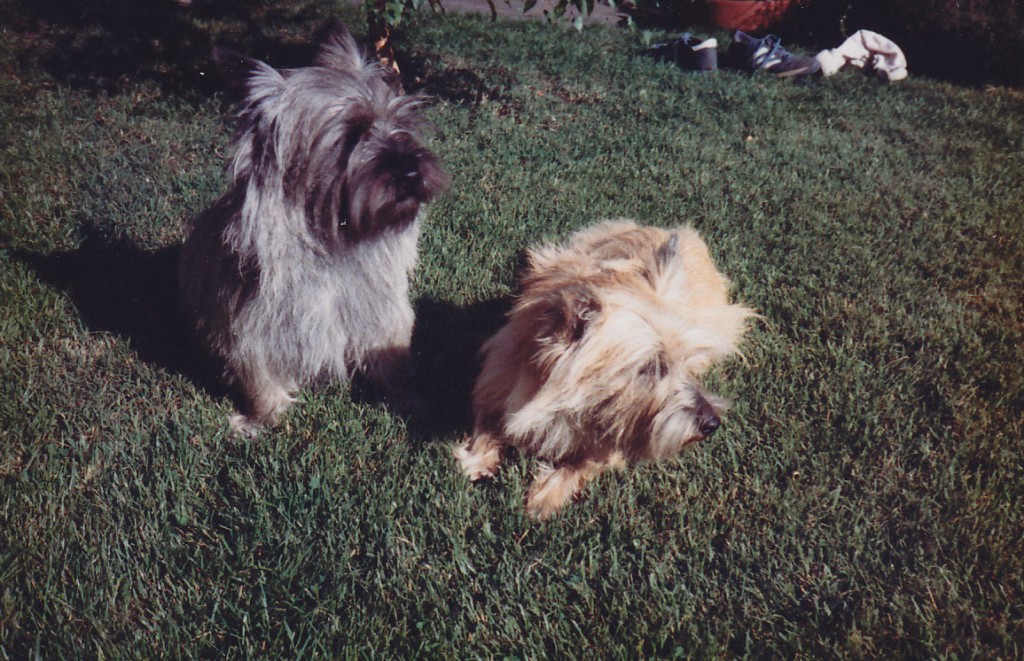 So when the time came that we could handle having a dog…or two..of our own, I found a brindle cairn cross…and gave him to my husband for his birthday!
My husband had never heard of a Cairn Terrier, let alone seen one…but to his credit, there was an instant bond with Billy, which continues over 14 years later!
We also had a gorgeous westie cross, who unfortunately we lost a couple of years ago…still miss her terribly.
When we lost her, we decided to get another cairn to keep Bill company…preferably a brindle one…and along came the famous Miss Charlotte!
Bill hasn't quite forgiven us for destroying his peace and quiet in his older years…look at his expression…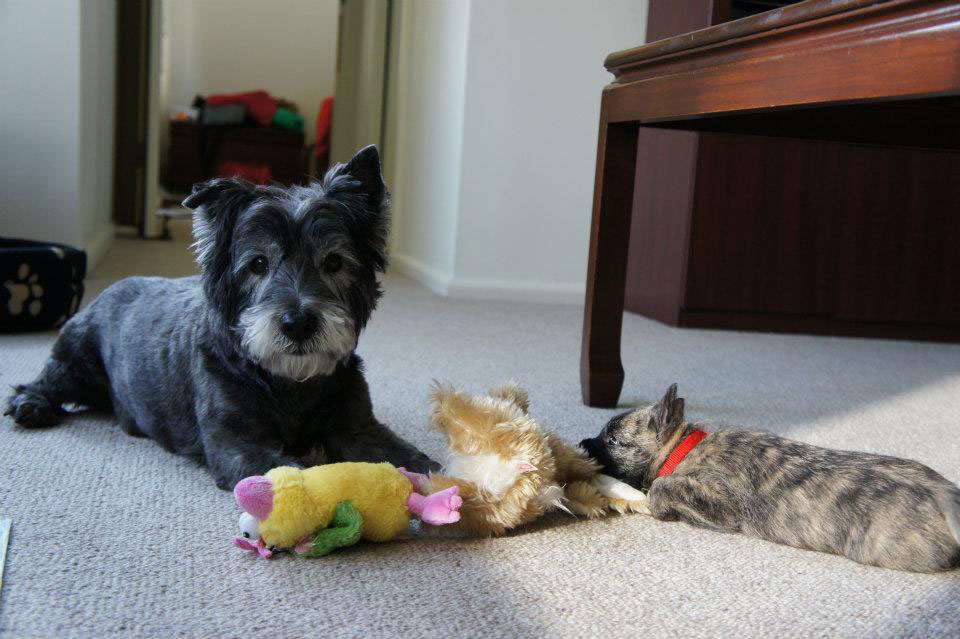 Unlike Bill, Miss Charlotte is a pure breed Cairn with papers…and a healthy dose of Cairn attitude!
She was bred by Aimfor Cairn Terriers, and as a wonderful bonus, we have kept in regular contact with the owner, Amy, and become part of the Aimfor "family"
Amy has regular "Cairn Carry Ons", where we all get together for lunch, and the cairns all have a wonderful time zooming around the yard…there usually is at least 20 cairns,which equals total chaos!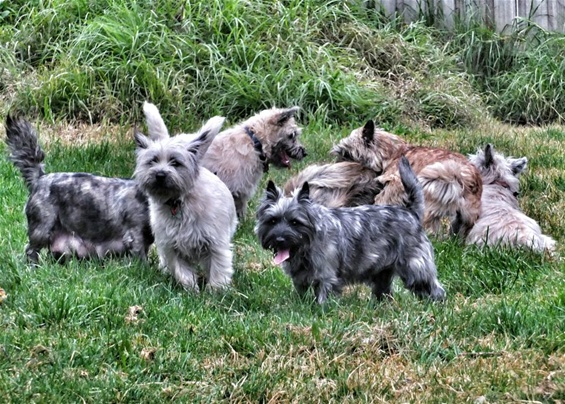 The furkids absolutely love it, and come home totally worn out!
But its funny, if you mention a Westie (ie West Highland White Terrier), everyone knows what they are….probably because of the My Dog ads, and Wee Jock who featured in the TV series, Hamish Macbeth.
But Cairns for some reason are way below the radar…..yet they are essentially the same dog…just not white!
In fact, Cairns are one of the oldest of the terrier breeds…they originate in the Scotland Highlands and the Isle of Skye.
Their name comes from the the rock dens inhabited by badgers and foxes, called cairns….these dogs are ratters, and were originally used for hunting and burrowing prey amoungst the cairns.
Another piece of information I found from Wikipedia, is that Cairns are usually left-pawed…never noticed that with ours!
Almost every time we go out walking with the furkids, we get asked "what breed are they"?
I call them our "wash and wear" dogs…their coats can handle a day in the garden or a play on the beach, and not look too bad!
Cairns are stubborn, full of life, friendly, possum and rat obsessed…and in Miss Charlotte's case, a crazy sense of humour…hard to believe but she really is the funniest dog!
I mean, seriously….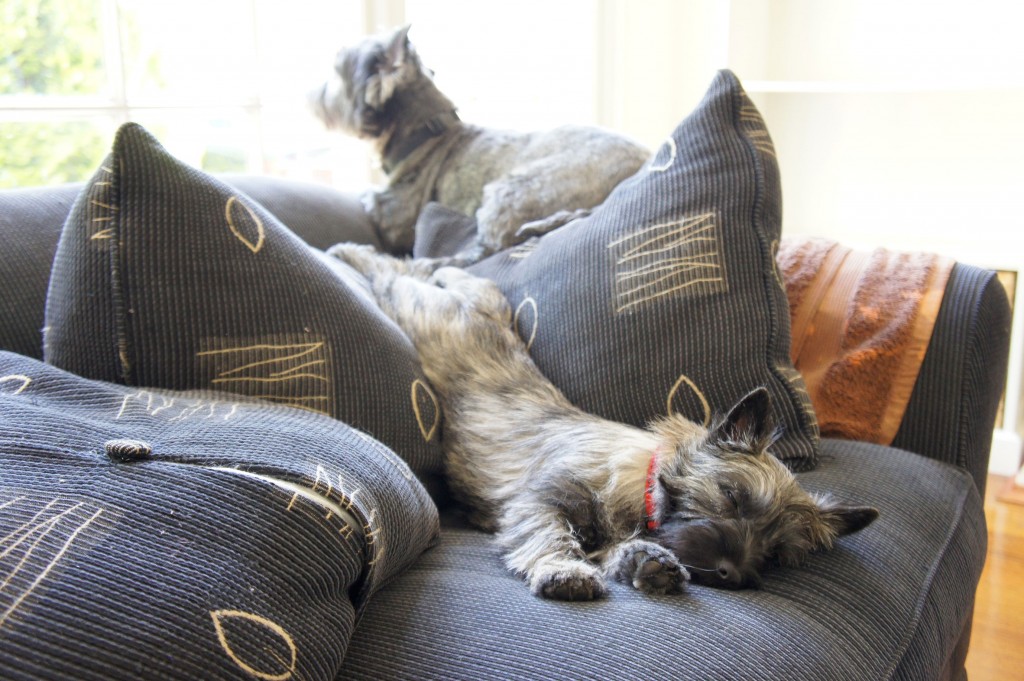 They are strong willed and full of opinions, which they will often give to you…loudly!
A cairn will never give in…a trait that showed strongly a few weeks ago when I had to get Miss Charlotte safely away from a very large..and angry… Brushtail Possum…
Our cairns have never been particularly lapdogs, although both like to snuggle in on a cold night…but they won't accept a cuddle unless it is on their terms!
Coming home is always a joy with these two…..you get such an enthusiastic greeting whether you have been gone an hour or a day.
They are more than just dogs…they are our furkids, and we love them both dearly…even at 2am in the morning when they telling us that there is something on the roof!
If you want a dog with character, who just loves life and adventure…and is small enough so you can have two…then check out a Cairn!
If you have any questions about Cairns, please feel free to contact me, or go to the Aimfor Cairn Terriers website for more info!