I am severely lactose intolerant, which can be a real hassle…especially when eating out.
One of the changes I made…once I worked out that dairy products were making me very ill… was to have soy milk in my tea.
However, I discovered that having lots of soy milk may not be as good for us as I first assumed….so we started using almond milk instead.
So when we were shopping at one of our favourite organic stores…Aunt Aggies in Fitzroy…we were a little excited to find a new fresh almond milk, very cleverly called "Nuts Over Milk"!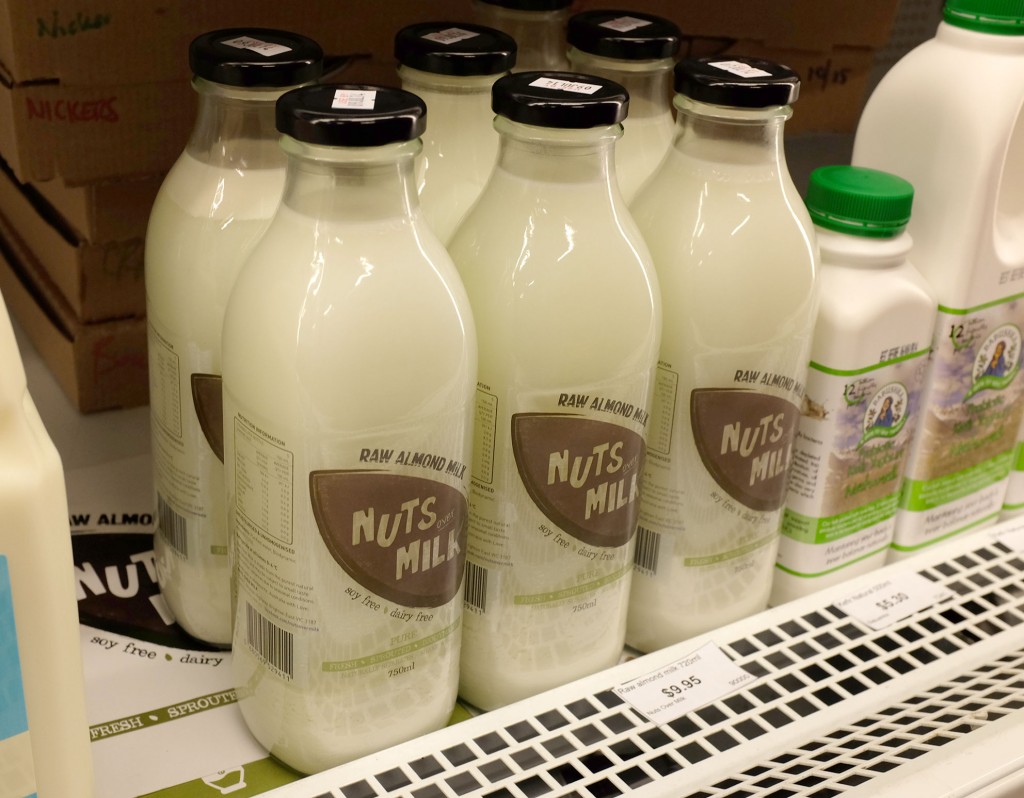 Nuts Over Milk…aka NOM…is a raw almond milk, and it is made right here in Melbourne, using lots of 100% Bio-dynamic almonds!
It is fresh, vegan, plus gluten-soy-lactose free….which make it just perfect for me!

I asked the owner, Zoran, how Nuts Over Milk came about….here is his story, in his own words…
"I grew up in Fitzroy, within the housing commission estate.  I then went overseas as a teenager to pursue my dream, football.  I lived and trained in Serbia otherwise my parents place of birth for 4 years and then returned back to Oz.  
I was in and out of Uni, studying business, never completing it as I then went on and become a personal trainer having studied Exercise Science at Vic Uni for 3 years.
In 2011, I had opened my very own personal training studio after spending 6 years with some of the best trainers in the business at Fitness First.  I needed a new challenge, although clients were keeping me busy, it was time to throw complacency out the window as I was intrigued by what it would be like to fetch for my own, as this is when I perform best.  I became obsessed with weight loss fads and facts, experimenting many a times on my body to see for myself and quickly became the fat loss specialist for Melbourne CBD folk.  My training style was tough and included a lot of dietary support, some of which was unorthodox to the general population.
Losing weight is difficult for some whilst easy for others, I became particularly interested with the first group!  Clients can face an incredibly difficult time losing weight, there are many reasons for this, and one of these is dairy intolerance.  Dairy intolerance can lead to stomach discomfort but has also been linked to an inability to promote weight loss with some individuals, which is the most frequent reason why personal trainers are hired in the first place!
Almond milk became my milk of choice for this purpose until I stumbled across a home-made method on the net.  Here, I experimented with several internet methods until I came up with my own recipe and procedures.
Today I am the very proud owner of Nuts Over Milk, growing daily,I get emails, calls and Facebook messaged daily with wonderful stories and words of 'finally' and 'thank you'.
My mission is to continue to serve Melbourne with 'healthiest milk in the world', NOM truly is a super milk."
And I can tell you it tastes great, and makes a nice change from soy milk!
NOM is delivered fresh to selected retailers on Monday, Wednesday and Friday….and it is only available in Melbourne at this time.
So if you want to get your hands on a bottle of NOM, below is the list of current retailers where you can find it…..
Organic Stores
Aunt Maggie's – Balaclava, Brunswick, Fitzroy, Malvern
The Leaf Store – Elwood
Glo Health – Elsternwick
Apples & Sage – Balwyn
The Essential Tree – Richmond
Prahran Health Foods – Prahran
Wholefoods – Brighton
Hampton Stree Organics – Brighton
Organic Wholefoods – Brunswick, Fitzroy
Alma Organics – Point Cook
Replenish – Williamstown
PLUS, there is now also a number of cafes that are using NOM..
Cafés
MADAMIMADAM – CBD
Gypsey & Musquito – Richmond
Fergus – Malvern East
Wall Two 80 – Balaclava
Truman – Albert Park
Joinery – Elwood
Fields of Glory – Armadale
The Dispensary Emporium – Highett
Four Elms – Newport
Supperrandom – Brighton
Yardmill – Toorak
Do you drink Almond Milk…and have you tried Nuts Over Milk…let me know what you think!
Please note: this is not a sponsored post….we just love Nuts Over Milk!