We love live music but because life gets so busy, we don't get to go to concerts often.
But I make an effort to make sure we go to at least one big live concert a year….last year we saw the totally amazing Queen!
We almost missed out this year but at the last moment, I made a snap decision to book tickets despite it being not the best time of year to book to go out as things are so crazy with Christmas looming.
But we did it….and we went to a genre of concert we have never been to before…a flashback to the 70s with the Village People, Sister Sledge and KC & the Sunshine Band!
I have to say that going to a big event like this has certainly changed since we last went…now you have to wait in long lines to go through the bag search area, and then onto a body scan…a sad sign of the times we now live in.
Although everything was quite orderly, and it was a lovely warm Summer night, many people around us were complaining…but what can you do?
However, I do agree that they could have done with a few more staff doing the scans….it all turned into a big bottleneck which slowed things down.
I was very glad to get through to the other side…I am not fond of being in crowds…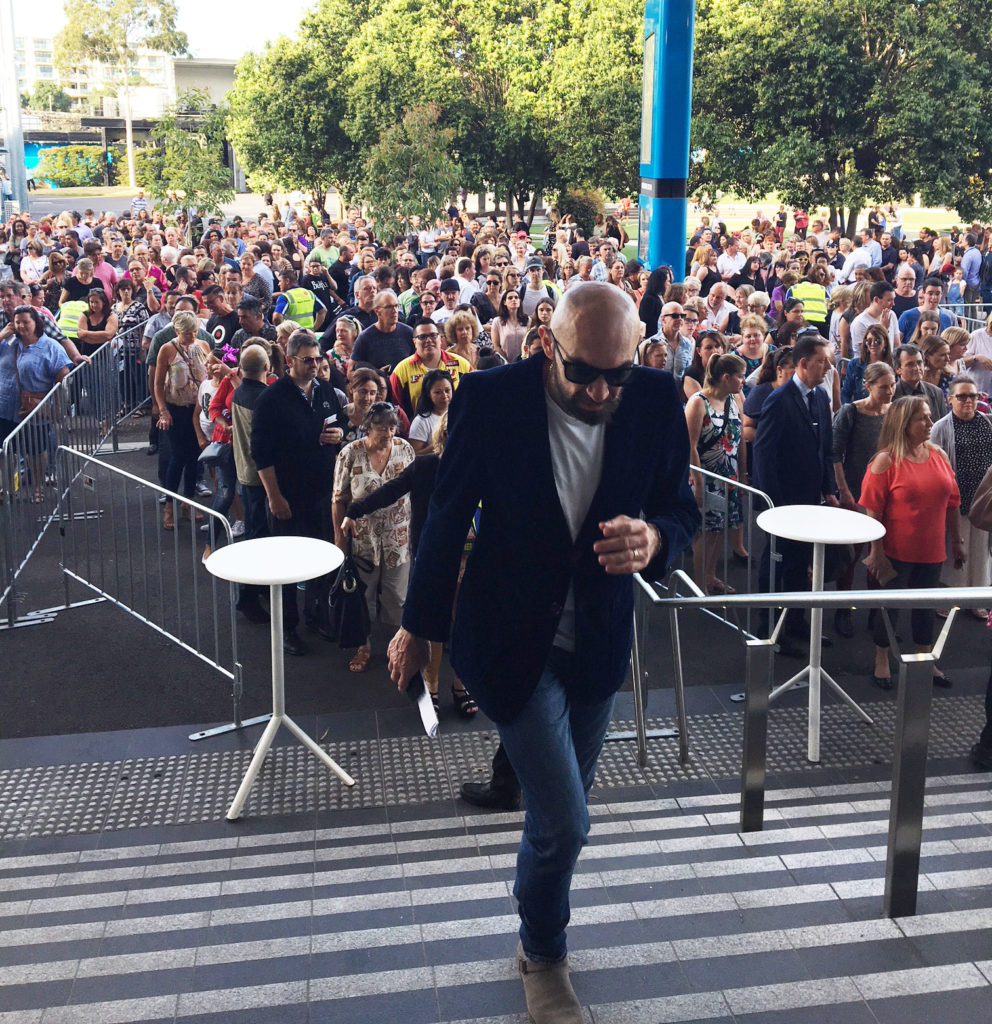 The venue was Margaret Court Arena in Melbourne's famous sporting precinct…a place I have never been into before….I liked it!
The smaller venue made it all a bit like being at a large private party, especially for this kind of music.
As I mentioned before, I don't like crowds yet surprisingly I felt quite comfortable…we managed to have seats on the aisle, and I ended up with no one next to me which was even better.
However, for the first time ever I wished we had actually got tickets to the standing room on the floor….more room to dance!
The concert started with the Village People – they had already got bad reports from an earlier event and then they didn't perform at the last gig because the front man, Victor Willis, had a bad cold.
And I found out later that they had been "demoted" to being first on stage and I admit that the first few songs were not good…things weren't boding well and I did have visions of an early exit.
The sound was just all muffled together with the singing not exactly good…Willis actually disappeared off stage for a while and then drifted back with no explanation.
But then they performed more familiar hits such as In the Navy and Go West and suddenly the vibe got a whole lot better!
https://www.instagram.com/p/BcoLTBHFXEO/?taken-by=zincmoon
And thank goodness they did YMCA…that really got the crowd on their feet and their set ended much better than when it began.
Next up were Sister Sledge, and they were brilliant…can't believe they were meant to be the opening act as they were so much better than the Village People!
Two of the original sisters performed, as well as a long time tour member…plus they had their nephew alongside…and boy, does he have an amazing voice!
They had a good band too, including a pretty awesome saxophonist!
Our favourite song was We are Family…so fabulous to hear it performed live and with such energy.
https://www.instagram.com/p/BcoMJiqFP4k/?taken-by=zincmoon
Lastly was KC and the Sunshine Band…a full on experience both musically and visually.
They basically blew the roof of the place with a fantastic 10 piece band..as a trumpet player himself, my husband really enjoyed the brass section…some amazing musicians!
I should also mention the drummer…just wow!
https://www.instagram.com/p/BcoM5Q7loeO/?taken-by=zincmoon
KC (or Harry Wayne Casey) may be in his 60s and a few kgs heavier than he was, but that didn't slow him down either in enthusiastically dancing…or dressing up in some rather outrageous outfits!
And unlike Willis of the Village People, KC can still sing…and has a good sense of humour!
To be honest, neither my husband or I knew more than half the songs the bands played, but we loved hearing the ones we did know!
I love a funky bassline and drums even if I don't know a song so was in heaven!
In between each band, a DJ played 70s music and it become a dance party…when Nutbush City came on, it gave me another reason why I wished we were down on the floor.
The sound throughout was loud….I could feel the beat through my body…I loved it even if my ears didn't!
I was hoping more people would be dressed up but sadly only a select few made the effort, including one Indian (aka Village People) and a guy with an afro and flares who had the night of his life when he was invited up on stage with Sister Sledge.
The crowd was a mix of our age (ie 40s) and older…I did spot a couple of bemused kids in the crowd…loved to know what they thought!
I was amused by what looked like a mother and daughter sitting near to us…the mother was having an absolute ball, dancing and singing, while the daughter looked like she hated every minute.
All in all, we had a great time and were glad we went..even my husband enjoyed it!
The night didn't start well with those first few painful numbers of the Village People…but improved and was great fun…we got to see some fantastic musicians and relive music from our younger days!
Did you go to the concert…what did you think? Are you a Village People, Sister Sledge or KC & the Sunshine Band fan?