Life is busy for us at the moment…especially as Christmas is rapidly approaching…so I haven't had much time to sit down and enjoy a good read.
However when I saw online reviews on this latest release book, I immediately added it to my must get list….and then read it immediately…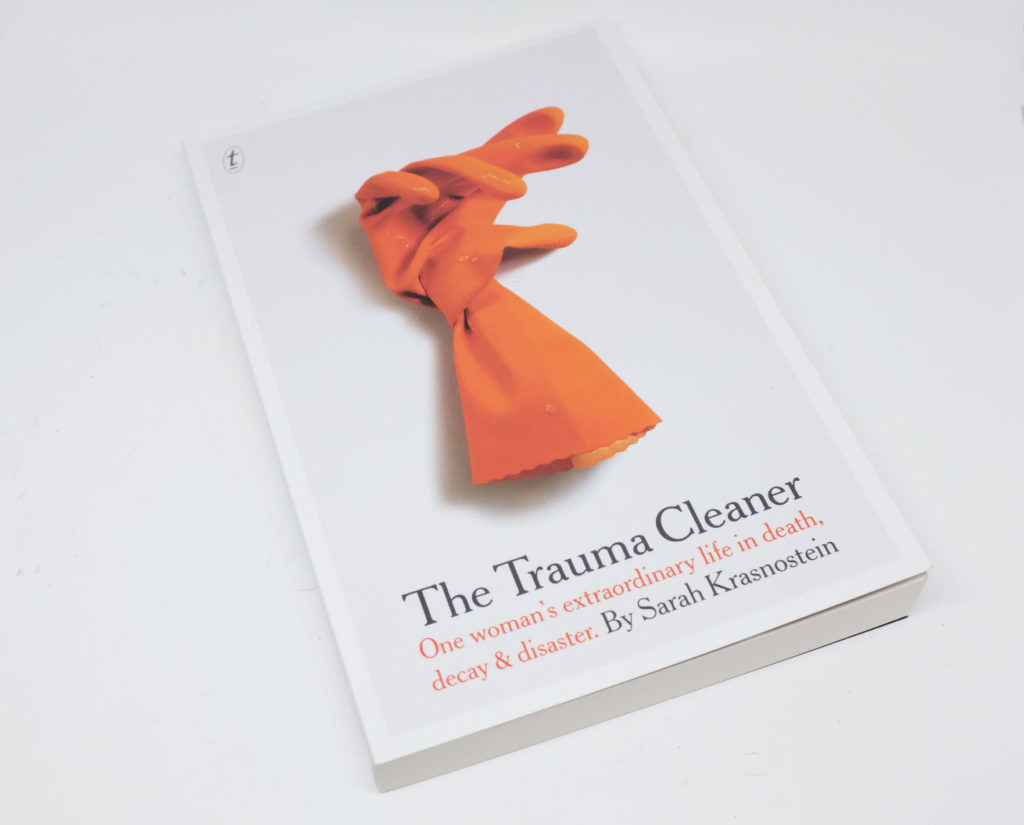 The Trauma Cleaner by Sarah Krasnostein is not for the faint hearted…the title tells some of what is written inside the covers.
Krasnostein has put together an compelling insight into the work of Sandra Pankhurst…a trauma cleaner who for the last twenty years has specialized in the often very unpleasant task of cleaning up crime scenes, deceased estates, uninhabitable houses and so on.
And Sandra does so with care and compassion for all those involved…dead or alive.
She restores order to chaos…and trauma…and all the while impeccably dressed with carefully styled platinum blonde hair!
The book covers some of the various jobs that the author went to with Sandra…she attended about 20 sites in Melbourne, ranging from murder scenes to houses filled wall to wall with rubbish and decay.
It's strangely fascinating yet confronting…plus is a kind of reality check that this type of cleaning can be required in suburbs all over this city.
But that's not all this book is about…it reveals so much more about this woman who has lived..and is still living…an extraordinary life!
Because before Sandra became a trauma cleaner, she was a husband and father, a drag queen who then had gender reassignment, a sex worker, trophy wife…plus over the years she has set up and run various small businesses.
She has had a tough life from the beginning…her childhood saw significant neglect and abuse.
It is very hard to read about how her family treated her…a little boy who was unloved and unwanted through no fault of his own.
But somehow, despite all the adversities that life threw at her, Sandra kept going…she kept finding new ways to survive.
And if living the life she has is not enough, Sandra is now unwell…she has cirrhosis of the liver and also struggles to breathe.
She requires a lung transplant but is too sick to get on the list…the medical team decided that she would not survive the surgery.
Yet she continues to work…travelling hundreds of kilometres, six days a week.
Trauma cleaning is her specialty and she is now the go to business for dealing with these tasks no one else would touch…but someone has to.
Writing the book had a particular challenge…Sandra's memory is not good…maybe due to her excessive drug/alcohol use, but also maybe trauma induced.
Krasnostein had to piece together what Sandra can remember, with information from interviews from those who have met her along the way, as well as historical records.
The result is a book that you won't be able to put down…each page seems to reveal yet another twist, from Sandra's past to her current work.
If you are looking for a good book to add to your summer holiday reading list, I highly recommend it!
And I have to say that I am sure that this book would be perfect as a movie or series…you seriously couldn't make up a life such as this!
But it would have to be done with the same compassion and dignity that Sandra gives to her clients.
I hope I never require a trauma cleaner, but if I ever did, Sandra would be the person I would want in charge.
The Trauma Cleaner is available at all good book shops and online.
Please note: this is not a sponsored post! My opinions are, as always, totally my own!